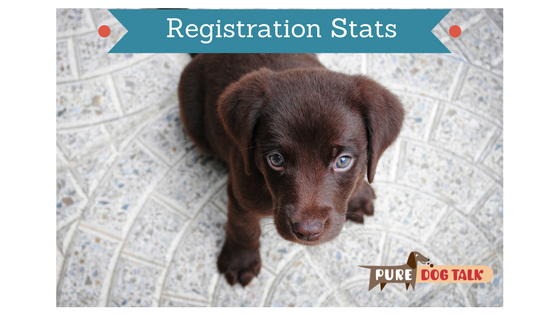 Podcast: Play in new window | Download
AKC REGISTRATION REVERSES 20 YEAR TREND
According to Mark Dunn, AKC Senior Vice President of Registration and Customer Development, more breeders are registering more dogs, reversing a 20-year downtrend.
MARK DUNN BREAKS DOWN THE REGISTRATION STATISTICS
The last four years have shown notable increases in the number of dogs registered.  Mark Dunn tells us that the number of litters registered and the number of people breeding dogs are also on the rise.
"…it says something about the role that AKC Breeders are playing in getting dogs into American homes. Which is really important to all of us, to be there for people who love dogs," Dunn said
Good news on the overall increasing number of registrations is tempered somewhat by a different trend in the low-number breeds. Dunn notes that while the Top 10 breeds have been booming, the bottom 60 breeds are in decline or showing noteworthy reduction in registrations. Labrador Retrievers, for example, represent 15 percent of ALL dogs registered in more than 200 breeds.
Some of the lower registration breeds are new to AKC registration and working to improve their numbers, while other ancient breeds like Otterhounds and Dandie Dinmont Terriers struggle to maintain their popularity.
"I want to be there for parent clubs and provide any information or help those breeders need," Dunn said.
The Breeder of Merit program was established seven years ago. Dunn believes it had a vital impact on these increasing registrations. Today, nearly a quarter of AKC registrations are produced by BOM approved breeders or those on that path, he noted.
Research indicates that Americans LOVE their dogs. Ninety million of them, in fact. With average lifespans, an estimated 8 million "replacement" dogs are required to meet the annual demand by dog owners in the US. Dunn says AKC breeders produce 1.3 million, with another several million available through shelter placement.
"… THERE IS STILL A LOT OF ROOM FOR GROWTH FOR AKC BREEDERS AND RESPONSIBLE BREEDERS THAT ARE WILLING TO DO WHAT WE EXPECT BREEDERS TO DO TO BREED AKC DOGS," DUNN SAID. "I THINK WE HAVE A GREAT OPPORTUNITY IF WE CAN FIND WAYS TO GROW RESPONSIBLY. AND TO DO THE RIGHT THING FOR DOGS AND FOR THE PEOPLE WHO LOVE THEM."
The low registration breeds are a popular topic in this area. Dunn noted that during his presentation to the AKC Delegate's Parent Club committee, he was asked about marketing rare breeds to increase demand.
"The worst thing we can do is make a hard-to-find breed more popular," Dunn said. "… if we simply try to market our way to success for particular breeds, we can create a real problem. …if we drive demand for a hard-to-find breed, someone is going to go try to fulfill that demand. Unfortunately, it might not be the parent club breeders and it might not be the people that are … most concerned about the proper stewardship of that breed."
As registration and breeder numbers increase, Dunn advocates continuing the positive direction with specific actions, including education.
"So, what we saw last year," Dunn said, "was a lot of growth in the number of people breeding that are not currently considered either commercial, by any definition. They only bred one litter with AKC. They're very low volume. Maybe one or two litters tops. But they're not currently on track to be a Breeder of Merit so they either have not finished dogs or they are not competing in conformation to any large extent. Now half of those breeders are very new. They're either new as in last year was the first time they showed up on our radar. Or they're new because they've shown up once or twice in the last two or three years. The real key is to bring those people in. To bring them along. And the way we do that is through education."
Here at Pure Dog Talk, we're happy to offer education to new and old alike!  Hope you enjoy my talk with Mark.