173 – Dreamland Chow Chows "Show Ring is Mirror of the Whelping Box" |Pure Dog Talk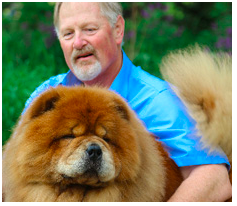 Podcast: Play in new window | Download
Chow Chow Breeder/Handler Shares His Story
Michael & Linda Brantley were AKC's Non-Sporting Breeders of The Year in 2013 for their Dreamland Chow Chows. Michael is a professional handler, member of the Professional Handlers Association, and has shown top ranked, multiple Best in Show winners in numerous breeds.
Breeding is the Art
"Still, the breeding is very important to me," Brantley said, "probably more so than the handling. The handling is more the game, but the breeding is the art."
While Michael says he's never actually counted, Dreamland Chow Chows have produced more than 200 champions in last 40-plus years.
Brantley's folks started in Pekingese and were breeding and showing them when he was born. His family acquired their first Chow Chow when Michael was in grade school and never looked back.
The first time Brantley was paid to show a dog, he was thrilled to realize he could "support his habit" with handling.
"I've been handling full-time for 40 something years," Brantley said. "So that ended up (going) from a hobby to a career."
To this day, handling and breeding, for Brantley, work hand in glove.
" I think the handling of the other breeds has really helped me understand my breed better," Brantley said. "It helped me understand structure and function tremendously. More than if I had just stuck with my breed and not sat around and watched these other dogs show or learn the standards of them before I showed the dogs. So, it's been a double edged thing there where it's taught me a lot."
But the hobby, the breeding piece, remains the most compelling for Brantley.
"The show ring is just a mirror of the whelping box," Brantley observed.
"… maybe 20-25 percent of the dogs that we breed will end up in the show ring," he added. "Maybe. So, the rest of those dogs are going to go as companions to people. And in a breed that is very strong willed, very independent like Chow's are, like our Tibetan Mastiffs are as well, it's extremely important to have that proper temperament to where they end up as being great pets for somebody.

"They think for themselves. They're happy you're there, but they would rather go out by themselves. So, you've got to learn how to deal with that and it's not something you learn overnight and it's something that you've got to figure out."
I hope you enjoy this great Talk with a man who brings a wealth of knowledge and wisdom.
And don't forget to stick around for Allison Foley's Tip of the Week on how to manage the male dog's performance when bitches in season are in the ring.
KNOWLEDGE IS POWER — FRANCIS BACON
Pure Dog Talk is grateful to all of the mentors in our sport who support us with their knowledge, their kindness and their generosity. JOIN us today in providing access to this invaluable "watering hole" for anyone who is thirsty for knowledge. Your pledge of as little as $5/month helps guide the next generation of dog fanciers. Click the "Be My Patron on Podbean" button to join our "listener supported" team at Pure Dog Talk.