347 — Tracy Szaras: "Pretty Good, but it's Not Perfect Yet" | Pure Dog Talk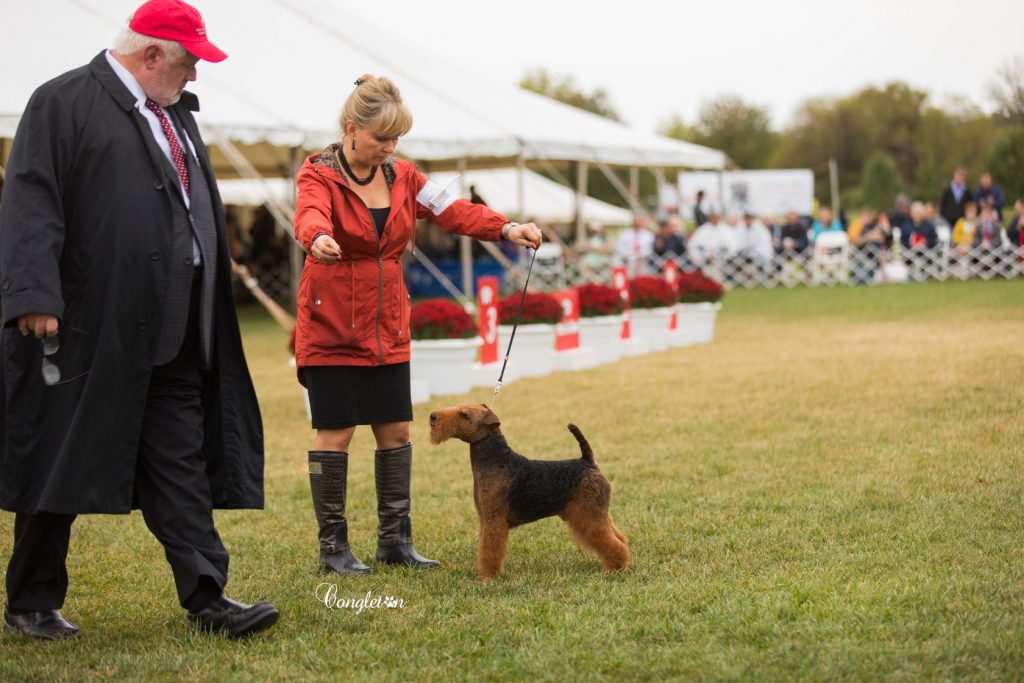 Tracy Szaras: "It Looks Pretty Good, but it's Not Perfect Yet"
Professional handler Tracy Szaras, whose Hungarian heritage leads her mother to describe her as a "real Gypsy," says the pursuit of perfect is her secret to success.
Szaras showed her first dogs in grade school, because her mom showed dogs. Her mom was a great trainer, Szaras said, who helped her process questions. Mom taught her proper conditioning and basic animal husbandry.
Szaras' first breed is Lakeland Terriers, so her mom took her to Montgomery County Kennel Club for the first time almost 30 years ago.
Montgomery County started it all
"I saw all these dogs looking awesome, everybody dressed to the nines. I really got into it that weekend. That next year I went to work for Greg Strong. I thought I knew how to pull hair until I went there. He showed me how to do flatwork, to do it correctly. I became driven. Greg taught me more, about trimming, skittish dogs, etc. I learned a lot in a short time.
"Then I went to Bergit Coady and learned about low-legged terriers.  On my days off I went to Gabriel Rangel's kennel to learn more.
"I was a sponge. I didn't even date. All I wanted to do was learn and know everything about terriers.
"I learned detail work from Gabriel. Learned by watching. I learned trimming, especially heads, from Gabriel.
"I thought I was going out on my own. Next came Maripi Wooldridge. When she was considering quitting, she wanted me to take over her clients.
"I was amazed. I thought I'd learned all I could. There's always something to learn. Now, I'm always looking. It looks pretty good, but it's not perfect yet. I want to be the best. I don't want to short cut anything, thanks to Maripi.
Pure Dog Talk is sponsored by:
KNOWLEDGE IS POWER — FRANCIS BACON
Pure Dog Talk is grateful to all of the mentors in our sport who support us with their knowledge, their kindness and their generosity. JOIN us today in providing access to this invaluable "watering hole" for anyone who is thirsty for knowledge. Your pledge of as little as $5/month helps guide the next generation of dog fanciers. Click the "Be My Patron on Podbean" button to join our "listener supported" team at Pure Dog Talk.