415 – Legal Beagles Bring Support to Dog Breeders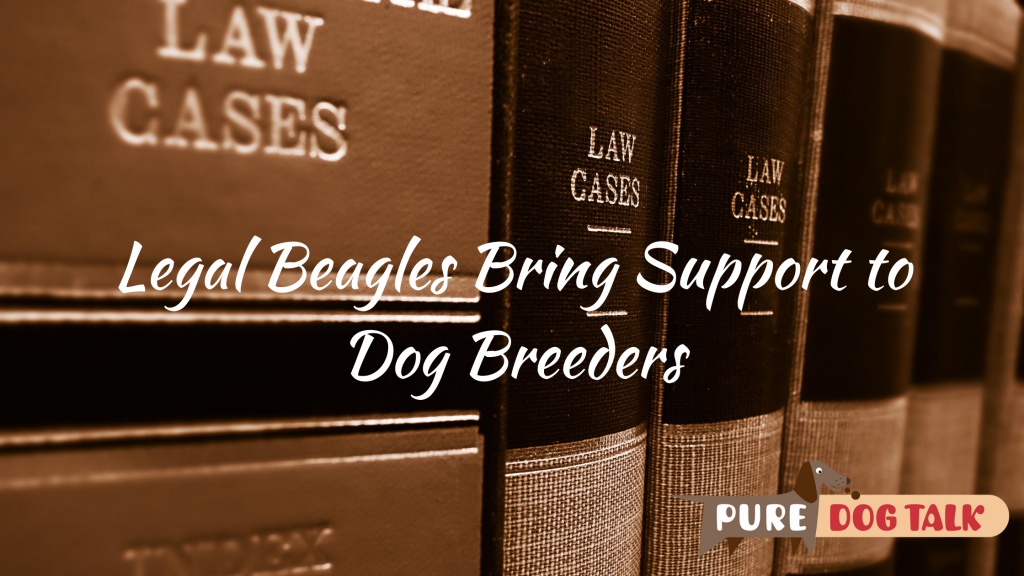 Legal Beagles Bring Support to Dog Breeders
The legal beagles at Good Dog join host Laura Reeves to talk about their brand new legal Resource Center. Ivy League educated, top Manhattan legal firm attorneys are putting together an entire package of legal services for dog people.
"Dog breeders can and should be empowered with the law," said Cat Matloub, Good Dog's Head of Partnerships & Legal Affairs.
"When we started out at Good Dog, we very quickly realized the need for legal support for dog breeders in a few different areas. We identified five key areas where we can provide real valuable legal support and protection to breeders and help them protect their rights, their dogs, their programs and all of that. The five key areas are number one, how to protect breeders' legal rights and that's anything from support if there are ever any issues with animal control or breeders being unfairly targeted or their dogs being targeted.
"We do a lot of assisting with stolen photos and content that's stolen from breeders. That is an enormous area where the public is continually misled and scammed. It's contributing to the sort of horrible state of affairs that it is out there for a lot of puppy buyers. So we actually are able to get that content taken down on our breeders' behalf. We have direct lines to the hosting companies of all these websites now and so breeders can come to us anytime.
Defense from scammers
"We help provide protection to our breeders if they've been scammed. If they're worried about being scammed, we provide secure payment systems so that no breeders can ever be scammed.
"We also create things like ongoing rights to a dog, so if it's breeding rights or rights to not have the dog bred, or co-ownership, how you can protect yourself and make sure that those rights are protected under the law.
Public education
"With respect to protecting legal rights, we do a lot of educating the public in terms of helping them understand why breeders do things and why they shouldn't get upset or unfairly attacked.
"Another huge area for us is legislation advocacy and overreaching regulation. What we do is we provide materials in our legal Resource Center. Letters, statements of fact, an advocacy sort of explaining why regulations are harmful, template letters that can be sent to folks that are breeders in the area and they can go speak at the council.
Contract assistance
"The other three big categories (include) contract assistance. There's so many contracts in the dog world. So sample contracts, annotated with explanations, different provisions calling out where state law applies, all of that in our legal Resource Center. What provisions to include, health care and deposit agreements, all that.
"Another big area that we provide support in is mediation services and support. Whether it's amongst breeders or club members or breeders and puppy buyers, having an objective third party there has been enormously helpful in those situations. And then a general category of legal support more broadly, with questions around regulation and things like that."
Learn more here: https://www.gooddog.com/good-breeder-legal-resource-center
KNOWLEDGE IS POWER — FRANCIS BACON
Pure Dog Talk is grateful to all of the mentors in our sport who support us with their knowledge, their kindness and their generosity. JOIN us today in providing access to this invaluable "watering hole" for anyone who is thirsty for knowledge. Your pledge of as little as $5/month helps guide the next generation of dog fanciers. Click the "Be My Patron on Podbean" button to join our "listener supported" team at Pure Dog Talk.