447 — Giving Thanks in a Pandemic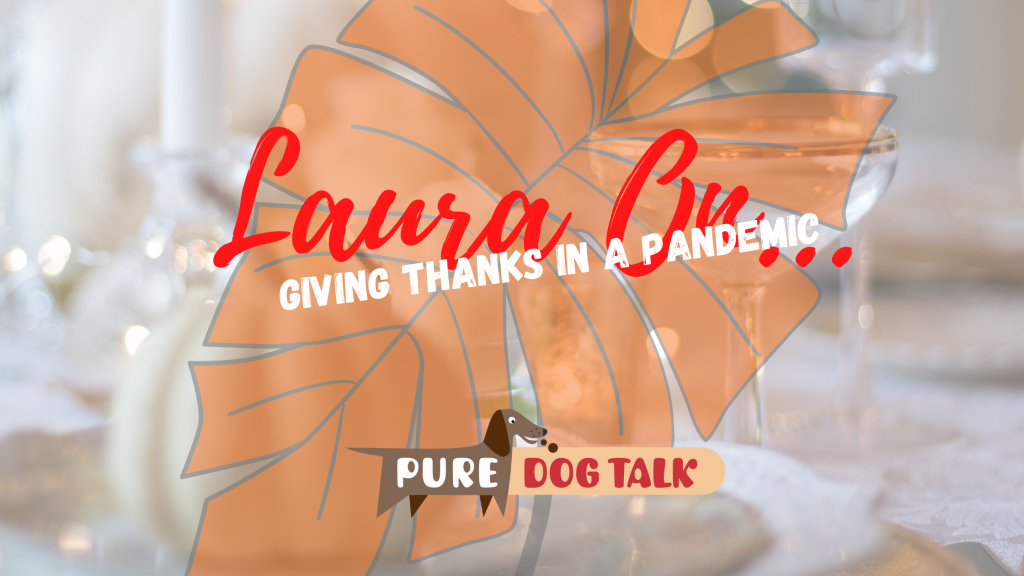 Giving Thanks in a Pandemic
With a nod to all my Deadhead friends out there, "what a long, strange trip it's been…."
As the year draws to a close, even the most unprecedented, whacko, nutball kitty year of all time, even *this* year has given us all *some* thing for which we are thankful. On this Thanksgiving Day, I'm counting my blessings. And sharing input from listeners on what makes them thankful as well.
I'm going to just put it right out front. It can feel really really HARD to be thankful in the midst of one of the most challenging years, globally, in a generation. I mean… It's been a pretty emo kind of year, right?. Worry (and/or freaked AF) has topped the list of mental states. Worried about our health, our wealth (or lack thereof), our future, our kids, our parents, our family.
With dog events limited or completely off the table, depending on each person's situation, even the outlet of our cherished sport has been largely unavailable.
So, let's talk about giving thanks for what we do have.
I think it's safe to say many of us have stories. Life situations that required us to overcome and improvise. I have found that by finding and focusing, fiercely, on any beauty or positive in my surroundings has helped me through some pretty brutal times. And I'm talking something as small as a pretty flower in a field. As the physical ability to simply get up out of bed, have food and shelter and clothing. It may be trite or Pollyanna-esque, but reminding ourselves of the simplest of blessings helps us stay in a good mindset. What we express, we receive. Positive OR negative.
Thankfulness
So here's my list of thankfulness for 2020 here at Pure Dog Talk:
GREAT Patrons who support my mission of GREAT content. Folks who KNOW that *education is the answer, to everything*. People who encourage ME to keep improving and doing more.
GREAT Listeners who send me notes and thank yous and encouraging stories about how Pure Dog Talk helped them. Which make my heart sing and occasionally my eyes leak…
GREAT Sponsors! Companies that understand the importance of our purebred dog community and put their money on the line to prove it. Trupanion and Embark, thank you. From the bottom of my heart, for ensuring the viability of this valuable educational resource for our audience.
GREAT Opportunities! Thanks to the folks at Good Dog, I have more opportunities than ever before to reach an even wider audience with a message of education, protecting our vulnerable rare breeds and preservation breeders as curators of the purebred dog.
GREAT Events! Our groundbreaking Pure Dog Talk Cyber Sweepstakes presented by Trupanion led the way for other events that kept our community in touch, intact and in form during the height of the lockdowns. YOUR generosity, and that of Trupanion, enabled me to financially help members of our Tribe who encountered hardship due to the pandemic. Our FIRST annual Pure Dog Talk Retreat built community and friendships that will endure, enhanced skills and set folks up for success.
Now, let's hear from a few of YOU!
Veronica Miller
I had an amazing year just being with my dogs. Most stuff was canceled, so we stressed less and partied more. I did more at home training, but the reality is I got lazy and we just hung out a lot.  They got to run around the yard a lot, we snuggled so much, and our bond has never been better. I'd like to think all of the classes and work we did were good for us, but the reality seems to be just chilling was what we needed. I wouldn't trade this time for anything. Now, I did jump into UKC a bit for fun. Such a fun format, and so laid back. I loved the less harried and crazy tone, and so did my dog. We had to think outside the box to find something to do, and I love that we did this. I'd have never shown this much, especially in UKC, if it wasn't for the plague.
Amanda Fleischsmith
Thankful for more time with my senior dog, as I got him as a puppy when I started the job I still have now, 13 years ago.
Cindy Moore- Honebein
One of my thankfuls for many years has been walking Mountain trails with my pups. Practicing being in the moment. Noticing the smells, sounds & sights.
Mary Beth Constante
Thankful that lure coursing trials are back, for my job working at the dog track with the world's best canine athletes and of course, the best hounds around: my girls Ruger and Benelli.
Jennifer Redfern
I am very thankful for good health, virtual shows, and four AKC shows we were able to attend in the Pacific Northwest. So proud of our AKC kennel clubs for keeping us safe, the exhibitors, handlers and staff/volunteers who were so respectful and cooperative in the face of COVID. Thank you all
Garnett Preston Persinger
Giving, we have made a donation to the local food bank, I have my Take the Lead donation to go out and plan a little something for my vet clinic! To be balanced I am thankful for the wonderful husband that I have been with for over 40 years, the dogs that share our home, my family even though we are flung across the country, and good friends
Mariah Underwood
As someone who is very new to the world of conformation — only got my guy in January — I am super thankful to all of the dog pros who are doing their best to make learning accessible to people like me during this time of not necessarily having access to in-person classes. While my progress be slower because of COVID, I still feel like I'm learning.
Patrons Speak Out!
Molly Spengler
Well, I currently should have been sleeping in a crappy bed in a run down Super 8 for the last time of this year, but my covid test results did not arrive in time for me to travel to the show! So my 2020 show career has officially come to an end.
Am I sad about it all, YES! But, am I happy about what I was able to achieve, YES!
*In 2020 I was able to finish my first Home Bred Champion!
*In 2020 I walked into a ring full of handlers and owner handlers that hadn't shown in months and took an AMAZING BoB!
*In 2020 I grabbed 3 OH Group 1st & 1 OH Group 3rd.
*In 2020 I whelped a litter of 10 beautiful Dalmatian puppies with 20 hearing ears and 20 brown eyes!
*In 2020 I trained my first performance dog in agility and should be ready to compete early next year!
*Most importantly, in 2020, I learned that the dogs that sleep on my couch mean more to me than any ribbon or title they could ever earn – they make me smile when days are dark. 2020 has been darker than I could have ever imagained, but my dogs got me through it!
Charlotte Hince
It's been a funky year for sure and while I feel like there's a light at the end of the vaccinated tunnel, with everything shutting back down (at least here) it's really good to look at the positives.
-I finished my 3rd Champion, this one only in my name and done entirely by me (The prior two had a few points when handled by their co- owner and a junior who wanted to try.
-Finished her health testing with exceptional results.
-Talked to a stud dog owner about using her dog for the first time.
-Really got to try herding and got to put my dog on cows -which she clearly felt was her birthright.
-Signed up for a stockwork day with serious herding folk.
-Drove 14 hours to breed a bitch- it didn't take but I've never been let out solo to do this for my mentor.
For such a weird year it seems like we've all learned and accomplished so much.
Alexandria Schlosser Bullock Wolff
My dogs definitely made 2020 brighter! With only 4 weekends of competing in NOHS, Lola ended 2020 as the #8 OH Doberman and we were invited to compete at the NOHS Finals in Orlando. This included several OH Group placements and an OH BIS. We also spent several weekends competing in Scentwork. She needs 1 interiors Q to complete her SWE and she earned her first masters Q in exteriors! I was also able to get my first homebred puppy, Lola's daughter Juniper, out in conformation and Scentwork.
Kayley Paylor
Wins the prize for competing in the most different activities with the most dogs! lol Trick dog titles up through Performer, flyball competition, titled and top ranked coursing and racing dogs in three different organizations, along with trying Open Field Coursing; UKC show championships, agility and rally competitions… all either virtual or live, in the midst of a pandemic, with, I'll have you note, a Lurcher, a Saluki and three Azawakh! This is no mean feat for these breeds. I was honored to meet Kayley at the Pure Dog Talk Retreat and in awe of her gorgeous hounds.
Thank you listeners, for sharing your joy and gratitude.
Personally, I raised two healthy, happy, gorgeous, successful litters of puppies this year. I was deeply grateful for being pretty much of a hermit by personality. Lockdown and social distancing and WFH, when those are my happy places to start with, certainly were easier for me than so many of my friends.
I am thankful, daily, for old dogs who nuzzle my hand with cloudy eyes and fond memories. For puppies who bound with joy and abandon and no small measure of great expectations. For pouring rain on a metal roof and warm sun peeking through grey clouds. I am deeply grateful for my partner, Kim, my friends who are family, the house I designed just how I wanted it and the tiny chunk of earth I call ours.
Gratitude and thankfulness are an everyday thing here, not something to trot out with the turkey and giblets and then stuff unceremoniously in the back of a dusty shelf for another year. You won't hear much about the meanness or unfairness of life here, about who's zoomin' who and whatever the day's petty drama might be. Not because it doesn't happen, but because, frankly my dears, I don't give a damn. It just doesn't matter.
While we're counting our blessings, please take into consideration those who are not as fortunate. There are dozens of Organizations that need our support during these crushing times. I'll include links to a few in the show notes if you need some extra ideas.
My greatest wish for you all is that you stay safe, stay healthy and stay strong.
Consider giving what you can to these worthy organizations. These are all people I know personally and trust implicitly:
Your National purebred rescue
KNOWLEDGE IS POWER — FRANCIS BACON
Pure Dog Talk is grateful to all of the mentors in our sport who support us with their knowledge, their kindness and their generosity. JOIN us today in providing access to this invaluable "watering hole" for anyone who is thirsty for knowledge. Your pledge of as little as $5/month helps guide the next generation of dog fanciers. Click the "Be My Patron on Podbean" button to join our "listener supported" team at Pure Dog Talk.