96 – Divorce, Disease, Disaster, Disability, Delay, Death and Your Dogs: Debra Hamilton Esq. – How to Make a MAAP Plan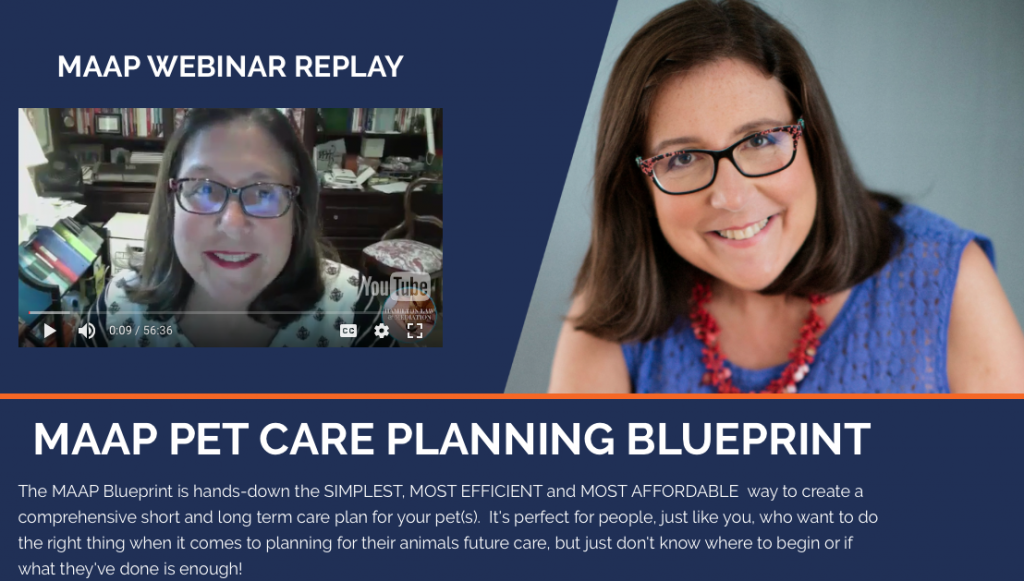 Divorce, Disease, Disaster, Disability, Delay, Death and Your Dogs: Debra Hamilton Esq. – How to Make a MAAP Plan
What happens to your dogs in the event of divorce, disease, disaster, disability, delay, or death?
Don't Assume
Don't assume that family or friends know what your want, how to care for them, or who should have them.  Dogs are personal property.  Just because you assume that your breed friends will come to your rescue, reality is that they might not be able or willing to, or be legally able.
MAAP and Debra Hamilton, Esq
MAAP is a 4 step blueprint program from Debra Hamilton, a "legal expert" on animal disputes and an Irish Setter breeder.
4 steps of MAAP
Make the plan you want to be followed-short term and long term. No ones knows except you what to do.
Do it so your family doesn't feel guilty or obligated to care for the dogs, or if that is not what you want.
Appoint the people to care for your dogs. Co-ownership's might terminate with your death.
Publish it – give to friends, family, attorney and vet. Be sure that the MAAP plan is referred to in your living trust.
But I Already Have a Pet Trust
Pet Trusts are invaluable, but attorneys don't know everything you want with your dogs and Pet Trusts to not cover living instructions.
Want to Learn More?
Listen to Debra Hamilton discuss how to make a MAAP for your dogs.
Debra spent 30 years as a practicing litigator, but she is now a full-time mediator and conflict coach for people in disputes over animals.

She works both nationwide and internationally. She has far-reaching experience in resolving interpersonal conflicts involving animals, and she is also well-known in the world of purebred dogs as a top breeder and exhibitor of Irish setters and long-haired dachshunds.

Debra speaks widely on the topic of how mediation techniques can help people address conflicts without litigation. She has presented at veterinary schools, the American Kennel Club, the American Veterinary Medical Law Association, the Society of Animal Welfare Administrators, the Living With Animals conference, state bar association Animal Law Committee meetings, and animal interest group meetings.

Debra also writes a blog for Hamilton Law and Mediation and is a contributor to the Solo Practice University blog and the Canine Chronicle. She has been featured in Forbes, the Wall Street Journal, US News and World Report, and the New York Times.

As the principal at Hamilton Law and Mediation, PLLC—the nation's first solo mediation practice dedicated to helping people resolve conflicts over animals—Debra uses alternative dispute resolution to help address disagreements over the family pet during divorce, neighbors' arguments over a barking dog, and confrontations between clients and veterinarians and other professionals who work with animals. HLM also looks forward to helping animal rights and welfare advocates see the benefit of having a conversation about the best interests of all parties—especially the animals—to resolve animal-related disputes.

Debra is admitted to practice law in all New York State courts. She is certified as a mediator and collaborative professional and has worked with various court-based mediation programs in New York City (Queens-Community Mediation Service) and in Westchester and Rockland Counties in New York (Westchester and Rockland Mediation Centers).
Hamilton Law and Mediation
Prepare for Your Pet's Care – The Road Map for Long and Short Term Care for the Animals You Love.
Worried What Will Happen to your Pets?
Register for FREE Pet Care Planning Webinar
Conflicts over animals are among the toughest to resolve. People form deep emotional bonds with their pets—after all, they're members of the family—so when a dispute involves animals, people get just as angry as if the clash were over their human children. When they've finally had enough, they head to court where the law treats the pet as property—as just a thing.
But there's a better way: mediation. Whether your conflict is over who gets the cat in a divorce, how to deal with a barking dog, or any other issue, a neutral mediator can bring you and the other person together so you can hear each other out, acknowledge each other's feelings, and resolve your dispute. Not only can mediation settle the conflict in less time and with less expense than litigation, but it can save and even strengthen relationships.
In Nipped in the Bud, Not in the Butt: How to Use Mediation to Resolve Conflicts over Animals, litigator-turned-mediator Debra Vey Voda-Hamilton introduces her proven techniques for addressing your conflict, working out a mutually satisfactory solution, and ensuring the well-being of the most important party—the beloved pet or animal in need.

KNOWLEDGE IS POWER — FRANCIS BACON
Pure Dog Talk is grateful to all of the mentors in our sport who support us with their knowledge, their kindness and their generosity. JOIN us today in providing access to this invaluable "watering hole" for anyone who is thirsty for knowledge. Your pledge of as little as $5/month helps guide the next generation of dog fanciers. Click the "Be My Patron on Podbean" button to join our "listener supported" team at Pure Dog Talk.