330 – Breeding Rules from John Buddie, Tartanside Collies | Pure Dog Talk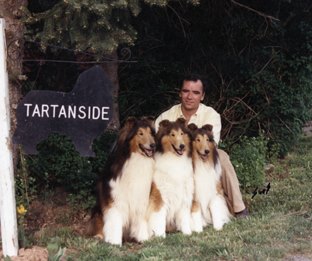 Breeding Rules from John Buddie, Tartanside Collies
John Buddie has spent a lifetime with Collies. His Tartanside family of dogs is world famous and widely respected. His Breeding Rules are a distillation of more than 50 years' experience and success. This is part one of a two part series.
Buddie's original breed mentor gave him much of the knowledge he continues to share today.
"This was mentorship in the days of letter writing, plus weekends spent doing kennel chores, brushing dogs, really hands on work," Buddie said. "When I asked a question, she would ask me a question to make me think."
Spoon-feeding someone an answer doesn't have the same impact as helping someone come to their own conclusion, Buddie observed.
Buddie's "rules" are guidelines that are applicable across breeds and generations.
*Leave the sport/breed no worse than you found it
Show respect for the lines and breeders who came before by preserving that quality.
*The number of champions finished/ribbons earned is not the measure of a breeder
"There have been many important contributing breeders who changed the face of a breed who bred on a small scale," Buddie said. "For every record achieved there will always be someone who can break that record."
*Learn to read a pedigree
Research, look to breeders of the past, learn what they accomplished and how.
*Look to the grandparents
Most top producing dogs are just carrying the pedigree forward. Top sires, often the strength comes from dam side.
"I've had great success using the Maternal grandsire effect, in other words breed a quality bitch to her maternal grandsire," Buddie said.
*You can never outrun a problem
"It's a lot easier to rid yourself of problems with testing now. But you have to admit the problem and deal with it. It can mean scrapping a couple generations of breedings to clear it out. But you have to protect your breeding program as a whole."
*Learn to see quality in other people's dogs
"We make evaluations of dogs when we're competitors… when you're judging you realize you weren't as open minded as you thought you were."
*Attend national to see dogs that you wouldn't see any other time
Join us next week for the continuation of this fabulous conversation.
Pure Dog Talk is sponsored by:


KNOWLEDGE IS POWER — FRANCIS BACON
Pure Dog Talk is grateful to all of the mentors in our sport who support us with their knowledge, their kindness and their generosity. JOIN us today in providing access to this invaluable "watering hole" for anyone who is thirsty for knowledge. Your pledge of as little as $5/month helps guide the next generation of dog fanciers. Click the "Be My Patron on Podbean" button to join our "listener supported" team at Pure Dog Talk.