264 — Carlos Puig: All About Dachshunds and Getting in a Dog's Head | Pure Dog Talk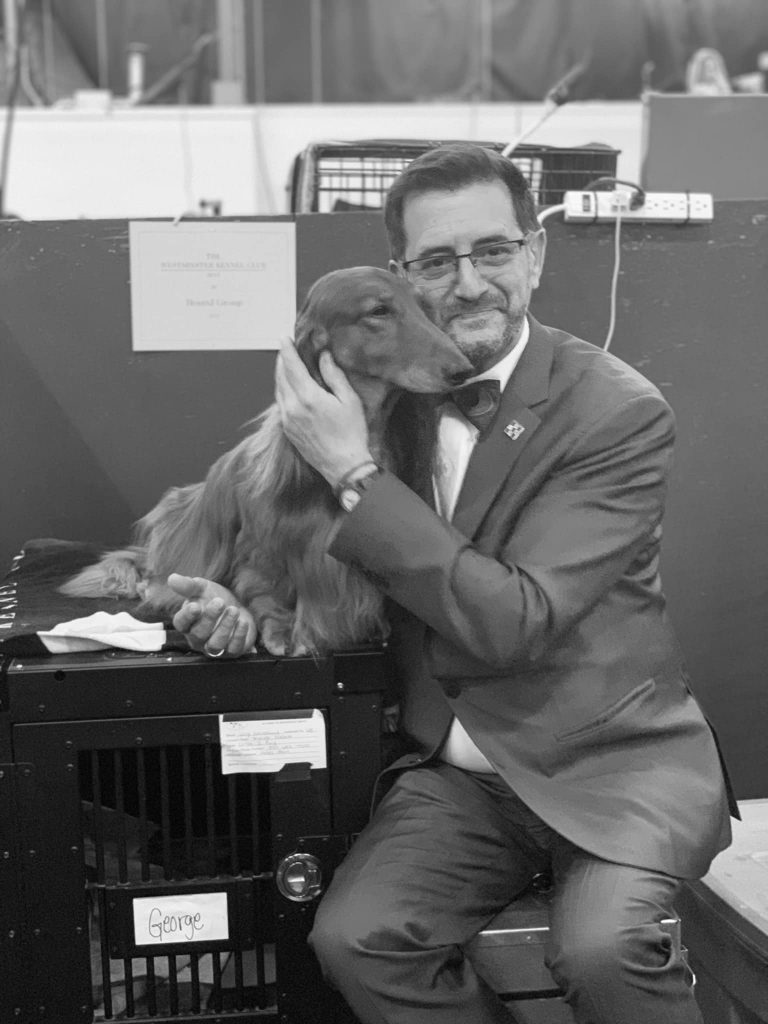 Carlos Puig: All About Dachshunds and Getting in a Dog's Head
Anyone who watched the joy with which the Longhaired Dachshund, Burns, showed at Westminster Kennel Club last week, or loves Dachshunds in general, will appreciate this talk with handler Carlos Puig.
A Dachshund fancier, breeder and handler for 45 years, Puig brings out the pure spirit in each of his charges. How and why this "jazz pianist" of dog handlers does this is an amazing story. His encyclopedic knowledge of the Dachshund breed is equally impressive.
"(Dachshunds) are almost like an accordion," Puig said. "They are very flexible because they had to be able to get in the badger den, maneuver underground and then back out."
Dual Champion Does it All
In fact Burns, GCHP DC WALMAR-SOLO'S OMG SL JE, is believed to be the first dual champion of any breed to win a group at Westminster Kennel Club. Puig is proud that Burns has been successful in both field trials and earth dog events, proving that great show dogs can still do the work for which they were bred.
While Standard and Miniature Dachshunds have the same breed standard, Puig notes there are distinct differences between the varieties of coats and sizes. Smooths are the guard dogs, Longs are the snugglers and Wires will make you laugh, he said. And while Standards were bred for hunting badger, Minis are more about speed and were bred specifically for hunting rabbits and flushing deer.
"Back in the day (as the breed was developed in the 1800s) the best wires were standard longhairs bred to Dandie Dinmonts," Puig said. "Which is why you still see lighter color hair on the heads of some Wire Dachshunds."
Dog Handler as "Jazz Pianist"
Puig began his journey as a shy 11-year-old, house sitting for a neighbor who owned and showed Great Danes and later Dachshunds. He helped socialize puppies and groomed dogs for the owners while they were at shows because his parents were very protective and wouldn't let him travel out of state.
"I learned to communicate with dogs before I learned to communicate with people," Puig said. "I am grateful to the dogs…. they literally saved my life. I feed off the dog's personality. You gotta get in their heads. I hate the robot dogs. There are never two dogs that are exactly alike. If you can't pick up on that, you'll get nowhere. I'm fortunate I started with Dachshunds, because I had to convince them they were doing what they wanted to do, not what I was making them do."
KNOWLEDGE IS POWER — FRANCIS BACON
Pure Dog Talk is grateful to all of the mentors in our sport who support us with their knowledge, their kindness and their generosity. JOIN us today in providing access to this invaluable "watering hole" for anyone who is thirsty for knowledge. Your pledge of as little as $5/month helps guide the next generation of dog fanciers. Click the "Be My Patron on Podbean" button to join our "listener supported" team at Pure Dog Talk.