244 – CHF Hemangiosarcoma Initiative and Matching Funds | Pure Dog Talk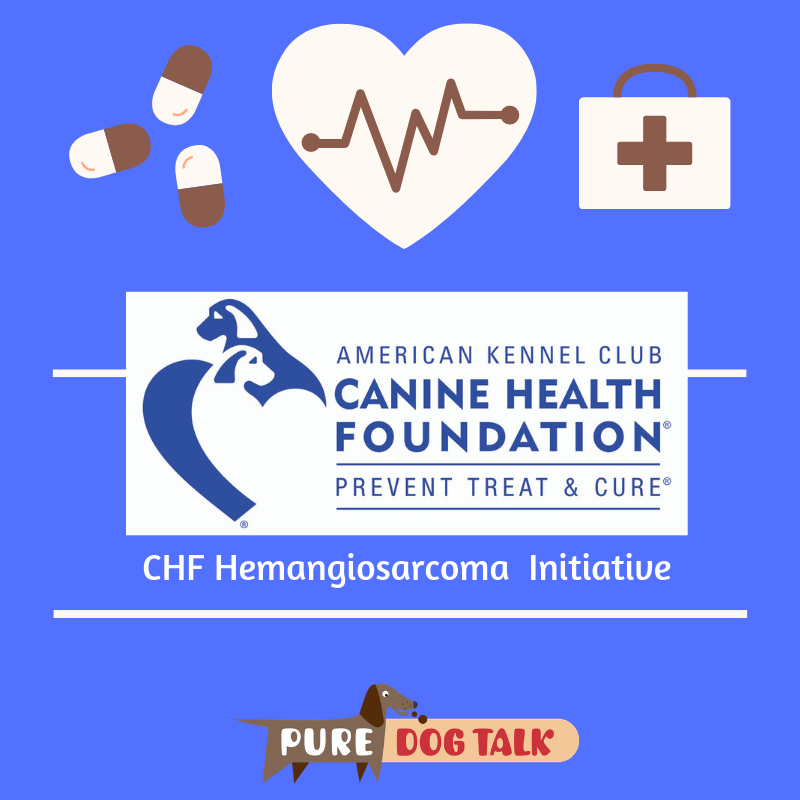 Hemangiosarcoma Strikes Quickly and With No Warning
Canine Health Foundation (CHF) CEO Dr. Diane Brown talks with me about the most current research into hemangiosarcoma. CHF is funding a major initiative dedicated to moving the needle on this deadly disease.
Hemangiosarcoma is an aggressive, silent killer, Brown said. This particular cancer is specific to dogs and originates in blood vessels. Primary sites in which hemangio will present are the spleen and heart, Brown noted, owing to the abundance of blood vessels in those organs.
"These cancers grow quickly and quietly," Brown said. "Once people know the dog has hemangio, generally the tumor has ruptured and the dogs bleed internally."
No definitive genetic connection
Removing the cancer doesn't cure the disease, Brown said. She added that all of the treatments tried over time have not improved overall survival time. Hemangio is a cancer seen often in large breed dogs, but Brown noted veterinarians are seeing it more and more frequently in all sizes and mixed breed dogs as well.
"There are higher risk breeds," Brown said "but there is no direct, definitive genetic connection." She added that research has so far not been able to identify a "hemangiosarcoma gene."
"What we really need is a way to do an earlier diagnosis," Brown noted.
To that end, CHF is spending resources investigating early diagnosis options — whether a blood test, liquid biopsy, genetic test. They are trying to find a way to diagnose the disease when it is at a "low cellularity."
A major matching grant from AKC for $250,000 last year has been met with additional funds from the Golden Retriever Foundation, Flat Coated Retriever Foundation, American German Shepherd Dog Charitable Foundation and more.
Study participation opportunities
Owners and breeders who are interested in participating in various CHF studies are encouraged to visit the website and peruse the active studies currently seeking participation.
Join CHF in supporting these important research initiatives by attending Canines and Cocktails Thursday, 12/13 at the Rosen Center hotel in Orlando, FL. Tickets available at the CHF booth at the dog show.
Listen to previous episodes with Dr. Brown on epilepsy, tick borne diseases and theriogenology residencies
KNOWLEDGE IS POWER — FRANCIS BACON
Pure Dog Talk is grateful to all of the mentors in our sport who support us with their knowledge, their kindness and their generosity. JOIN us today in providing access to this invaluable "watering hole" for anyone who is thirsty for knowledge. Your pledge of as little as $5/month helps guide the next generation of dog fanciers. Click the "Be My Patron on Podbean" button to join our "listener supported" team at Pure Dog Talk.