256 — Jason Hoke: Just Judge the Dogs & Be Nice to People | Pure Dog Talk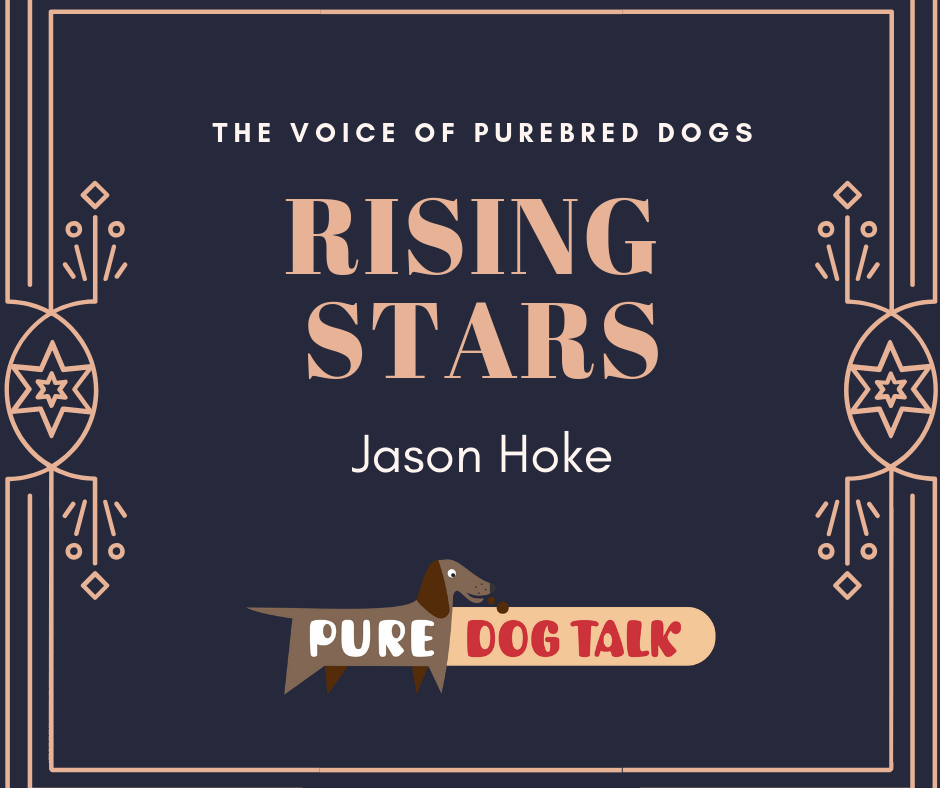 Jason Hoke: "Just Judge the Dogs & Be Nice to People"
Second generation dog breeder Jason Hoke grew up with German Shepherd Dogs. His family acquired Great Danes in the mid '80s and he now owns Whippets.
"I think when I judge dogs, I'm very much a purist," Hoke said. "I think handlers revert back to being even harder and more like a breeder judge. Because we were handlers, we know the value of showmanship, but also realize flash and dash doesn't make a good dog.
"Just judge the dogs," Hoke said. "That's the best thing we can do."
Breeder judges and handler judges
"As handlers, we have the opportunity to put our hands on so many more breeds," Hoke said. "To be a successful handler, you have to learn what a good dog is in every breed you show. But at the core, we're still breeders. We care about the breeds.
"I don't care if it moves on the table, stands like a statue, comes back and does the pose heard round the world, if it's not a good dog, just being a good show dog doesn't make it a good dog," Hoke said.
Pet peeves
"Running like a maniac around the ring is ridiculous," Hoke said. "It defeats the purpose. It takes away from the dog's silhouette and ruins every part of the outline. Showing a dog like a generic dog is incorrect."
Encourage new people
"We have to be accessible, open to talking to new people," Hoke said. "Encourage new people. Be members of clubs to volunteer. We have to teach people what our breeds are all about."
BIO, from Petcha:
"Jason M. Hoke, a resident of Madison, Wis., began his longstanding involvement in the sport of purebred dogs in the late 1970s exhibiting German Shepherd Dogs in Junior Showmanship. In 1984, he and his parents purchased two Great Danes, which became their passion. They bred Great Danes under the Jamara prefix, producing numerous champions and one of the top Great Danes in the breed's history.
Mr. Hoke continued his involvement by apprenticing as a young adult with noted professional handlers such as Leroy Stage and Wood Wornall. He then went on to become a successful professional handler, winning Best in Shows from many groups, and presented dogs to the highest rankings in their respective breeds."
Quote of the Day, From Great Dane Review:
What advice would you give owner handlers just getting started in the ring?
Since I started as an owner handler I think the biggest suggestion is first to study the breed. Learn the Trends and Lines. Then while you are in the ring and outside, observe all the dogs. Be objective and try to see where your dog falls in the mix. Be fair when thinking about your own dog. Know it's strong points and it's weaknesses as well. Always try to accentuate the positive of your dog. Listen to others for tips as well. Most people will try to give you constructive advice. Mentors in the breed are invaluable from a breeding and a handling standpoint. Practice handing and go to handling classes. I used to go to classes 2 times a week for years. It's a great training tool for your dog as well as yourself.
KNOWLEDGE IS POWER — FRANCIS BACON
Pure Dog Talk is grateful to all of the mentors in our sport who support us with their knowledge, their kindness and their generosity. JOIN us today in providing access to this invaluable "watering hole" for anyone who is thirsty for knowledge. Your pledge of as little as $5/month helps guide the next generation of dog fanciers. Click the "Be My Patron on Podbean" button to join our "listener supported" team at Pure Dog Talk.