222 — Lydia Hutchinson on Cairn Terriers and 54 Years Judging | Pure Dog Talk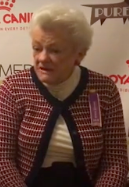 Loving life and living for Cairn Terriers
I visited with Lydia Hutchinson, renowned AKC judge and breeder, owner, handler of Wolfpit Cairn Terriers, at Westminster Kennel Club earlier this year. After a day of stewarding, this enthusiastic septuagenarian was bubbling with enthusiasm about pedigrees, breeding and the sport of conformation dog shows.
Watch the video.
A lifetime in dogs
"I wasn't quite born in to (dogs)," Hutchinson said, "But my parents got their first Cairn Terrier two months before I was born."
Following a familiar path, Hutchinson and her family eventually wound up at a dog show. The year was 1949 when she attended her first dog show "when I was 9 years old."
In the intervening 70 years, Wolfpit Cairns have produced 270 champions, Hutchinson said, almost exclusively homebred and largely owner handled.
Breeding, handling, judging
Hutchinson is still actively breeding and showing her Cairns.  She said showing and judging dogs at the same time maintains her sensitivity to exhibitors, keeps her up to date and "keeps you young."
Cairn Terriers are a breed noted for their adaptability, alertness and independence, Hutchinson said. She calls Cairn grooming for the show ring, "achieved naturalness."
As she developed the family's Wolfpit line of Cairns, Hutchinson said she utilized principles of line breeding learned from early Poodle mentor. She imported bitches from Europe looking to improve coats and fronts, but building on her program's established sire line.
"I still hand-write pedigrees," Hutchinson said. "I know it's old-fashioned, but it helps solidify the pedigree in my mind."
Hutchinson started judging in 1964 "when I was 7 months pregnant with our second child. She judges terrier, toy, herding, poodles, schnauzers. She noted that she wants to "have a relationship with a particular breed to want to judge them."
"There is not a dog show I go to that I don't learn something," Hutchinson said. "Using your eyes, asking questions of knowledgeable people, you'll learn."
There's something about the sport of dogs that's very energizing, Hutchinson observed.
"I love life, I love my dogs. I've been married to my husband for 57 years. I'm not tired at all! I'm looking forward to tomorrow."
KNOWLEDGE IS POWER — FRANCIS BACON
Pure Dog Talk is grateful to all of the mentors in our sport who support us with their knowledge, their kindness and their generosity. JOIN us today in providing access to this invaluable "watering hole" for anyone who is thirsty for knowledge. Your pledge of as little as $5/month helps guide the next generation of dog fanciers. Click the "Be My Patron on Podbean" button to join our "listener supported" team at Pure Dog Talk.