318 – Owner Handler Secrets: Make a Plan and Be Consistent | Pure Dog Talk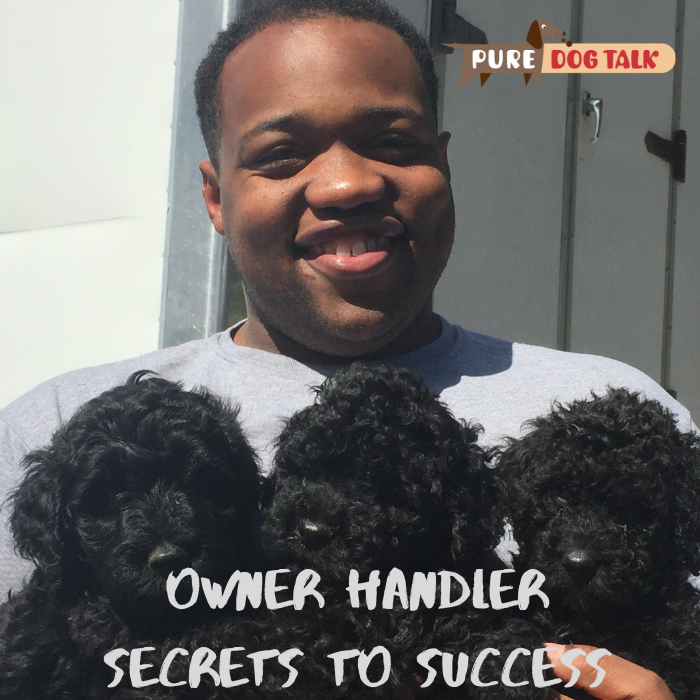 Owner Handler Secrets to Success: Make a Plan and Be Consistent
Remy Smith-Lewis, breeder, owner, handler of Portugese Water Dogs, shares the secrets that took him to the top, winning his National Specialty as an owner handler.
Smith-Lewis said he did not come from a "dog" family. He was awestruck by his breed when the San Francisco Giants began using the dogs to retrieve balls that were hit over the fence.
He started as a junior handler, worked for professional handlers Sally George and Bill and Taffe McFadden. He showed his first big winner to multiple Best in Show awards and a national specialty win before turning over the dog's career to the McFadden team to manage.
"I was at a place in my career that I really needed to decide what to do and focus on it," said Smith-Lewis, who began his career at Google and now works for a new tech start up in the Bay Area.
His recommendations to owner handlers working a full time job is, "You CAN do it!" But his secrets are: dedication, making sacrifices, having a plan, keeping on a schedule and staying consistent.
Condition, Condition, Condition
Whether it is road work, coat work or trimming, competitive dogs MUST be in condition, Smith-Lewis noted. If that means skipping company happy hour in order to spend the extra time brushing, bathing, biking or trimming your dog, that's what needs to happen.
"Complaining about handlers always winning is the easy way out," Smith-Lewis said.
Owner handlers need to remember that dogs need routines, Smith-Lewis noted. The dog can't always be on the couch. And the owner needs to find a mentor and *listen* to the mentor.
Smith-Lewis laughingly recalls a favorite admonition from one of his early mentors, Bill McFadden, "God gave you two ears and one mouth, use them wisely."
"We need to break away on our own at some point," Smith-Lewis said. "But a mentor's job is to guide you back onto a good path when you get too far out of line."
One final suggestion? "Join an all-breed club and work and learn," Smith-Lewis said.
Want to hear more from Owner Handlers? Check out these past episodes:
57 – Best in Show: How an Owner-Handler Competes with the Pros – Tricia Stanczyk
25 – Patricia Trotter: Legendary Breeder, Author, and AKC Judge – Vin-Melca's Norwegian Elkhounds
103 – Ed Thomason Tips for the Owner Handler – From a Breeder Owner Handler Turned Professional Dog Handler


KNOWLEDGE IS POWER — FRANCIS BACON
Pure Dog Talk is grateful to all of the mentors in our sport who support us with their knowledge, their kindness and their generosity. JOIN us today in providing access to this invaluable "watering hole" for anyone who is thirsty for knowledge. Your pledge of as little as $5/month helps guide the next generation of dog fanciers. Click the "Be My Patron on Podbean" button to join our "listener supported" team at Pure Dog Talk.