326 – Preserving Our Breeds. What can WE do? Discussion pt. 1 | Pure Dog Talk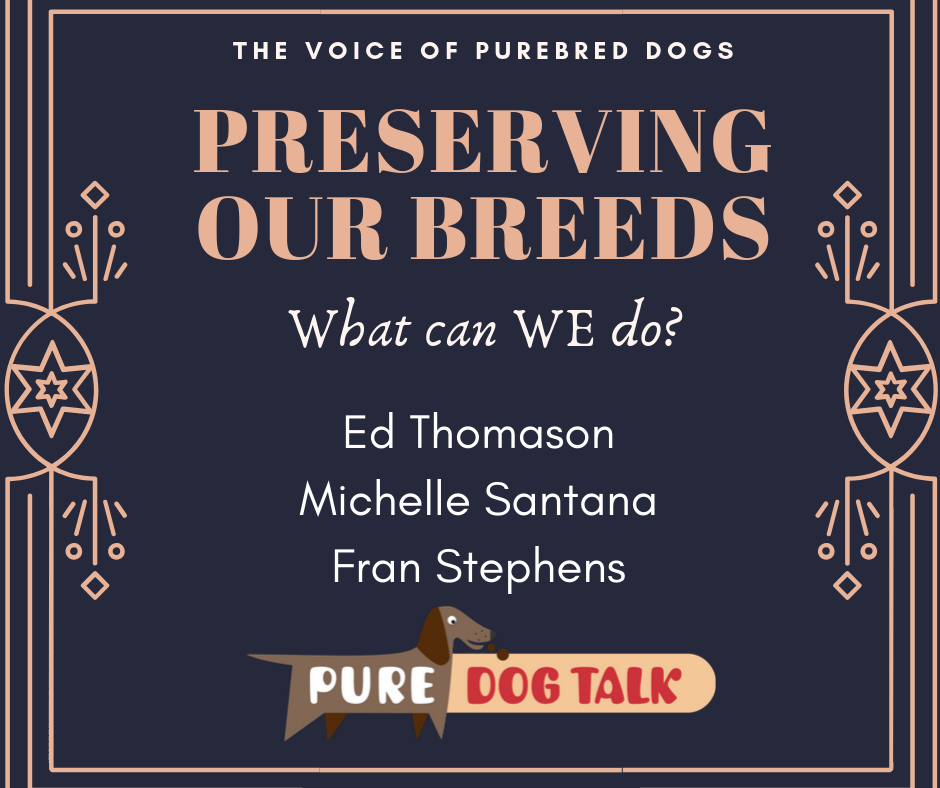 Preserving Our Breeds. What can WE do?
Pure Dog Talk's host Laura Reeves moderates a Saturday Symposium panel discussion at the Rogue Valley Kennel Club show on the topic of "Preserving Our Breeds. What can WE do?" This is part one of the discussion. Part two will post next week.
Panelists are Ed Thomason, professional handler and noted breeder of American Staffordshire Terriers; Michelle Santana, AKC Breeder of the Year of Doberman Pinschers; and, Fran Stephens, Saint Bernard breeder-judge and AKC delegate for Puyallup Valley Dog Fanciers.
The panelists discuss a recent presentation (watch the entire presentation here) to the delegate body by Bill Shelton and Doug Johnson among other areas of interest in which purebred dog fanciers can promote their breeds and purebred dogs in general.
"Tell our story"
"We have fallen into hiding the fact that we're breeders," Thomason said.
"Don't be afraid to say I breed purebred dogs because I'm want to know what I'm going to get," Stephens said.
"We have allowed doodle breeders to become a fad," Thomason said. "You go underground because you have more dogs than you're supposed to. But on social media, you can promote your breed, your breeding program without telling where you live.

The pet puppy market is a billion dollar industry. Not saying leave here and be puppy mills. Market being manipulated by doodle breeders and rescues. We don't share our stories. We have to or this ain't going to be here."

Education is critical
Santana discussed her goal of educating John Q Public.
"I picked a random pet Doberman social page," Santana said. "Thousands of people who own a companion Doberman. They need education. Any time I come across an educational article I share to that page. Spay/neuter as an example. Just pick one site that doesn't get a broad spectrum of education and share to that page. We need to spread this information to people not in our circle. We're myopic. We can talk to ourselves all we want. But we need to reach out to these people outside our circle."
Stephens noted that there is a vast market for dogs in this country that is largely being filled by doodle breeders and rescue imports.
"There are plenty of people wanting dogs," Stephens said. "It's how we reach them. How we talk to them."
Join us next week for Part 2 of the discussion!!
Pure Dog Talk is sponsored by:


KNOWLEDGE IS POWER — FRANCIS BACON
Pure Dog Talk is grateful to all of the mentors in our sport who support us with their knowledge, their kindness and their generosity. JOIN us today in providing access to this invaluable "watering hole" for anyone who is thirsty for knowledge. Your pledge of as little as $5/month helps guide the next generation of dog fanciers. Click the "Be My Patron on Podbean" button to join our "listener supported" team at Pure Dog Talk.