241 – Southern Handlers Charity League Taking Care of Our Sport | Pure Dog Talk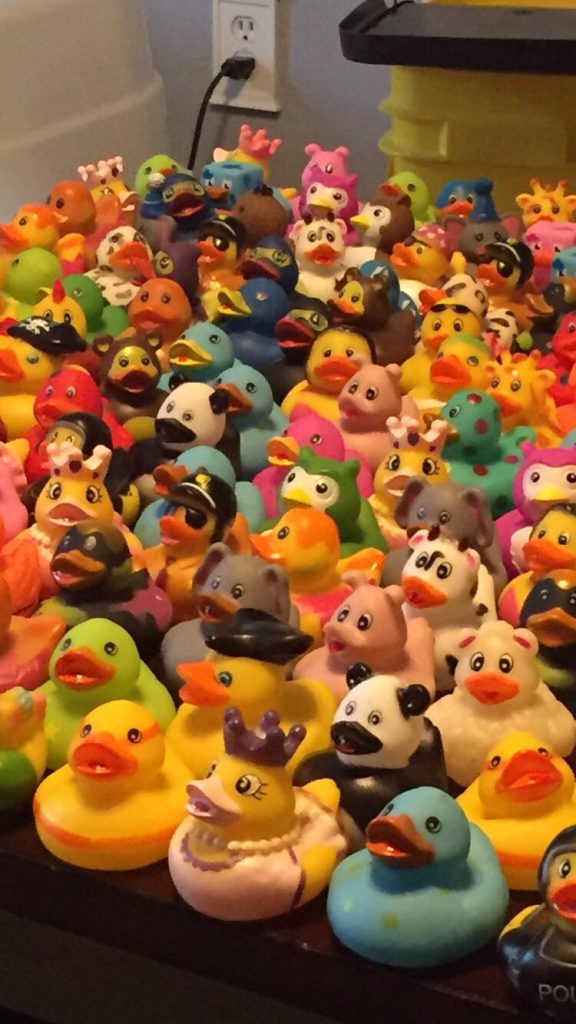 Southern Handlers Charity League: It's All in the Family
Jill Bell, former professional handler, now working as a superintendent with Onofrio, joins me to talk about the good work of the Southern Handlers Charity League.
Created in 2001 by a group of handlers in response to a death in the dog show family, Southern Handlers Charity League (SHCL) raised money to help with funeral costs. In the intervening 17 years, the non-profit has helped all kinds of people in the purebred dog community, Bell said.
Potlucks and raffles
Owner handlers, photographers, judges, anyone in the sport, Bell said, have been assisted by the organization. The group raises funds through potlucks, raffles, and creative events like the "Butcher the Beard" contest in which Onofrio's own Tim James agreed to shave his renowned beard for charity.
"If there is a need, we help out," Bell said. They have donated to hurricane victims from Katrina through Harvey. "We ask nothing in return. Every single penny goes to charity."
Centered in Texas and the southern region, SHCL is proudly supported by the dog show superintendents, professional handlers and vendors.
"Dog show people are the most dysfunctional family you'll ever belong to," Bell said. "We fight amongst ourselves, but let somebody need something, it's like a pack of bees… It's what we do."
Funding the Future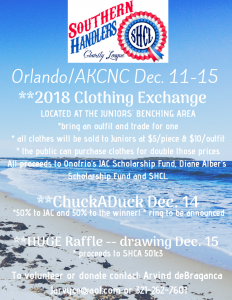 Their current undertaking is massive. They have joined forces with Florida handlers and are sponsoring three different huge projects in Orlando, Fla. during the week of the AKC National Championship.
A clothing exchange and shopping spree opportunity specifically for junior handlers, with clothing available to all exhibitors for purchase. A donation fund has been established to provide juniors with coupons to shop free if they need assistance. This massive shopping opportunity will be staged at the Juniors Benching area, courtesy of AKC and Michael Canalizo. Clothing will be available from Tuesday to Saturday, with new items arriving daily. Proceeds will be divided between two different junior showmanship scholarship funds.
A "chuck a duck" 50/50 competition to benefit the Onofrio Junior Achievement Challenge Scholarship on Friday.
An enormous raffle, with the drawing on Saturday.
"This is an opportunity for everybody to work together for the betterment of the kids and the fancy," Bell said.
Visit SHCL facebook page for more information and to purchase raffle tickets online: https://www.facebook.com/Southernhandlers
Tip of the Week:
Remember to listen for Allison Foley from the Leading Edge Dog Show Academy on how to "carve the picture" of the ideal dog while trimming.
KNOWLEDGE IS POWER — FRANCIS BACON
Pure Dog Talk is grateful to all of the mentors in our sport who support us with their knowledge, their kindness and their generosity. JOIN us today in providing access to this invaluable "watering hole" for anyone who is thirsty for knowledge. Your pledge of as little as $5/month helps guide the next generation of dog fanciers. Click the "Be My Patron on Podbean" button to join our "listener supported" team at Pure Dog Talk.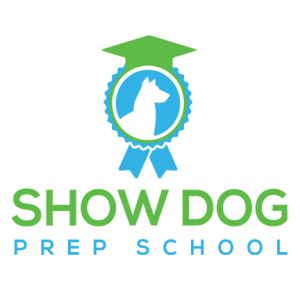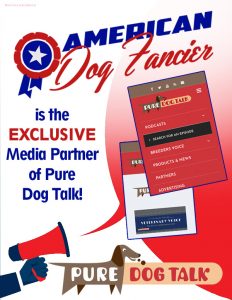 Remember to support our advertisers and partners!!