253 — Winter Workouts with the Big Moose… Keep Your Dog Fit in January | Pure Dog Talk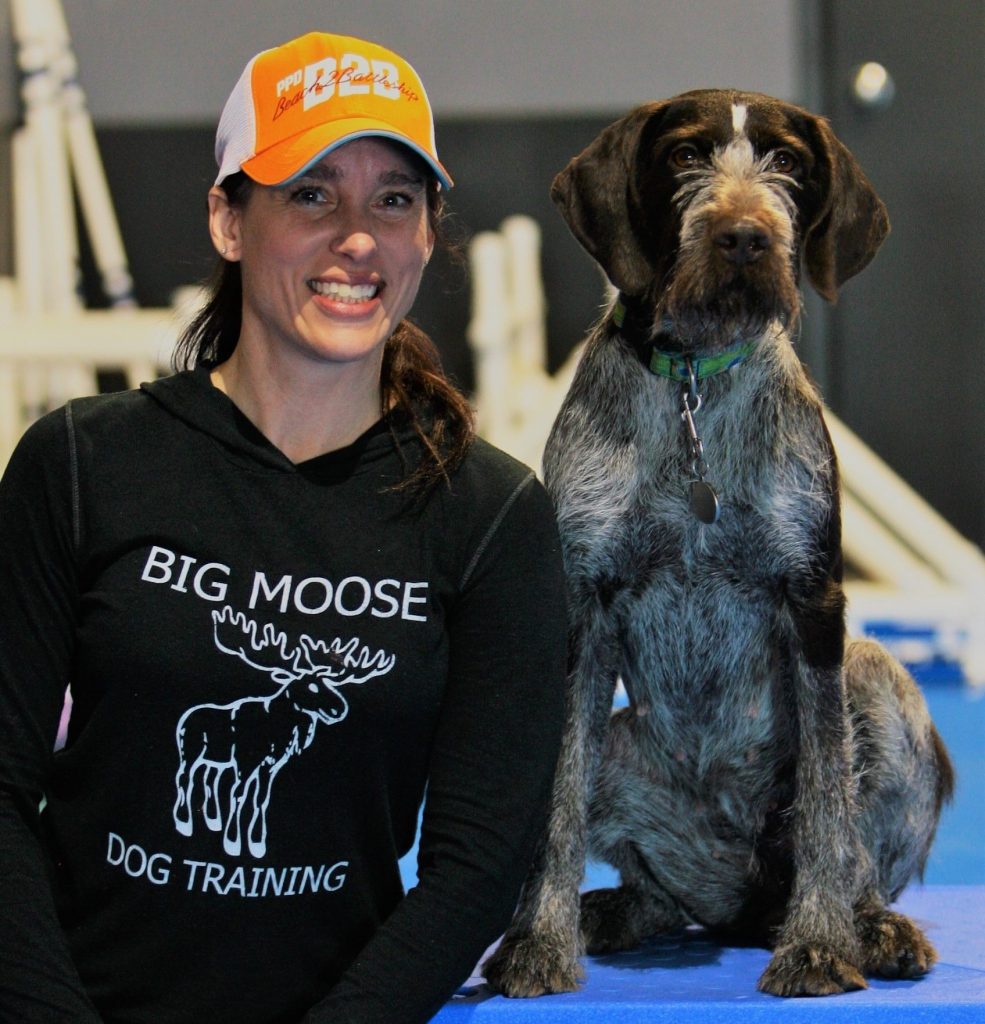 Winter workouts: Keep your dog fit in January
Kristin Sandstede, certified canine conditioning coach, says winter workouts featuring mental stimulation will help keep your dogs sane during dreary weather.
Sandstede offers concrete projects you can do to have dogs use their brains, when it is rainy, gray, cold or nasty, without having to brave the winter elements outdoors.
Scavenger hunt for dinner
Meal time offers lots of ways to multitask for brain time, Sandstede said. Meal puzzle toys make the dog work for food, she noted. The Boggle ball and buster cube are two options Sandstede recommends. These toys force the dog to push them around to get food. The toys makes a lot of noise, Sandstede said. The upside is she can hear where the dog is in the kitchen and know she is safely occupied.
Sandstede said shaping behavior is a great tool, but it requires more patience than even she has on a regular basis. She uses it for very specific behaviors, including the retrieve. Perhaps fetching the Kleenex box? All of the games and jobs activate the problem solving part of the dogs' brains, Sandstede said, so they spend less time in the reactionary part of their brains.
Lazy dog trainer workouts
A competitive triathlete, Sandstede insists she is a "lazy" dog trainer and has a million lazy winter workouts to exercise your dog.
One of her favorite options is the "101 uses for cardboard boxes." Sandstede suggests saving all the cardboard boxes from the holidays, tossing a few kibbles in each one and asking your dog to search for their dinner.
She also incorporates stretching exercises into her routine, using what's in the house… step stools, couches, cushions, etc.
"We all need to strengthen our core," Sandstede said. "People and dogs. It helps prevent injury with low impact exercise."
For more information, check out: http://www.bigmoosedogtraining.com/
"Kristin Sandstede has been teaching obedience since 1998.  Kristin spent 15 years working in the pet care industry, 2 of those years as a Veterinary Assistant.  She has a very good understanding of not only dog handling, body language, & behavior but she has a medical background as well.  Since 2002 Kristin has designed and taught such classes as:  Puppy Kindergarten, Basic Obedience, JV Puppy, Intermediate Obedience, Rally 4 Fun, Advanced Games, as well as developing and customizing behavior modification protocols for individual trainers ranging in topics from new puppy manners to dog-dog aggression.
Kristin is a Canine Good Citizen Evaluator for the American Kennel Club, which not only allows her to perform Canine Good Citizen testing, but also allows her students who have dog less than one year of age, no matter the breed, who participate in her basic obedience class to be automatically be eligible for the AKC S.T.A.R. Puppy Program.  Kristin is certified through the Certified Counsel for Professional Dog Trainers (CCPDT), an internationally recognized certification program for pet dog trainers, as a Certified Professional Dog Trainer – Knowledge Assessed (CPDT-KA).    To achieve and maintain this designation she met and exceeded stringent criteria that include experience, education, testing, business practices, code of ethics and references from each of the following:  a client, veterinarian, & dog trainer.  Ongoing pre-approved continuing education is required to re-certify every 3 years. Kristin was a Certified Professional Dog Trainer (CPDT-KA )from November of 2005 until December of 2011 re-certified fall of 2014, she is currently one of seven CPDT-KA in the state of Nebraska.
Her goal as a trainer is to help her clients shape their dogs to fit into their individual lifestyles & bond as a family unit, as well as educate owners to maximize their ability not only "hear" what their dogs are telling them but also to be able to provide the best environment they can to have happy, healthy, long-living dogs as members of their family.
Kristin has entered her dogs in AKC:  Agility, Competitive Obedience, & Rally-O.  Her English Setter currently has a Canine Good Citizen (CGC) certification, and her German Wirehaired Pointer has 2 of 3 legs towards both Companion Dog (CD) & Rally Novice (RN) Obedience titles.  She has volunteered with her local 4H club helping 4H kids prepare their dogs for 4H Agility.  And in her spare time competes in sprint triathlons."
KNOWLEDGE IS POWER — FRANCIS BACON
Pure Dog Talk is grateful to all of the mentors in our sport who support us with their knowledge, their kindness and their generosity. JOIN us today in providing access to this invaluable "watering hole" for anyone who is thirsty for knowledge. Your pledge of as little as $5/month helps guide the next generation of dog fanciers. Click the "Be My Patron on Podbean" button to join our "listener supported" team at Pure Dog Talk.