Vendors Row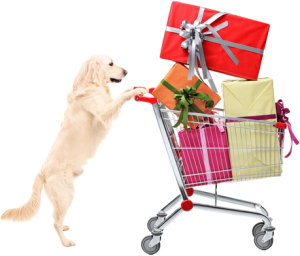 Train at home AND shop at home — until we can get back in the ring together!
Every dog show has vendors with dog-related swag, gifts and other necessary items — that's how we dog people have fun!
We're all missing our dog shows these days and we also miss our dog show vendors! Along with the
Pure Dog Talk CyberSweeps Presented by Trupanion
, we're also offering our very own
Pure Dog Talk CyberSweepstakes Vendors Row.
Take a virtual stroll below and check out over 60 vendors. Scratch that dog show shopping itch and let's help keep our dog show community strong!
A new coat designed just with dog people in mind?!
Well, sure, I'll check it out!
SUPER impressed! Very well-designed and well-fitted, with classic styling. I'm not exactly a fashion plate, but I'm impressed by how well it fits without bagging or being too tight. If I was still handling, I would LIVE in this for outside shows in the chilly, damp Pacific Northwest. Light weight, but water repellant. Hood zips out. Easy to clean the muddy foot prints off with a damp cloth, plus machine wash/tumble dry.
This coat came with a clip-on water bottle holder and "treat pouch" for trainers who are active outdoors folks. Y'all know how I feel about treat pouches, but I'm sure it would carry a boat load of high value goodies. I'd definitely wear this to run or train bird dogs in spring or fall. It has pockets in the back you could shove a retrieved bird in if you're of that persuasion… lol
There's even a special pocket to put poop bags w/ a little gripper thing to tear them off! What?? If it has a downside, it's that I can't figure out what each pocket is for! Definitely a safe place for cel phone, headphones outlet if you want to listen to the podcast while you walk the dogs (!), something like 15 pockets total… Still not sure I've found them all.
Price point is on par with any other high-end quality outdoor gear. The extra attention to details for dog lovers and solid construction makes it a two-thumbs up item. Check out the "world's best dog owner jacket" for yourself here.
—Laura Reeves, Pure Dog Talk host
PURE DOG TALK SWAG
Get everything you need for ringside and beyond
Want each episode delivered right to your mailbox?
Sign up and we'll be sure you won't miss an episode!