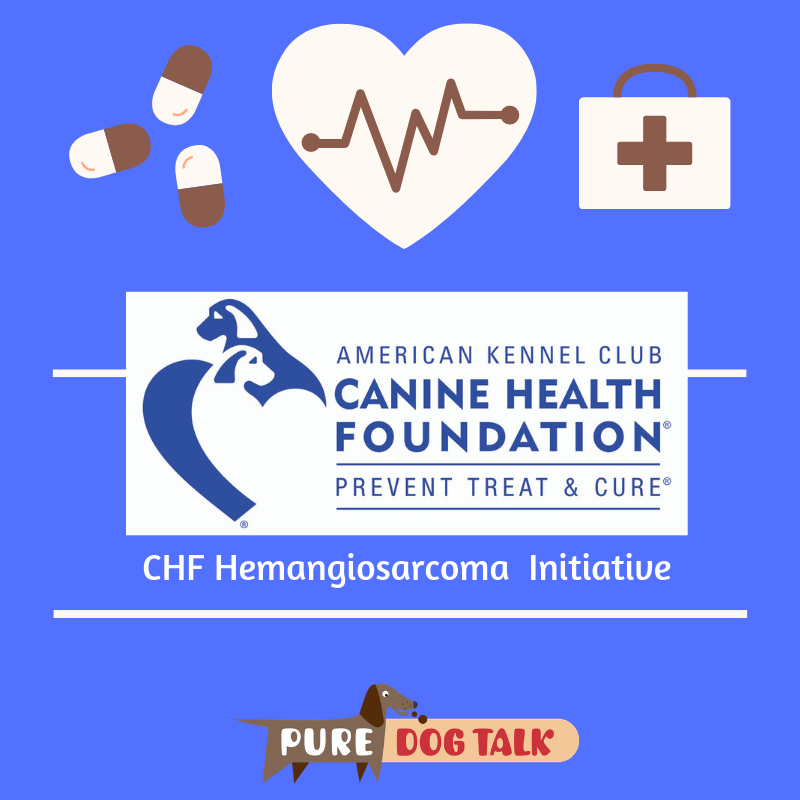 Podcast: Play in new window | Download
Hemangiosarcoma Strikes Quickly and With No Warning
Canine Health Foundation (CHF) CEO Dr. Diane Brown talks with me about the most current research into hemangiosarcoma. CHF is funding a major initiative dedicated to moving the needle on this deadly disease.
Hemangiosarcoma is an aggressive, silent killer, Brown said. This particular cancer is specific to dogs and originates in blood vessels. Primary sites in which hemangio will present are the spleen and heart, Brown noted, owing to the abundance of blood vessels in those organs.
"These cancers grow quickly and quietly," Brown said. "Once people know the dog has hemangio, generally the tumor has ruptured and the dogs bleed internally."
No definitive genetic connection
Removing the cancer doesn't cure the disease, Brown said. She added that all of the treatments tried over time have not improved overall survival time. Hemangio is a cancer seen often in large breed dogs, but Brown noted veterinarians are seeing it more and more frequently in all sizes and mixed breed dogs as well.
"There are higher risk breeds," Brown said "but there is no direct, definitive genetic connection." She added that research has so far not been able to identify a "hemangiosarcoma gene."
"What we really need is a way to do an earlier diagnosis," Brown noted.
To that end, CHF is spending resources investigating early diagnosis options — whether a blood test, liquid biopsy, genetic test. They are trying to find a way to diagnose the disease when it is at a "low cellularity."
A major matching grant from AKC for $250,000 last year has been met with additional funds from the Golden Retriever Foundation, Flat Coated Retriever Foundation, American German Shepherd Dog Charitable Foundation and more.
Study participation opportunities
Owners and breeders who are interested in participating in various CHF studies are encouraged to visit the website and peruse the active studies currently seeking participation.
Join CHF in supporting these important research initiatives by attending Canines and Cocktails Thursday, 12/13 at the Rosen Center hotel in Orlando, FL. Tickets available at the CHF booth at the dog show.
Listen to previous episodes with Dr. Brown on epilepsy, tick borne diseases and theriogenology residencies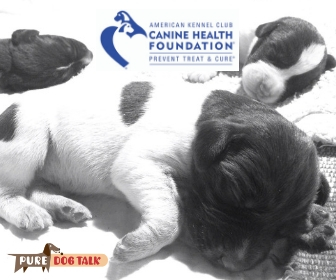 Podcast: Play in new window | Download
Supporting reproductive specialists for the future of our dogs
Reproductive specialists in veterinary medicine are known as Theriogenologists. In a world where spay/neuter is the "popular" approach to veterinary care, the Theriogenology specialty was on the verge of collapse. The American Kennel Club and Canine Health Foundation have joined forces to support these "OB/GYNs of the dog world."
Many breeders know the frustration of trying to find a modern veterinarian who will work with them in developing their breeding programs. Dr. Diane Brown, CEO of Canine Health Foundation shares her insight on this forward-thinking collaboration to promote and encourage canine reproduction veterinary specialties.
"There are a limited number of board certified practitioners in Theriogenology," Brown said, "And most of them are in the large animal industry."
The AKC/CHF Theriogenology Initiative grew out of a collaboration between AKC and the Theriogenology Foundation to provide funding to vet schools to train new practitioners in reproductive medicine for dogs.
Brown noted that many veterinary schools have not emphasized reproductive medicine for companion animals and students have expressed less and less interest in the field.
"Schools are teaching vet students to spay and neuter and sending them out into the world," Brown said.
Getting out Front
The Theriogenology Residency Program, developed by CHF, enables AKC and the purebred dog fancy to get in front of the curve, encouraging and supporting vets who want to train for specialized work in therio.
"We're already seeing an increase in dialogue, raising of awareness, involvement of breeders," Brown said. "They're all coming together. It's bringing people around the same table to talk about this. Local breeders are working with students. Residents are working with local breed clubs."
Ongoing residencies since 2016 have been awarded to universities through a competitive process in which grant proposals submitted. The proposals undergo a rigorous scientifically reviewed process competing for this money.
A 501c3 non-profit, CHF enables purebred dog enthusiasts to support this program directly by donating and designating the Theriogenology Residency program. Literally 94 cents of every dollar goes to actual research programs that meet the mission, Brown said.
AKC Canine Health Foundation website link:
www.akcchf.org  and facebook: https://www.facebook.com/akccaninehealthfoundation
Article in Dog News by Sue Copeland about the "theriogenology residency program":
http://ebooks.dnmagazine.us/volume_03/issue_08/dnm.html#p=52
Article on most recent residency awarded at Virginia Tech:
https://vtnews.vt.edu/articles/2018/09/vetmed-theriogenology-2018.html
CHF/Today's Breeder article highlighting the 2016 class of residents:
http://www.akcchf.org/educational-resources/library/articles/a-dog-breeding-roundtable.html

Podcast: Play in new window | Download
Non Profit Foundations Benefit our Breeds
The Clumber Spaniel Health Foundation, created by members of the Clumber Spaniel Club of America, is a non profit organization dedicated to raising funds for health research in their beloved breed. A low registration breed with a relatively small gene pool, the breeders were making progress on the breed's health issues, but wanted to do more.
It Is Our Responsibility to Act
"While there is no doubt our breed has come a long way in the last 25 years," CSHF President Jen Amundsen notes on the organization's web site, "health issues such as immune mediated hemolytic anemia, disc disease, cardiomyopathy and hemangiosarcoma are taking many of our Clumbers much too early in life. It is our responsibility to act."
Dr. Roe Froman, DVM referenced the Margaret Mead quote, "Never doubt that a small group of thoughtful, committed citizens can change the world; indeed, it's the only thing that ever has" as her rallying cry in creating the group that formed the Foundation.
This group has, in fact, changed their world. The CSCA, with a membership of roughly 300, has raised over $100,000 for the Foundation in the last 10 years. The DNA bank Froman created also helped identify gene markers and DNA testing for PDP1, a very specific neurological disease, that is now virtually eliminated in the breed.
CSHF pools its resources through the AKC's Canine Health Foundation, Morris Animal Foundation and others, to support research being done on diseases of specific importance to the Clumber Spaniel.
Amundsen, an attorney who specializes in work that affects dog owners, provides an excellent tutorial in this episode about the actual how and why of creating a 501c3 non-profit organization for dog clubs. Groups seeking non-profit status for fundraising on health research, rescue, education or any similar venture, will value her suggestions.
While some of the more populous breeds' parent clubs have already created Foundations to address some of these topics, Amundsen and Froman give hope, encouragement and direction to members of smaller clubs for ways in which they can create a positive impact for their breeds
Don't miss Allison Foley's Tip of the Week from the Leading Edge Dog Show Academy on flying with your dog in cabin and how to get through airport screening safely and easily with your pet in a carry-on bag.
LINKS:
http://www.clumberhealth.org
https://www.facebook.com/dogsavvylawyer/
http://leadingedge-dog-show-academy.teachable.com/courses