Posts Tagged 'preservation breeders'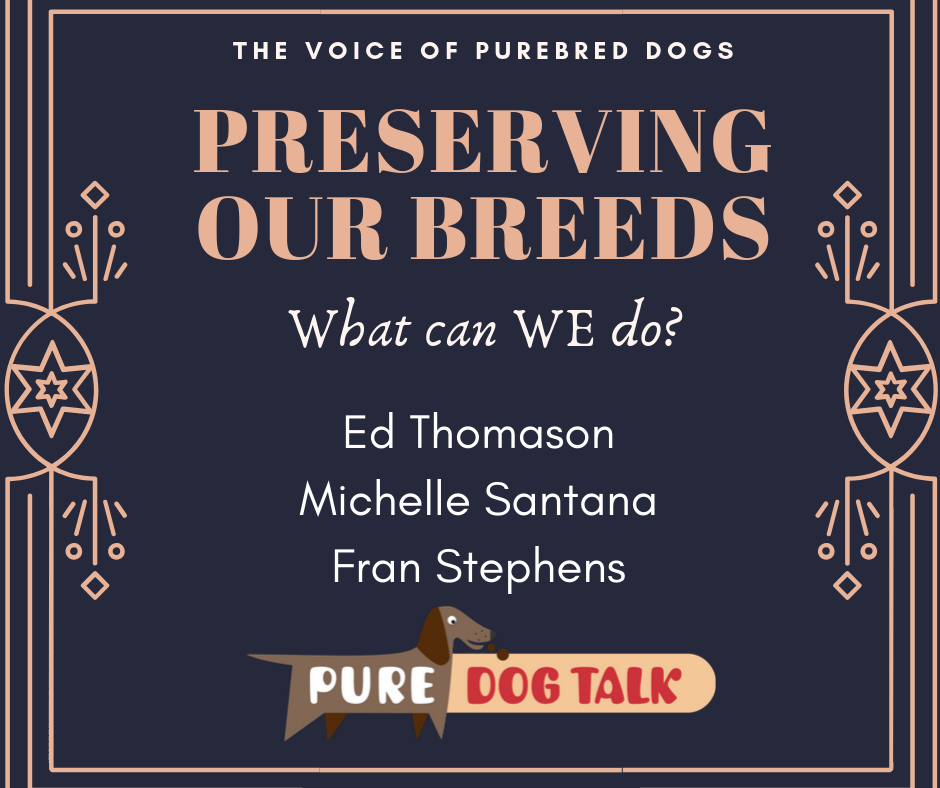 Podcast: Play in new window | Download
Preserving Our Breeds. What can WE do?
Pure Dog Talk's host Laura Reeves moderates a Saturday Symposium panel discussion at the Rogue Valley Kennel Club show on the topic of "Preserving Our Breeds. What can WE do?" This is part one of the discussion. Part two will post next week.
Panelists are Ed Thomason, professional handler and noted breeder of American Staffordshire Terriers; Michelle Santana, AKC Breeder of the Year of Doberman Pinschers; and, Fran Stephens, Saint Bernard breeder-judge and AKC delegate for Puyallup Valley Dog Fanciers.
The panelists discuss a recent presentation (watch the entire presentation here) to the delegate body by Bill Shelton and Doug Johnson among other areas of interest in which purebred dog fanciers can promote their breeds and purebred dogs in general.
"Tell our story"
"We have fallen into hiding the fact that we're breeders," Thomason said.
"Don't be afraid to say I breed purebred dogs because I'm want to know what I'm going to get," Stephens said.
"We have allowed doodle breeders to become a fad," Thomason said. "You go underground because you have more dogs than you're supposed to. But on social media, you can promote your breed, your breeding program without telling where you live.

The pet puppy market is a billion dollar industry. Not saying leave here and be puppy mills. Market being manipulated by doodle breeders and rescues. We don't share our stories. We have to or this ain't going to be here."

Education is critical
Santana discussed her goal of educating John Q Public.
"I picked a random pet Doberman social page," Santana said. "Thousands of people who own a companion Doberman. They need education. Any time I come across an educational article I share to that page. Spay/neuter as an example. Just pick one site that doesn't get a broad spectrum of education and share to that page. We need to spread this information to people not in our circle. We're myopic. We can talk to ourselves all we want. But we need to reach out to these people outside our circle."
Stephens noted that there is a vast market for dogs in this country that is largely being filled by doodle breeders and rescue imports.
"There are plenty of people wanting dogs," Stephens said. "It's how we reach them. How we talk to them."
Join us next week for Part 2 of the discussion!!
Pure Dog Talk is sponsored by: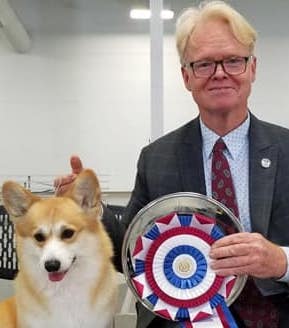 Podcast: Play in new window | Download
Bill Shelton on Positive Messaging in Purebred Dogs
Bill Shelton imparts his wisdom in part one of a three-part series from a wide-ranging conversation about positive messaging in purebred dogs.
People respond to positive messages, Shelton said, which will allow us to change perceptions within the general public. Words like preservation and purpose bred dogs change the paradigm of purebred that can have negative connotation.
"Look what shelters have done," Shelton said. "They used to be known as the dog pound and mongrels. Look at it today, shelter, rescue, adoption. What fabulous words they use. We still use all these draconian words like kennel, breeders and purebred. They are accurate, but we need to move past them. Even the boarding industry has recognized the anthropomorphized words and have day care and stylists instead of kennel runs and groomers."
We as breeders and exhibitors have the responsibility to take back the conversation and can't rely exclusively on the American Kennel Club to do the work for us, Shelton noted.
"I don't use the word responsible any more because 30 people have a different understanding of what that means," Shelton said. "Purpose bred means that not only are the dogs bred for intellect and the way they look and predictability, they are bred intentionally by people who care about them."
The term preservation breeder opens up the opportunity for conversation in the community, Shelton said.
"The paradigm has to change," Shelton said. "We've focused so much on dog shows, that we began to believe that is the most important thing. What's really important is that you and I as dog breeders supply the demand of happy, healthy family companions."
Accountability
"As breeders we are taking accountability," Shelton said. "We are the ones taking responsibility from cradle to grave. Rescue started in the halls of the AKC and parent clubs. This is one of the reasons we find only five percent identifiable purebreds in shelters."
We have to assimilate different perspectives rather than pushing against them, Shelton said. We need not to demean people but rather encourage them to understand what preservation breeders are doing, including producing a quantitative predictability of health.
Learn more: 23 – Our Breeds are Endangered: Preservation Breeding-Bill Shelton