Posts Tagged 'Theriogenology Foundation'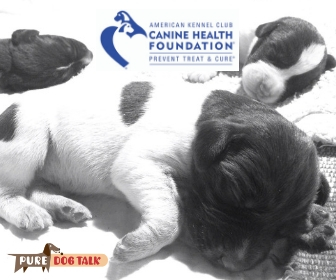 Podcast: Play in new window | Download
Supporting reproductive specialists for the future of our dogs
Reproductive specialists in veterinary medicine are known as Theriogenologists. In a world where spay/neuter is the "popular" approach to veterinary care, the Theriogenology specialty was on the verge of collapse. The American Kennel Club and Canine Health Foundation have joined forces to support these "OB/GYNs of the dog world."
Many breeders know the frustration of trying to find a modern veterinarian who will work with them in developing their breeding programs. Dr. Diane Brown, CEO of Canine Health Foundation shares her insight on this forward-thinking collaboration to promote and encourage canine reproduction veterinary specialties.
"There are a limited number of board certified practitioners in Theriogenology," Brown said, "And most of them are in the large animal industry."
The AKC/CHF Theriogenology Initiative grew out of a collaboration between AKC and the Theriogenology Foundation to provide funding to vet schools to train new practitioners in reproductive medicine for dogs.
Brown noted that many veterinary schools have not emphasized reproductive medicine for companion animals and students have expressed less and less interest in the field.
"Schools are teaching vet students to spay and neuter and sending them out into the world," Brown said.
Getting out Front
The Theriogenology Residency Program, developed by CHF, enables AKC and the purebred dog fancy to get in front of the curve, encouraging and supporting vets who want to train for specialized work in therio.
"We're already seeing an increase in dialogue, raising of awareness, involvement of breeders," Brown said. "They're all coming together. It's bringing people around the same table to talk about this. Local breeders are working with students. Residents are working with local breed clubs."
Ongoing residencies since 2016 have been awarded to universities through a competitive process in which grant proposals submitted. The proposals undergo a rigorous scientifically reviewed process competing for this money.
A 501c3 non-profit, CHF enables purebred dog enthusiasts to support this program directly by donating and designating the Theriogenology Residency program. Literally 94 cents of every dollar goes to actual research programs that meet the mission, Brown said.
AKC Canine Health Foundation website link:
www.akcchf.org  and facebook: https://www.facebook.com/akccaninehealthfoundation
Article in Dog News by Sue Copeland about the "theriogenology residency program":
http://ebooks.dnmagazine.us/volume_03/issue_08/dnm.html#p=52
Article on most recent residency awarded at Virginia Tech:
https://vtnews.vt.edu/articles/2018/09/vetmed-theriogenology-2018.html
CHF/Today's Breeder article highlighting the 2016 class of residents:
http://www.akcchf.org/educational-resources/library/articles/a-dog-breeding-roundtable.html