136 – Junior Showmanship Lessons Learned, Gillian McKim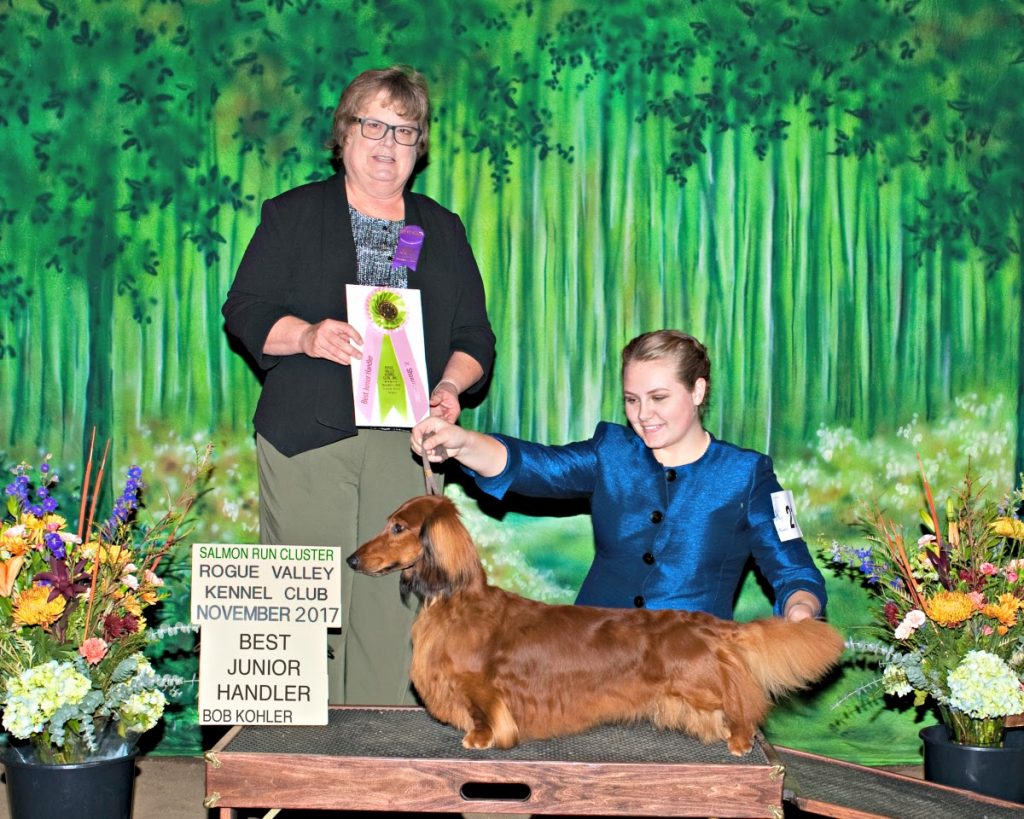 Junior Showmanship and the Future: Interview with Gillian McKim
For many of us in the sport of purebred dogs, whether we are breeders, owner handlers, professional handlers or judges, Junior Showmanship is where it all started. Our love of the dogs, the sport, the development of friendships, rivalries and knowledge… It all started in this ring.
Showing a Clumber Spaniel who *hated* it gave me, personally, determination, the ability to lose with a modicum of grace, the ability to win with pure joy and biceps of steel (from holding his 65-pound head up…) .
We talk a lot *about* Juniors, but I decided it was time we hear directly *from* a junior, in her own words… Laura Reeves
Gillian McKim and Pure Dog Talk's Laura Reeves on Junior Showmanship
Gillian McKim is a talented young lady with ambition, goals and good hands on a dog. Take a few minutes to really *hear* what the future of our sport sounds like.
PDT: What did juniors give you?
GM: I've been around showing dogs for about 10 years. I started with my family. Dog shows and juniors have definitely taught me a great work ethic. You have to keep on going. When it gets hard, you have to keep on progressing. When you train a dog from a puppy, it takes patience. It taught me that not everything comes immediately. You have to keep working at it. It means a lot more starting with a new team and making it something great, than having it right off the bat. It means a lot more to you that you worked for it and you succeeded with it. I really enjoy creating the partnership.
PDT: What is special about dog show competition? How is it different than, say, your competitive water polo team?
GM: At dog shows I learned that win or lose, you take your own dog home. That you should be happy with how you showed to the best of your ability. And if you didn't, try another day. There's always another day at the dog show. Water polo was win or lose. Dog shows, it was nice to place in class or win, nice to know I tried my best. You're always learning, every single day. The day you stop learning, that should be an issue. Even if I got second, makes me happy that the relationship (with the dog) is growing.
PDT: Tell us about learning the nuances of showing different breeds
GM: (I was) reading breed standards over and over… I'd have my mom and my breeders quiz me… You can't show a dachshund the same as an am staf (American Staffordshire). It taught me how to go with the flow. You have to adapt, which is a great skill, that I'm learning still. It helps with life in general. You have to work with what you have. My adopted dog show family is helping me progress.
PDT: Who are your mentors, your heroes?
GM: I was fortunate to have a lot of mentors. You, Sandy McArthur, my basenji breeder, Wendy Snyder, my dachshund breeder, Chuck Murray, who teaches my handling class and really encouraged me. But I'd say especially my Mom and my Nanna, who are the ones who got me started and helped keep going when times got hard. (These mentors) meant the world to me, because it showed me that I had people who supported me and believed in what I could do, even when I didn't believe in myself. It helped me push for tomorrow and what is to come.
PDT: What is your transition plan, your dreams?
GM: I personally believe you should learn the ways of dog shows and how to become a professional handler. A lot that goes into it. One needs to learn and pay their dues. After I compete at Orlando and Westminster, and graduate high school, I want to earn my four-year degree and possibly my masters in physical therapy. Because I really want that college background holding me up. …I know certain things will always be here. Dog shows aren't guaranteed to be as popular any more.
I want to learn more about my breeds. (I want to) figure out where to go, (hopefully) become breeder. But I have to learn more before I do that.
I really like hounds and terriers. I like their versatility. I really enjoy Am Staffs, and I'm intrigued by dachshunds. You can be active with both (breeds), and I enjoy their background. Am Staffs have some issues here and there. I learned how to help them and help them to earn their "positiveness" in the breed. I greatly enjoyed getting a CGC on my Am Staff and definitely want to help the breeds better themselves.
PDT: What are the top 3 pros/cons to juniors?
GM: On the positive, it teaches a lot about yourself and how you can grow and become better in different in areas. Teaches communication skills. You have to "earn your stripes."
Things to improve, I feel strongly about presenting dog according to the breed standard. It should be more about presenting the dog, not yourself.
Another positive, it creates a bond, to be a part of team and a family. Dog show family is a huge part of it. How to take success well and how to compromise with the losses. Learn how to take a step back and figure out what you could do better.
PDT: If you were queen for the day, what change would you make to improve dog shows?
GM: More learning. In juniors, learning to present to the standard, knowing your standard inside and out. From knowing how to present the bite all the way down to the details of the breed's history. Knowing the trivia, knowing anatomy, understanding first aid, learning how to react to an emergency…
PDT: So what's YOUR 411?
GM: I was just awarded best goalie in the Metro League for water polo. I'm a Navy brat. I grew up on base. I competed in judo, so I've always had a competitive side. Academics are super important. I believe in putting those first. Really like how Orlando (ANC) you have to have a minimum GPA. I wasn't allowed to compete at dog shows if my grades dropped below 3.5… Students come before athletes. Athletics come and go, people can get injured. Academics are always there and part of your future.
PDT: Tell us about some of the scholarship opportunities you're finding.
GM: Like a lot of kids, we don't have a lot of money. Loans and scholarships are what I have learned to work with. A lot of scholarship money isn't used. I really appreciate the American Kennel Club spending thousands of dollars in scholarships to support their juniors and help them continue their secondary education.
PDT: What are you most looking forward to seeing on your first trips to Orlando and New York City?
GM: Christmas in Disney World and trying to find places that will teach me different things in New York.
From the American Kennel Club:
"A Brief History of Junior Showmanship"
Part of the mission of the American Kennel Club is to "Take whatever actions necessary to protect and assure the continuation of the sport of purebred dogs." The AKC's Junior Showmanship Program is just one example of the kennel club's commitment to fulfilling this portion of its charter statement.
In the late 1920's a group of dog show exhibitors led by Mr. Leonard Brumby, Sr., decided to develop a special competition for children. The purpose of the competition would be to introduce a new generation of fanciers to the sport and to give children the opportunity to measure their skills against those of their peers. The children would be judged by how well they presented their dogs with respect to the nuances of the breed being shown. The first Children's Handling class was held at the Westbury Kennel Association show of 1932, and quickly became a popular feature at other AKC events.
In 1949 the Professional Handlers Association donated a trophy in honor and memory of Mr. Brumby to the winner of the Children's Handling Classes at the Westminster Kennel Club show. This trophy is still awarded to the winner of the Junior Handler competition at Westminster and is the most sought-after prize in the sport.
Children's Handling classes were very informal when the program began. The judging of the classes would normally start whenever the first breed ring became available. The judges were usually professional handlers themselves, and the participants were allowed to use any dog that was available to them.
In 1951 the name of the competition was changed from Children's Handling to Junior Showmanship. Twenty years later, in 1971, the American Kennel Club recognized the virtues of Junior Handler competition and granted official recognition for these classes at AKC events.
The Junior Showmanship program has grown and changed in dramatic fashion since its humble beginnings in 1932. The AKC now has guidelines for participation and adjudication of this event. For example, juniors must be between 9 and 18 years of age to participate. They must win three first placements in the Novice class before advancing to the Open class. Judges must be approved by the AKC to judge Junior classes, and the dogs that the junior handlers exhibit must be owned by them, a member of their family, or a relative.
In 1999 the Junior Showmanship program was expanded to include performance events. Currently, a Junior Handler that handles a dog to a performance title will receive a certificate from the AKC acknowledging this accomplishment.
The American Kennel Club also awards Scholarships to deserving Junior Handlers to encourage them to continue on with their education. The AKC awarded 38 Junior Handler Scholarships in 2002. The Board of the American Kennel Club has just increased the Junior Scholarship Fund from $60,000 to $100,000. This can truly be seen as affirmation of the AKC's commitment to the youth of our sport.
Junior handlers become ineligible to compete in Junior Showmanship classes at the age of 18. In most cases, their participation in the sport of purebred dog does not cease once they have "aged out" of competition. From the ranks of Junior Handlers we find the future breeders, AKC Club Members, approved judges and Registered Handlers who will be the caretakers of our sport in the future. We see many of these kids go on to pursue careers as veterinarians. One former Junior is now the CEO of the Orthopedic Foundation for Animals; others have gone on to serve as Board Members of the American Kennel Club. Still others have gone onto make their contribution to the sport as AKC employees.
While the Junior Showmanship program itself has gone through changes, the concept and reasons for its implementation have remained the same: to encourage participation in the sport by young purebred dog enthusiasts; to teach good sportsmanship, win or lose; and to educate the next generation of the fancy. So the next time you find yourself at a show with a few moments to spare, stop by the Junior Showmanship ring to witness the AKC's commitment to its mission statement and the future of our sport."
Junior Showmanship Handbook from AKC
https://images.akc.org/pdf/rulebooks/REJRSH.pdf
Junior Showmanship FAQs
http://www.akc.org/events/junior-showmanship/faq/
AKC Kids Corner
http://www.akc.org/kids-corner/the-junior-handler-program/
AKC Junior Showmanship Finals
http://live.eukanuba.com/video/3873/junior-showmanship-finals
AKC Junior Recognition Program
http://www.akc.org/events/junior-showmanship/recognition-program/
KNOWLEDGE IS POWER — FRANCIS BACON
When you become a patron of Pure Dog Talk you'll tap into an exclusive community of experts to help you and your dog be blue-ribbon best at whatever you do with your purebred dog! Your support helps keep the MP3's rolling at Pure Dog Talk!
As a supporter, you'll immediately gain access to the weekly Pure Pep Talk SMS, Pure Pep Talk private Facebook group, and priority emails. Patrons can choose to level up to the After Dark Zoom and a Patrons Digital Badge for their website— even a private counseling session with Laura on any topic.