168 – Breeder Education Advocate Claudia Orlandi Shares Knowledge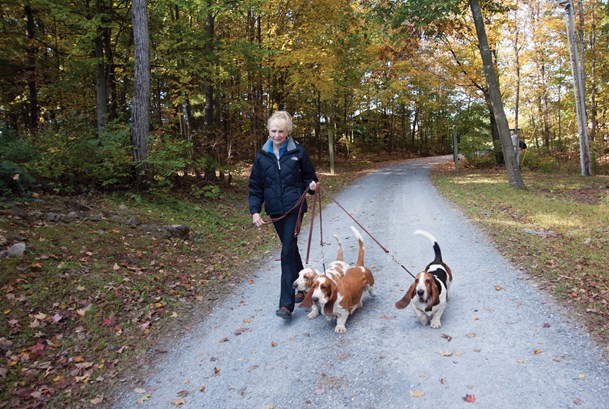 CLAUDIA ORLANDI ON EDUCATION AND DOG BREEDING
Claudia
Orlandi
,
 Topsfield Basset Hounds, was the 2009 Breeder of the Year, but her contributions to purebred dogs are far greater than an award. She has spent years dedicated to developing, publishing and presenting live education resources for breeders. Her 
ABC's of Dog Breeding
 and 
Practical Canine Anatomy
 books are tremendous resources for all breeders, exhibitors and judges. So much so, that AKC has incorporated them into their
AKC Canine College
 education program.
AN EARLY "EYE FOR A DOG"
Orlandi grew up with miniature and standard Poodles, but her first show dog was a Saint Bernard from Betty Roberts. When her family visited the breeder to pick a puppy, somehow the divider between the "show" dogs and the "pet" dogs had fallen down. With an "eye for a dog" at even an early age, the puppy her family chose led Orlandi into a life of dog shows. Eventually, shown by Bob Forsyth, that Saint Bernard became a Best in Show Winner.
"…structure and performance or, form following function, are the key characteristics of breed type and are what distinguish one breed from another."
Horses and dogs were a passion she shared with her first husband, Dom. They acquired their first Basset Hound from a pack in Vermont. There they learned the functional aspect of their hound by following the pack on rabbit hunts. Orlandi now lives part-time in Spain, where she had just returned from a month of hunting with her hounds when we spoke for this interview.
"… I have to say that having had the experience of hunting with Emma (her first Basset) was a great starting point for really understanding the basset hound breed," Orlandi said. "…structure and performance or, form following function, are the key characteristics of breed type and are what distinguish one breed from another."
Orlandi attributes much of her knowledge of anatomy and animal husbandry to the 4-H program. In her shout out to the horse 4-H program she noted, "We had to pass difficult written and hands on tests on equine anatomy and movement, in addition to giving presentations and learning animal husbandry. All of this knowledge relating to horses, I was easily able to apply to breeding and showing dogs."
But as she progressed in her breeding program, she came to understand that other breeders didn't have the same good fortune.
"If we to learn about photography we can go to photography school," Orlandi said. "If you want to become better cooks, we can take cooking classes. But at that time, we really didn't have anything comparable if we wanted to learn to become better breeders."
Knowledge is power, Orlandi noted, in everything that we do. So, she began to develop her education programs and books, including the fabulous Basset Hound University program she created and has shared with other Parent Clubs. She insists that breeders can be successful with some basic information to help them move forward.
Some of her best recommendations?
…the concept of preservation breeding is an extremely important topic that deserves our ongoing support and attention.

…one of the biggest myths is the belief that because breeding revolves around chance and randomness applying genetic principles won't make a difference. Nothing could be farther from the truth. In reality, it's very unlikely that a breeder can consistently produce healthy, quality dogs in which every generation the dogs are better than they were in the previous generations, without understanding how traits are passed from one generation to the next.

…don't purchase a bitch younger than 12 to 18 months. If you get a bitch much younger than this, they have not been able to do enough health tests and body structure might still be developing.

…I think it's really difficult, in a way, to find a good person to work with in a breeding program or to find a mentor. Because in a way it's kind of like a marriage. I think you have to be psychologically compatible and you have to have a lot of the same goals and the same beliefs in common.

… a few decades ago if people were honest about health problems they are absolutely shunned, many times, by their peers. Talking about health was considered taboo. Nowadays, we understand much more about controlling canine genetic disease and we know that if we're honest about the health problems, about who the affected dogs are in our pedigrees we can control health problems in our breeding program very, very easily. But it all revolves around being honest.
Please enjoy my visit with this legendary advocate for breeder education in purebred dogs.
KNOWLEDGE IS POWER — FRANCIS BACON
When you become a patron of Pure Dog Talk you'll tap into an exclusive community of experts to help you and your dog be blue-ribbon best at whatever you do with your purebred dog! Your support helps keep the MP3's rolling at Pure Dog Talk!
As a supporter, you'll immediately gain access to the weekly Pure Pep Talk SMS, Pure Pep Talk private Facebook group, and priority emails. Patrons can choose to level up to the After Dark Zoom and a Patrons Digital Badge for their website— even a private counseling session with Laura on any topic.