460 — New Airline Regulations on Service Dogs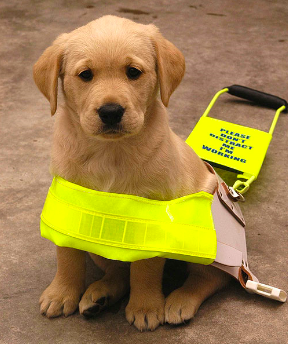 New Airline Regulations on Service Dogs
"All dogs are therapy dogs, most just freelance."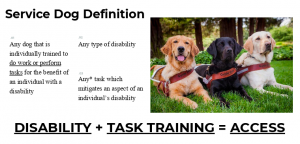 Sarah Howard, educator and advocate for people with disabilities, joins host Laura Reeves to discuss the new airline regulations regarding service animals and why this is a big deal and why breaking those rules causes harm.
Members of the public and even dog people have taken advantage of the service dog regulations in the past in order to bring dogs on board rather than ship them. PHA, AKC registered handler and AKC government relations all have strong policies against this.
"I think that too often we get wrapped up in what's important to us and lose sight of what our responsibility is to one another," Howard said. "At the end of the day, it's about equity. It's about everyone having the same opportunity to enjoy things. So I think when people look at this topic, they misunderstand it. They're defensive and they're worried about what's going to happen to them, instead of thinking if that were me, I want to be treated and have the same opportunities as everyone else.
"Looking at the new guidance that the Department of Transportation has offered, you wanted the big overview, dare I say the view from 31,000 feet. So looking at it, it really tries to address the issues that keep coming up. The big takeaway is that ESA's, emotional support animals, can be viewed by the airlines as pets. That service dogs and service dog handlers, people with disabilities, have certain rights and responsibilities. ESA's are not service dogs, therefore they can be treated like pets.
"Another added benefit to the new forms is they, at the very top of the form, say this is a federal document. If you misrepresent yourself and this animal there are consequences and repercussions. It does make it clear there will be punitive consequences
"When we think of service dogs, the most important thing for people to remember is this is a civil right. This is a legal guarantee that all people will have the same opportunities regardless of their identity and their circumstances.
"A service dog is trained to do a task for the handler at the end of the leash. Any dog breed individually trained to do work or perform tasks. We mentioned that work would be the thing that a guide dog does. It's a whole sequence of activities, as opposed to a task, which is usually something you ask the dog to do. It must be for the benefit of the individual with a disability in order to qualify. You have to have a disability. That's why we mentioned that it's a right. It's for people that need it. It can be any type of disability and it can be almost any task which mitigates an aspect of the individual's disability. The task that a dog does must be related to the disability.
"I think something that we can do in our dog community is have some positive social pressure. We already know it is not cool to not pick up your poop when your dog does it, it should be equally as understood that you don't lie about this. It is too important. People had to fight for these rights. These were not just handed to us. And to abuse them is just not acceptable."
KNOWLEDGE IS POWER — FRANCIS BACON
Pure Dog Talk is grateful to all of the mentors in our sport who support us with their knowledge, their kindness and their generosity. JOIN us today in providing access to this invaluable "watering hole" for anyone who is thirsty for knowledge. Your pledge of as little as $5/month helps guide the next generation of dog fanciers. Click the "Be My Patron on Podbean" button to join our "listener supported" team at Pure Dog Talk.