503 – Examining the History of Sighthounds with Bo Bengtson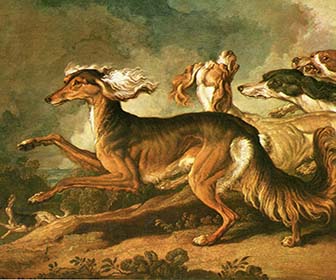 Examining the History of Sighthounds with Bo Bengtson
Bo Bengtson, author, publisher and Whippet breeder, attended his first dog show in 1958 in his native Sweden. He joins host Laura Reeves for a deep dive into the intricacies of sighthounds.
"It was, right away, like lightning struck," Bengtson said. "I was 14 years old and I just knew right away that this was what I wanted to devote my life to. It was really fascinating. It was, as someone once said, a combination of zoo and circus and theater …
A passion for sighthounds
"You have to know a little bit about coursing if you're involved in sighthounds. They have remained the same for thousands of years, the basic type. They weren't breeds early on but different types of sighthounds. if you look at the early description of coursing which is the pursuit of game with sighthounds … that is a sport that's now these days illegal in most of US… It's been superseded by lure coursing, which is an artificial form of coursing.
"(Sighthounds developed) before firearms basically, when the only way you had to hunt was through the dogs and whatever they could course and kill was basically today's dinner. Firearms made sighthounds very much superfluous. And I think the sport then became very much a status symbol. (Sighthounds) are of course aesthetically pleasing and so many rich people and aristocratic people preferred to hunt with sighthounds, not because of need but because it was a beautiful spectacle and pretty expensive spectacle too. In various parts of the world, Queen Elizabeth I was very fond of coursing. In Russia they coursed with Borzoi. And in the Far East there were Salukis.
What IS a Sighthound?
"There is no official definition of what a sighthound is. So there is a great disagreement about what breeds actually count as sighthounds. You can count as few as four or five as pure sighthounds and as many as 40 as "sighthound related" or different types of breeds we don't know in this country. Some we wouldn't define as breeds but more as types.
(Listen to fascinating conversations about the Caravan Hounds of India here and here.)
History of sighthound development
"I think we have to go back again a couple of thousand years because there have probably always been different sizes of greyhounds. Greyhound types. The big ones which were the ancestor of the modern greyhound. And we have the different, smaller ones that were ancestors of whippet and the Italian greyhounds. I think that Whippets, although they weren't  described as a breed until late 1800s, they have certainly been around much longer. Catherine the Great of Russia had little English greyhounds she called them. And they were very important to her. She nursed them herself and they slept on a pink couch in her bedroom. But whether they're Italian greyhounds, whether they were whippet, who knows. I mean they were very small and whether Italian greyhounds or whippets, it is kind of irrelevant these days.
"The Greyhound and the Saluki are sort of the "ur" sighthound, what sighthounds are supposed to be like. … if you take one step away from Saluki you get the Afghan Hound, which is a little more powerful. If you take several steps away from the Greyhound, you get the Ibizan Hound and you get the Portuguese Podengo and that kind of thing."
Listen to the full episode for more detailed insights into all things sighthound.
KNOWLEDGE IS POWER — FRANCIS BACON
Pure Dog Talk is grateful to all of the mentors in our sport who support us with their knowledge, their kindness and their generosity. JOIN us today in providing access to this invaluable "watering hole" for anyone who is thirsty for knowledge. Your pledge of as little as $5/month helps guide the next generation of dog fanciers. Click the "Be My Patron on Podbean" button to join our "listener supported" team at Pure Dog Talk.