192 – AKC President Dennis Sprung on Public Outreach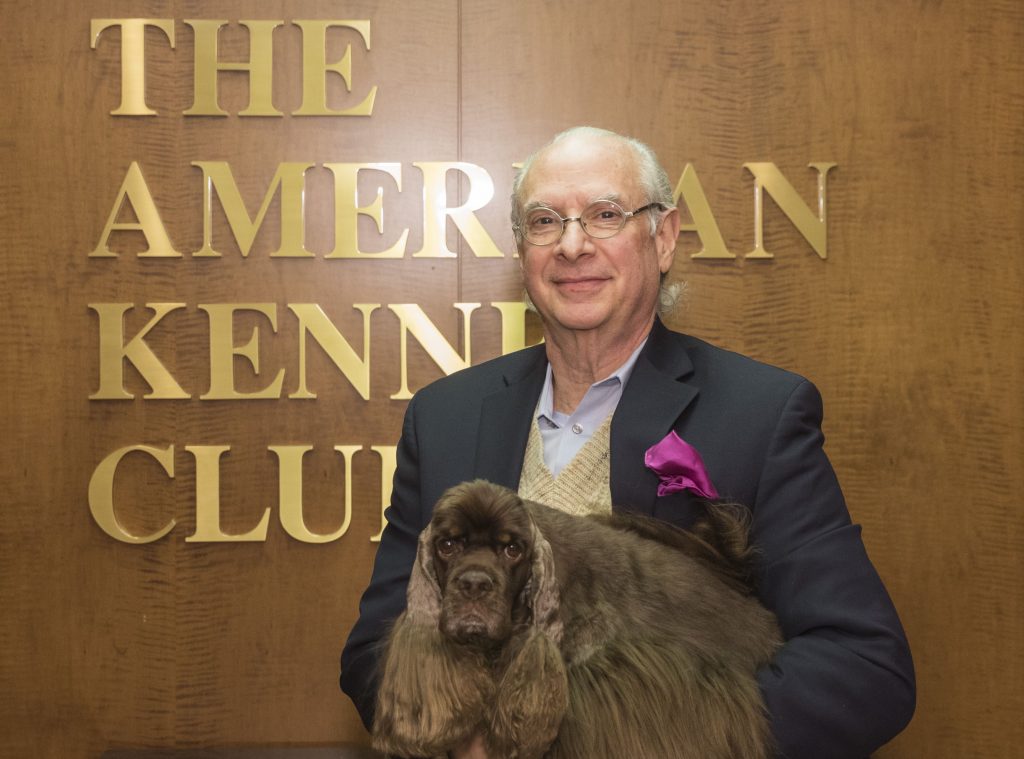 AKC President Dennis Sprung on Public Outreach
President and Chief Operating Officer of the American Kennel Club since 2003, Dennis Sprung has ardently pursued projects designed to share the message of the human-canine bond.
Starting in dogs with the Afghan Hounds of Grandeur in the late 1960s, Sprung was mentored by the legendary Sunny Shay. Shay laid the foundation for his education in dogs, Sprung said. At a time when the famous Long Island kennel housed over 100 dogs, he routinely interacted with everything from puppies to veterans.
Inspiring Dreams for Everyone
"She was one of a kind," Sprung said. "A true character in the sport. Sunny was unique, in many ways, but particularly in that she was a Breeder Owner Handler. Shirkhan's first BIS in 1957 was at Westminster Kennel Club." (For more history and stories about Sunny Shay and the Grandeur Afghans, listen to Michael Canalizo at https://puredogtalk.com/canalizo-ghosts-of-the-past-and-breeding-for-the-future-pure-dog-talk/)
Sharing the Human-Canine Bond
Shortly after Sprung started working for AKC as an Executive Field Rep in 1989, he proposed to the Board of Directors the program that became the AKC Humane Fund. His vision was to create an additional vehicle to serve as outreach to the public, sharing the message of the human-canine bond. The AKC Humane Fund has now grown to include grant making for parent club breed rescue, scholarships, funding for domestic violence shelters that allow pets and assistance in cases of natural disaster. (https://www.akchumanefund.org/)
Art as Outreach
Sprung is involved with the AKC Museum of Dog as a member of original planning committee and former board member. He is actively working with AKC staff to help the museum move back to NYC from its location near St. Louis, Missouri for the last 31 years. "The museum is one of the finest collections of sporting art in the world. It pays respect to our breeds and our traditions in the sport. With a location one block from Grand Central terminal, where they have 22 million visitors annually, the opportunity to grow purebred dogs is endless." (https://www.akc.org/museum-of-the-dog/)
On the night following the 9/11 attacks, Sprung had a brain storm.
"AKC was able to donate a portable x-ray machine and a large quantity of supplies," Sprung said. "These were delivered by me to Ground Zero, on that very corner with smoke still rising… I'll never forget that."
He resolved to create a public art exhibition and fundraising opportunity. From this was born DOGNY. Honoring the search & rescue dog and handler teams, 112 dog statues were placed around New York City. In all, more than $3.5 million was raised for Search & Rescue groups nationwide. (https://www.akc.org/dogny/)
"I have to tell you. Credit goes to our entire fancy," Sprung said. "Springfield Kennel Club was the first donor. Corporate America came through and worked with us, but our fancy was with us every step of the way."
Building from that concept, AKC Reunite was developed, spearheaded by Delegate Pat Laurans.
"The AKC family is providing what's needed to save dogs throughout the country," Sprung said. The fundraising effort has placed 67 trailers across the nation. (http://www.akcreunite.org/)
"I think one of the most important things we can do is to not only look inward, but also look outward," Sprung said. "We need to focus on our core constituency, on our mission of registration and events. But we also have to communicate with the public. We have to educate them. Be consistent in our messaging. Be transparent and continue to do the right thing. …There's many societal changes that are affecting all of us. We've lost a lot of sites (for dog shows). This is no longer rural America. We have to address the fact that there are a number of territories that no longer offer point shows. We have to continue to work together."
KNOWLEDGE IS POWER — FRANCIS BACON
When you become a patron of Pure Dog Talk you'll tap into an exclusive community of experts to help you and your dog be blue-ribbon best at whatever you do with your purebred dog! Your support helps keep the MP3's rolling at Pure Dog Talk!
As a supporter, you'll immediately gain access to the weekly Pure Pep Talk SMS, Pure Pep Talk private Facebook group, and priority emails. Patrons can choose to level up to the After Dark Zoom and a Patrons Digital Badge for their website— even a private counseling session with Laura on any topic.