196 – "Bracing" Talk: Pedigrees, Critiques and Skill | Pure Dog Talk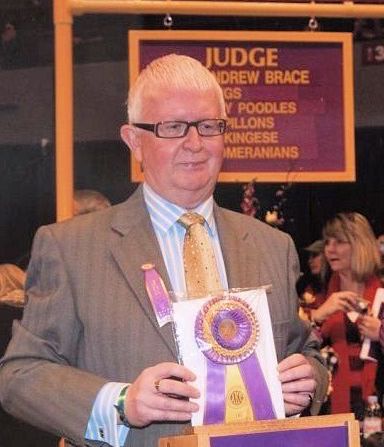 Andrew Brace on Pedigrees, Critiques and Skillful Handlers
In the third and final installment of my interview with international dogman Andrew Brace, he shared his knowledge on reading pedigrees, writing judge's critiques and the definition of expert presentation in a wide-ranging and brutally honest discussion.
Our conversation also touched on the influence of animal rights extremism on the UK's "high profile breeds" vet checks. Brace additionally noted the correlation between health issues in our breeds and the increasing tendency for breeders to "take Mother Nature's job from her."
Breed the best to the best to get the best
"Dedicated breeders are constantly aiming to improve their stock," Brace said. "Those breeders who think breeding a winner is simply a matter of mating a winning bitch to a winning dog fail to realize the value and implications of the pedigree and do not understand what a valuable breeding tool this is.
"You need to be able to read a pedigree. This is where the truly great breeders score. The pedigree supplies valuable information –  provided the reader has researched the dogs who appear in it. (Master) breeders study a pedigree of at least five generations. If they don't know all the dogs in it personally, they'll research them by seeking out photographs or simply asking older breeders who are still around exactly where these dogs scored and failed.
"In this way they build up a comprehensive picture of their dog's ancestry. They will, over a period of time, be able to assess what faults and virtues lie behind their breeding stock. And, perhaps more importantly, establish which dogs were responsible for producing them," Brace said.
"Correct is not produced by mating two extremes," Brace added. "A potential parent who lacks in one area should be mated to a dog that excels in that failing. A dog that's slightly straight behind will not produce perfect rear angulation by mating it to a dog that is hopelessly over angulated. Its chosen mate should have correct angulation."
"Winning" dog is not always the same as "best" dog
"We have focused on show dogs," Brace said. "In many breeds, this has meant that dogs that are perhaps a little exaggerated in one way or another have taken the eye of the judge over the dogs who are maybe more correctly balanced or constructed because they have a little sense of drama about them.
"It is our responsibility as judges to reward the correct dog over those dogs that have probably won a ton of best in shows by virtue of the fact that they fly around the ring with their long necks, gay tails and dripping in hair."
Useful written critiques
"When writing critiques, I think it's essential to detail the dog's outstanding virtues but also mention any obvious shortcomings, which can always be done tactfully," Brace said. "For example, 'Head like a bucket' and 'prefer a cleaner backskull' – they mean the same thing, but one is more palatable. It isn't necessary to describe the dog from head to tail but, concentrate major pluses and minuses."
Listen to renowned judge Ginny Lyne on this topic.
Merge into the background
"It is little wonder that some of your most successful handlers go on to become outstanding judges," Brace noted. "The thought process is exactly the same. Handling is the art of emphasizing a dog's virtues whilst disguising its faults. Judging is all about recognizing the virtues yet getting the faults into perspective.
"Some countries, unfortunately, have produced some so-called professional handlers who have clearly watched a lot of American videos, bought some flashy jackets and race around the ring with dogs of indeterminate quality. They often carry too many dogs to do justice to and its obvious they aren't kept in the best of conditions. These are the guys that are just doing it to make a buck. They aren't handlers as I understand the word.
"The best handlers are those who are so skillfully unobtrusive that they just seem to merge into the background. These experts have the ability to project the dog to the judge at first sight," Brace added.
KNOWLEDGE IS POWER — FRANCIS BACON
Pure Dog Talk is grateful to all of the mentors in our sport who support us with their knowledge, their kindness and their generosity. JOIN us today in providing access to this invaluable "watering hole" for anyone who is thirsty for knowledge. Your pledge of as little as $5/month helps guide the next generation of dog fanciers. Click the "Be My Patron on Podbean" button to join our "listener supported" team at Pure Dog Talk.