124 – Jim Reynolds Speaks: Over 40,000 Dogs Judged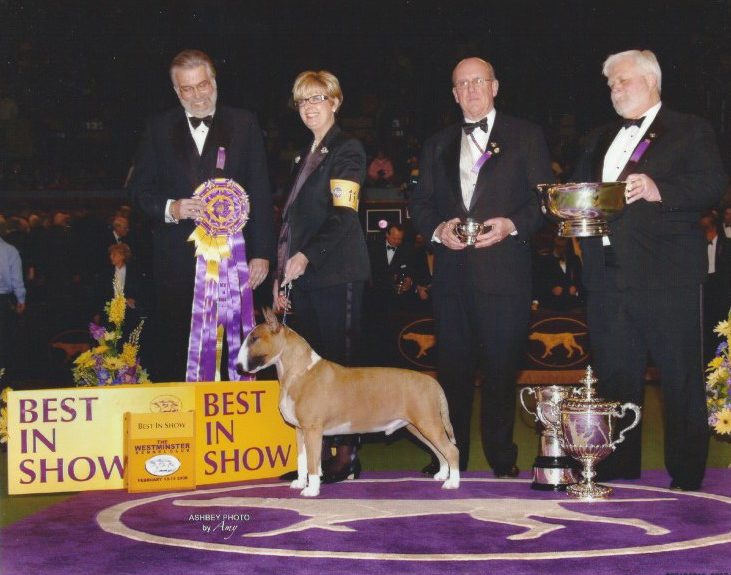 Jim Reynolds: Legendary Dog Man and Gentle Giant
Jim Reynolds judged his first assignment the year before I was born. Over the last 50 years, he estimates he's had his hands on 40,000 dogs, give or take, all around the globe. That is a whole lot of knowledge wrapped up in one package. A tall man with a booming voice, Reynolds has a gentle hand with the dogs. He is, in a word, a legend.
Reynolds harks back to the days of livestock showmanship. Indeed, his first win that landed him on the front page of the newspaper, at just 10 years of age, was with a sheep. He allows as how he was hooked from that point forward.
Jim Reynolds Roots
Every year of his childhood, Reynolds' Christmas request was simple "something alive." His father accommodated his desire when the Canadian native was 14 years old with a Boston Terrier. A few years later, in college, Reynolds acquired his first Scottish Terrier. Many years as a breeder, owner, handler, self taught in trimming this challenging breed, gave Reynolds a tremendous background in the sport.
Top Breeder Mentors
He credits some amazing mentors in his youth. Among them, Betty Hyslop, of Cairndania Cairn Terrier fame, and Scottish Terrier breeder and all-breeds judge Adelaide Riggs. Although Riggs passed away in 1999, for perspective and continuity, Riggs' daughter, Ellen Charles, is the owner of one of this year's top dogs all-breeds, the Puli, GCH Cordmaker Mister Blue Sky.
AKC Judge
Among his favorite judging assignments are BIS at Montgomery County Kennel Club, the haven of terrier lovers everywhere, and BIS at Westminster Kennel Club. He describes his 2006 winner, the Colored Bull Terrier, Rufus, Ch. Rocky Top's Sundance Kid, as having "star quality."
The great ones," Reynolds said, "have that presence, like actors… That dog (Rufus) was so turned on that night, at the peak of condition and performance, he told me 'You have to pick me.' That's what he communicated to me.
The great dogs have great type, they have a style to them, a desire to be there," Reynolds added. "A desire to be seen, to interact with me as a judge. I'm a fool for a dog that will interact with me. You see, for those two and a half minutes, that's MY dog. I love that."
Love of Dogs
It is clearly obvious, in even a brief conversation, that Reynolds does, indeed, love dogs. In addition to his years with Scotties, he has a long time love affair with Irish Wolfhounds, who grace his home. Not as show dogs or breeding dogs, but simply as companions.
Words of Wisdom from Jim Reynolds
Jim Reynold's great lament is that too many people in too many breeds are not doing their research, studying the history of the breed to know how the genotype is affecting the phenotype of the dogs they see today. His precise and intelligent review of the Scottish Terrier breed in North America, tracing the two most recent Westminster Kennel Club BIS winning bitches back, based on style, to two prepotent sires imported from England in the 1930s and '40s is an entire university series in a five minute monologue. Listen to our talk on the podcast for this incredible history lesson on type and style.
Reynolds attributes the many legendary dog show judges, handlers and breeders who hail from the terrier breeds to the abundance of variety within the group, the sheer dedication required to successfully compete with a broken coated terrier and, to a degree, the sharp, competitive spirit of the people who, in some ways, come to resemble their dogs.
Toplines are a huge piece of it," Reynolds said. You have a Bedlington, a Dandie, a Scottie and an Airedale in the group ring… Now what? You'd better know what you're looking at. Terrier people are notoriously unforgiving."
Encouragement to Owner Handlers
He also strongly encouraged owner handlers, even in the famously professionally dominated terrier group. Do the work, he said, put in the time. Present the dog more effectively and make sure there isn't a bad moment.
Owner handlers stand a really good chance if they just do the job," Reynolds said. "I always wanted to do it all myself. I got no enjoyment from those wins (when I had to hire a handler)."
Today's mentors, Reynolds noted, need to remember to give young people opportunities with an exceptional dog.
You have got to be able to be successful to want to keep doing something," he concluded.
Biography of Jim Reynolds
James G. Reynolds, of Nepean, Ontario, has been involved in the sport of dogs since 1956. As a teenager, he was a breeder-exhibitor of Boston Terriers but soon moved to Scottish Terriers. His Renaldo Kennel housed five Canadian Best in Show winners and produced more than thirty Canadian champions and fifteen AKC champions. He has also shown Cairn Terriers and English Cocker Spaniels, and his housedogs have included Irish Wolfhounds, a Great Dane, and an Irish Setter.

A dog show judge since 1967, Mr. Reynolds is approved for all breeds by the AKC and the Canadian Kennel Club. He has officiated at many of the biggest and most prestigious dog shows on five continents.

On the American show circuit, Mr. Reynolds has worked several Westminster assignments and is one of the few judges to twice preside over the Best in Show ring at Montgomery County. He has judged at several of America's largest venues, including Santa Barbara, Louisville, Chicago, Detroit, Old Dominion, Houston, and the AKC/Eukanuba National Championship. In 2004, Mr. Reynolds was Best in Show judge at Ladies' Kennel Association (England) show.

Mr. Reynolds is a retired superintendent of schools in a system of some 49,000 students. His wife, Marcia, is a retired secondary-school principal. They have three grown children.
KNOWLEDGE IS POWER — FRANCIS BACON
When you become a patron of Pure Dog Talk you'll tap into an exclusive community of experts to help you and your dog be blue-ribbon best at whatever you do with your purebred dog! Your support helps keep the MP3's rolling at Pure Dog Talk!
As a supporter, you'll immediately gain access to the weekly Pure Pep Talk SMS, Pure Pep Talk private Facebook group, and priority emails. Patrons can choose to level up to the After Dark Zoom and a Patrons Digital Badge for their website— even a private counseling session with Laura on any topic.