425 – Breeder Hacks, Tricks, Tips & Products for Healthier Puppies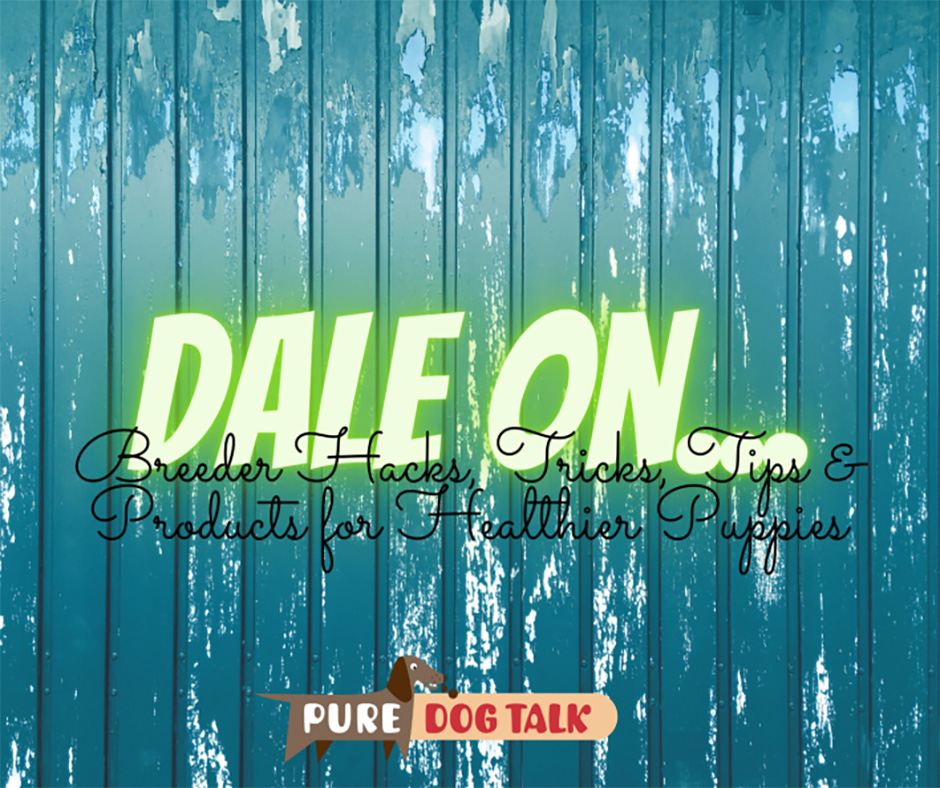 Breeder Hacks, Tricks, Tips & Products for Healthier Puppies
Dale Martenson, renowned breeder of Touche Japanese Chin, joins host Laura Reeves to talk about some of our favorite hacks, some of our favorite products, some of our favorite things as dog breeders that don't necessarily make it into the textbooks.
LISTEN to the episode for more details, by clicking the triangle arrow above.
Milk Balloons
"Litters of puppies, if we were going to put it in the hands of Mother Nature," Martenson noted, "it would often be more like sea turtles … a certain percentage of them were meant to make it to the water and a certain percentage are not. As breeders, we want to tip the scales. We can add some supportive care, just to give those little turtles a boost to the water, to make it to a healthy adulthood…"
Martenson uses surgical gloves as an alternative method of supplemental feeding. Tube feeding can be difficult and even dangerous if not done properly. Plus, the actual process of suckling is important to the puppies' digestion and development.
Heat from Down Under
Martenson shares methods for warming puppies while offering the bitch a cooler location in the whelping box, the dangers of heat lamps  in general and the importance of providing a heat source *under* the puppies.
Do the Hoky Poky
Flooring for puppies in the whelping box is critical. A number of studies indicate that puppies whose feet slip while nursing or navigating the box are more likely to develop hip dysplasia. Martenson recommends small carpet remnants for toy breeds. We agreed that large, rubber backed washable fleece pads are a better choice for larger breed dogs.
Pumpkin Powder to the Rescue
Only dog people are as obsessed with poopy. The product Martenson recommends helps pups transition to new water, new schedule, new environment, possibly new food with no intestinal upset.
Eat up!
"ENTYCE is a fantastic appetite builder. So say your female isn't wanting to eat and she's 50 days, she's trying to have pregnancy toxemia on you. Then you're looking at hand feeding, syringe feeding, whatever kind of feeding we can do to make this happen. We've had fantastic results with that or traveling to the dog show and they're not wanting to eat on the road. "
KNOWLEDGE IS POWER — FRANCIS BACON
When you become a patron of Pure Dog Talk you'll tap into an exclusive community of experts to help you and your dog be blue-ribbon best at whatever you do with your purebred dog! Your support helps keep the MP3's rolling at Pure Dog Talk!
As a supporter, you'll immediately gain access to the weekly Pure Pep Talk SMS, Pure Pep Talk private Facebook group, and priority emails. Patrons can choose to level up to the After Dark Zoom and a Patrons Digital Badge for their website— even a private counseling session with Laura on any topic.