283 – Dachshund Field Trials and Earthdog Tests Preserve Instinct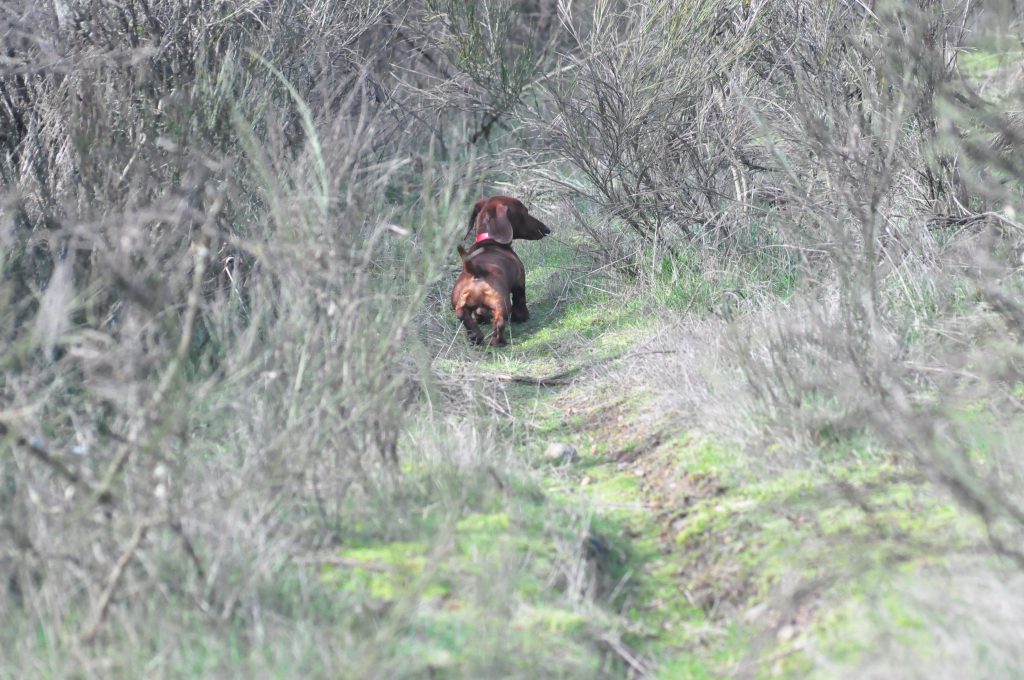 Dachshund Field Trials and Earthdog Tests Preserve Instinct
Dachshund breeder and field judge Jennifer Milosavljevic shares the excitement of Dachshund field trials  and Earthdog tests.
The Dachshund is first and foremost a hunting breed. Hunters created the breed and by competing in Dachshund field trials, breeders and owners work to preserve the breed.
Dachshund field trials have the objective to "track the game," meaning to follow a scent trail that a rabbit or hare has left behind. The goal is not to actually catch any prey and no animals are harmed in field trials.
"The gallery lines up and in a line walks forward beating the brush," Milosavljevic said. "Once a hare is spotted you yell "Tally Ho.""
Dogs run in packs of two (called a "brace") and are judged on their ability to search and explore; to pursue and keep control of a trail; the accuracy in trailing; obedience to commands; their "willingness to go to earth" (into a tunnel or underground); courage; and more.
"… aggression was utilized back in the day when the Dachshund was created to fight the badger and any other critters that burrowed underground in the farmers' fields," Milosavljevic said. "When you think about it, it takes a lot of courage to go down a tunnel or flush out game that may be larger than you. That type of aggression is no longer desired or needed in any ethical breeding program. However, the ability to hunt or find game is a sought-after trait in many breeding programs."
"I have learned to identify early the dogs that I want in my breeding program," Milosavljevic said. "Those that have the natural hunting ability. As a breeder and an exhibitor, I have found that keeping the form and function of the dog along with conformation is where I want to be. Conformationally, sound dogs are the building blocks of a breeding program, however, failing to breed in or keep natural instincts may be a disservice to the breed, no matter what breed."
Jennifer Milosavljevic is an AKC Field Trial and Earthdog judge. She resides in Kalama, WA. She owned her first Dachshund at 11 years old. She breeds, owns and shows miniature smooth Dachshund and occasionally a standard or miniature longhair. She is a member of the Dachshund Club of America, the Cascade Dachshund club and the Dachshund Fanciers of Southwestern Washington.
https://www.akc.org/sports/field-events-hounds/dachshund-field-trials/
https://www.akc.org/sports/earthdog/
KNOWLEDGE IS POWER — FRANCIS BACON
When you become a patron of Pure Dog Talk you'll tap into an exclusive community of experts to help you and your dog be blue-ribbon best at whatever you do with your purebred dog! Your support helps keep the MP3's rolling at Pure Dog Talk!
As a supporter, you'll immediately gain access to the weekly Pure Pep Talk SMS, Pure Pep Talk private Facebook group, and priority emails. Patrons can choose to level up to the After Dark Zoom and a Patrons Digital Badge for their website— even a private counseling session with Laura on any topic.