334 – Golden Retriever Breed Education with Michael Faulkner | Pure Dog Talk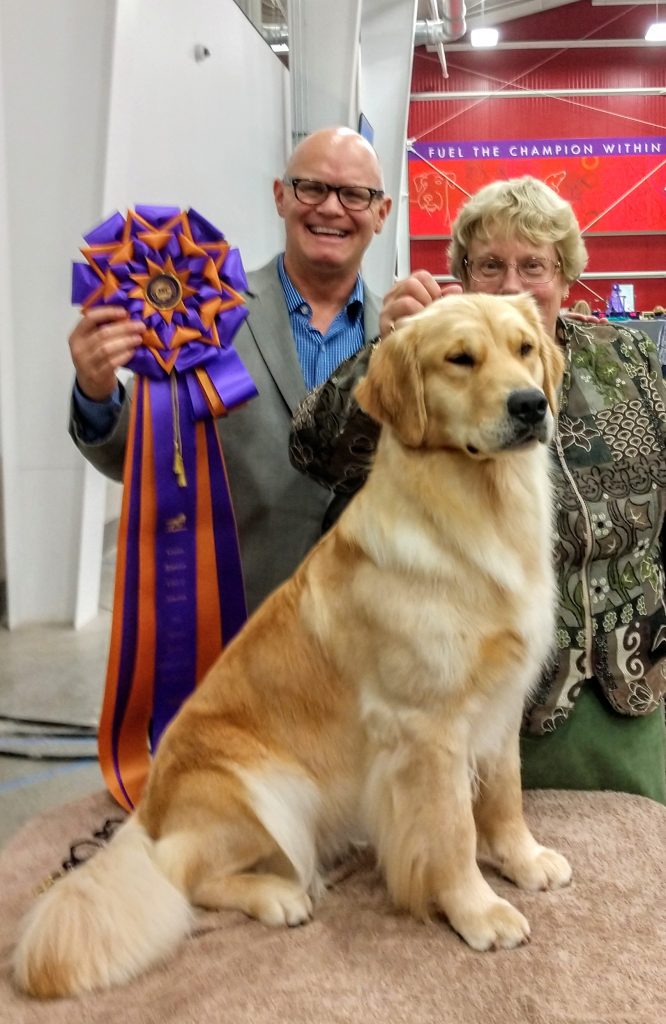 Golden Retriever Breed Education with Michael Faulkner
In honor of the Golden Retriever National Specialty, currently under way in Southern California, Host Laura Reeves visits with legendary judge and breeder Michael Faulkner. Actively involved with Goldens since 1969, Faulkner is deeply passionate about his breed.
Primarily a hunting dog
"This is the GOLDEN Retriever," Faulkner said. "They have a coat of lustrous gold, they are a water dog, their form and function is to retrieve.
"The standard says 'primarily a hunting dog,' moderate, to be shown in good, hard working condition," Faulkner said
"Yellow Wavy Coated Retrievers"
The double coat protects and wraps the body, Faulkner said. Early historians talk about the development in Scotland of "yellow, wavy coated retrievers."
"Quite often when you're judging my breed you're going to see a coat that wraps the body and it may have a slight wave. That's perfect. We love it when you can see the natural wrap and frame. The coat should never be curly, but wave is perfectly acceptable," Faulkner said.
Moderation in all things
Faulkner compares the correct Golden Retriever to a cow: "Moderate, legs underneath them, big rib cage, short loin, level back, thick thigh, tail straight off the back. It's not a complicated breed."
A well-known stickler and "old guard" in the breed, Faulkner insists that Goldens were never meant to be "fluffy" and that they "should not look like a baby Newfy."
Proportions are the biggest thing next to grooming, Faulkner said. The breed standard calls for the body to be [12:11], just off square. They should never be long and low.
Gentleman's gun dog
"The dogs are not supposed to roll, or lumber (when they move)," Faulkner said. "They are supposed to converge to the center line of travel. People forget that they are supposed to be primarily a hunting dog.
"They were kept by the nobility. Bred to go out with the hunter, work close to their side, bring the bird back, shake dry and lie next to fire."
The cold water and rocky terrain of the breed's native Scotland made endurance essential, Faulkner noted. Any exaggeration would hinder the working dog's efficiency.
Pure Dog Talk is sponsored by:


KNOWLEDGE IS POWER — FRANCIS BACON
Pure Dog Talk is grateful to all of the mentors in our sport who support us with their knowledge, their kindness and their generosity. JOIN us today in providing access to this invaluable "watering hole" for anyone who is thirsty for knowledge. Your pledge of as little as $5/month helps guide the next generation of dog fanciers. Click the "Be My Patron on Podbean" button to join our "listener supported" team at Pure Dog Talk.