277 – Hunting Poodles at Poodle Club of America: No, Really! | Pure Dog Talk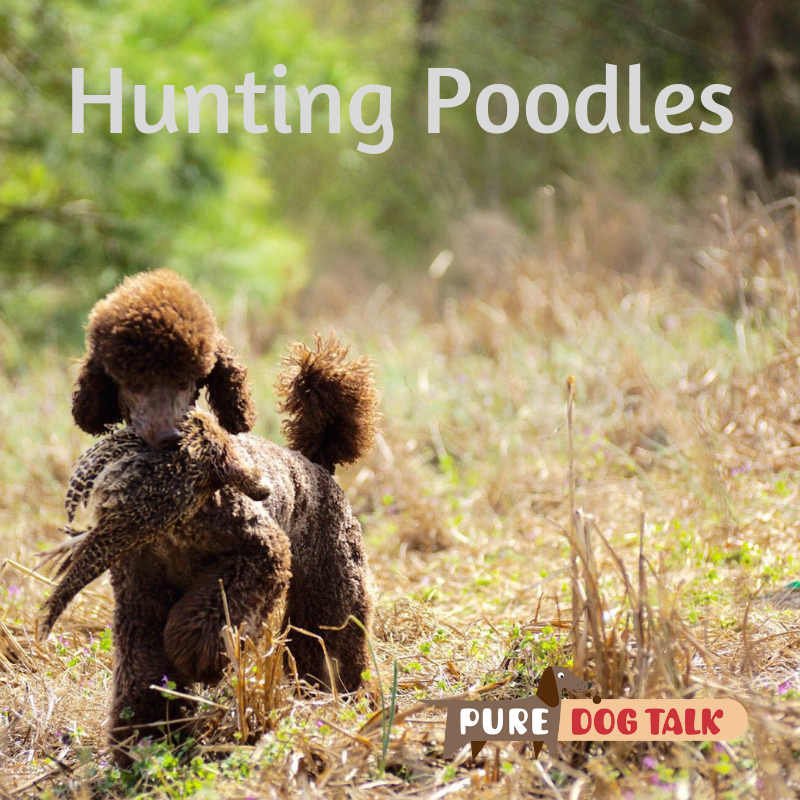 Hunting Poodles at Poodle Club of America… No, Really!
Jaci Bowman, owner, trainer and handler of hunting Poodles, joins host Laura Reeves to talk about retrieving, upland bird hunting and the history of poodle participation in hunt tests.
Bowman began hunting with her poodles in the 1990s. She said that Poodle Club of America originally created a working certificate for the breed, but later poodles were accepted to compete in AKC licensed retriever hunt tests. Three years ago, poodles were also approved to participate in AKC's hunting tests for spaniels.
From the PCA website: "Upland hunting traditionally consists of walking through the fields, locating birds, flushing them out of cover, and shooting and retrieving them.  Upland hunting varies widely from the sparse vegetation of the high desert, to the high cover of corn fields, to the dense cover of fence rows, to woodlands.  The type of bird varies, based on the habitat.  Game birds include pheasant, chukar, partridge, woodcock, doves, various kinds of quail and grouse, and pigeons.  With all of them, a good dog makes a valued hunting partner, a role that poodles have been filling for a long, long time."
Poodle History
The breed was developed to hunt in marshes, with ancestry tracing to the Irish Water Spaniel, Bowman noted. As a result, they aren't what she thinks of as "non-slip" retrievers like Labradors and Chesapeakes that were developed exclusively for retrieving downed waterfowl.
Not Just Show Dogs
PCA national events feature a working certificate test, a retriever test and a spaniel test, along with an opportunity to introduce new dogs and owners to the sport.
Bowman said even though the field events are held before the dog show, newly popular "modified" trims enable dogs to transition from one to the other easily. Many of the dogs competing in the field tests are also show champions and compete in other performance venues like agility and obedience as well.
KNOWLEDGE IS POWER — FRANCIS BACON
Pure Dog Talk is grateful to all of the mentors in our sport who support us with their knowledge, their kindness and their generosity. JOIN us today in providing access to this invaluable "watering hole" for anyone who is thirsty for knowledge. Your pledge of as little as $5/month helps guide the next generation of dog fanciers. Click the "Be My Patron on Podbean" button to join our "listener supported" team at Pure Dog Talk.