252 — Jackie and Terry Stacy on the Affenpinscher, Breeding & Mentoring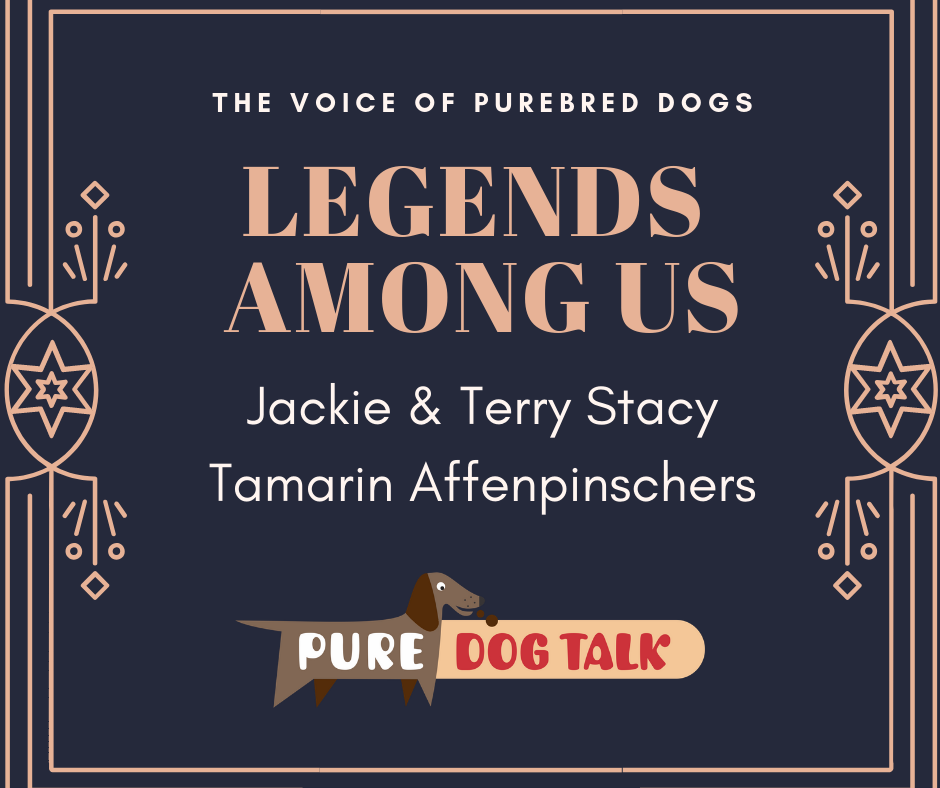 Jackie and Terry Stacy on the Affenpinscher, Breeding and Mentoring
Jackie and Terry Stacy, of Tamarin Affenpinscher fame, bring a lifetime of experience to the sport.
Terry started as a teenager and finished his first Cocker Spaniel in 1955. His career spans the breadth and depth of roles available to purebred dog enthusiasts. From professional handler to superintendent; from AKC vice president, to the head of breeder services for the Mars Corporation, to well-known judge, Terry has literally done it all.
Today, Jackie is an all-breeds judge. Twenty years ago, she successfully showed their original Affenpinscher, acquired from Beth Sweigart, to multiple Best in Show awards and a national specialty win.
Monkey Dogs
Often called the monkey dogs for their inquisitive and mischievous expression, Affenpinschers hail from Germany and are believed to date back to the 1600s, Terry said. The Stacys praised the foresight of a breed standard which allows the dogs to be cropped and docked, or shown "natural." Their very successful foundation bitch, they said, helped lead the transition to more dogs being shown uncropped/docked.
The "shaggy but neat" outline of the Affenpinscher is a challenge to create and maintain, Jackie said. The coat doesn't grow quickly and it's easy to get carried away with pulling coat and be left with not enough furnishings.
Breeding for the Future
Breeding within a family of dogs, the Stacys said, while using judicious "phenotype" outcrosses to create the dog or bitch they want to have carry the program forward has been their secret to success.
Health testing, they noted, is imperative, as is maintaining proper temperament. Jackie's sister is the president of the Orthopedic Foundation for Animals and Terry sits on the Board of Directors, so this is a front and center issue for both of them.
Stay Involved
As active, popular judges, Jackie said that she argues in favor of them "staying involved" in the sport with breeding and exhibiting dogs.
"It keeps you grounded," Jackie said. "I think it makes us better judges because we know firsthand what it takes to get a dog on the ground and in the ring."
Mentoring new and dedicated owners is a prospect the Stacys enjoy, as well as offering private mentoring to aspiring judges.
Listen to the podcast to hear more from a couple with decades invested in the sport.
KNOWLEDGE IS POWER — FRANCIS BACON
When you become a patron of Pure Dog Talk you'll tap into an exclusive community of experts to help you and your dog be blue-ribbon best at whatever you do with your purebred dog! Your support helps keep the MP3's rolling at Pure Dog Talk!
As a supporter, you'll immediately gain access to the weekly Pure Pep Talk SMS, Pure Pep Talk private Facebook group, and priority emails. Patrons can choose to level up to the After Dark Zoom and a Patrons Digital Badge for their website— even a private counseling session with Laura on any topic.