343 — Saturday Symposium – Preservation Breeding With Experts | Pure DogTalk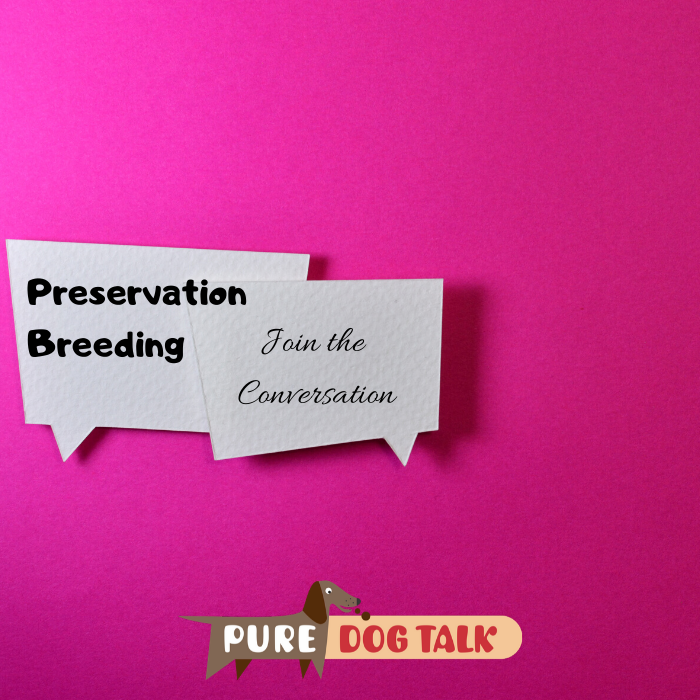 Saturday Symposium – Preservation Breeding With Experts
Host and Moderator Laura Reeves is joined by breeders/judges Lesley Hiltz, Sid Marx and Karen Ericson at the Whidbey Island Kennel Club with a robust conversation about preservation breeding. This is part one. Part two, including audience participation, conversation and more idea generation will be posted next Monday.
Preservation of our breeds to save their place in history
"When you judge in Europe," Hiltz noted, "the average exhibitor age is mid 30s. There are lots of families, often three generations together. It's a family sport. But they also only have one show a month. If we had fewer shows we could see more support for the ones remaining."
Marx observed that too often exhibitors haven't even read the standard for their breed.
"People become captive to what's winning. Breeding to what's winning rather than what's correct. We want to get as many new young exhibitors involved in the sport as we can. But they need to make an effort to find mentors and learn the history of their breed," Marx said.
Ericson encouraged folks to "Get our dogs out among the public." Clubs need to do things besides dog shows, she added.
"To get a dog from a breeder, you might as well apply to be a CEO of a fortune 500 company," Erickson said. "Trust people with your best, not your worst. Tell them you are trusting them with a piece of my heart and legacy."
"Dog shows in Australia are less stressful and more fun," Marx said. "Certainly more wine is drunk. It's a party at their shows. It's an event."
Proactive policies
Some ideas from the panelists:
Encourage altered dog competition
Encourage anyone who shows a spark to come to the dog show. Stop what you're doing and share with public. Share excitement about the show.
Bring back dog shows that stop at the breed level. Rankings are hurting us. The average person isn't at the dog show to fight for Group 1.
Follow Austalia's lead: "class in group awards." So if your 6-9 puppy wins his class, he competes in 6-9 competition in group. People stay for group, talk to other people in other breeds. Gives a whole lot of other people the chance to win something in group.
To hear previous discussions on this topic, click here and here.
Pure Dog Talk is sponsored by:
KNOWLEDGE IS POWER — FRANCIS BACON
Pure Dog Talk is grateful to all of the mentors in our sport who support us with their knowledge, their kindness and their generosity. JOIN us today in providing access to this invaluable "watering hole" for anyone who is thirsty for knowledge. Your pledge of as little as $5/month helps guide the next generation of dog fanciers. Click the "Be My Patron on Podbean" button to join our "listener supported" team at Pure Dog Talk.