321 — Tricks Are for Show Dogs! Improve Focus in the Ring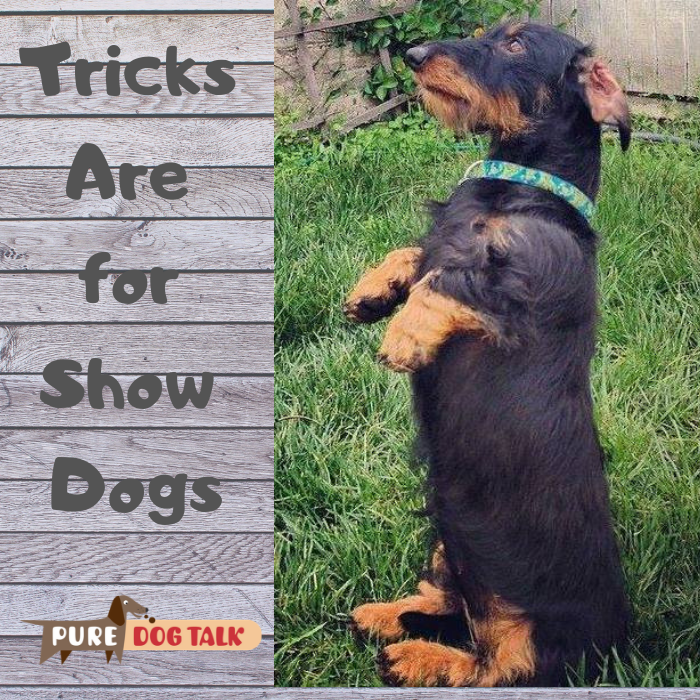 Tricks Are for Show Dogs! Improve Focus in the Ring
Show Dog Prep School founder, Vicki Ronchette, provides tips for training tricks to show dogs to help them focus and have fun.
"Training tricks is fun," Ronchette said. "People and dogs enjoy it more than they do training traditional exercises. It is relaxing. And it's a good way for people to improve their mechanical training skills."
Dogs get bored in the ring, Ronchette noted. Having a repertoire of tricks available helps dogs and exhibitors relax, she said.
Bonus, the dogs and handlers having fun makes a good impression on audience and serve as crowd pleasers. Note the phenomenal success of the "sit up" by the Sussex Spaniel, Bean, at the 2018 Westminster Kennel Club show.
Ronchette shared a few of her favorite "tricks" to teach clients that provide specific benefits to dogs and their performance.
Touch!
Target training is a favorite of Ronchette's. She trains the dog to touch its nose to her hand.
"It's so beneficial," Ronchette said. "It's easy to teach. And when you have a distracted dog, it gets their attention."
Sit Pretty
Sit up and beg can be a controversial trick, as some feel it can be harmful to the dog's back. Other trainers argue it is indispensable core conditioning that strengthens back muscles. Either way, that super cute "begging" for attention is a sure fire winner.
Get on top
Teaching the dog to get up on a big rock, grooming table or other high perch, Ronchette says, is a great confidence builder. "They need to own these behaviors," she noted.
AKC's Trick Dog program allows owners to put a fun title on the end of the dog's name, Ronchette noted, helping them "get their feet wet in something other than conformation."
To learn more about the origins of the Trick Dog program, take a listen to my interview with AKC's Doug Ljungren, the program's biggest advocate.
128|Doug Ljungren is Up to Tricks…Trick Dogs|AKC VP of Sports and Performance|Pure Dog Talk
KNOWLEDGE IS POWER — FRANCIS BACON
When you become a patron of Pure Dog Talk you'll tap into an exclusive community of experts to help you and your dog be blue-ribbon best at whatever you do with your purebred dog! Your support helps keep the MP3's rolling at Pure Dog Talk!
As a supporter, you'll immediately gain access to the weekly Pure Pep Talk SMS, Pure Pep Talk private Facebook group, and priority emails. Patrons can choose to level up to the After Dark Zoom and a Patrons Digital Badge for their website— even a private counseling session with Laura on any topic.