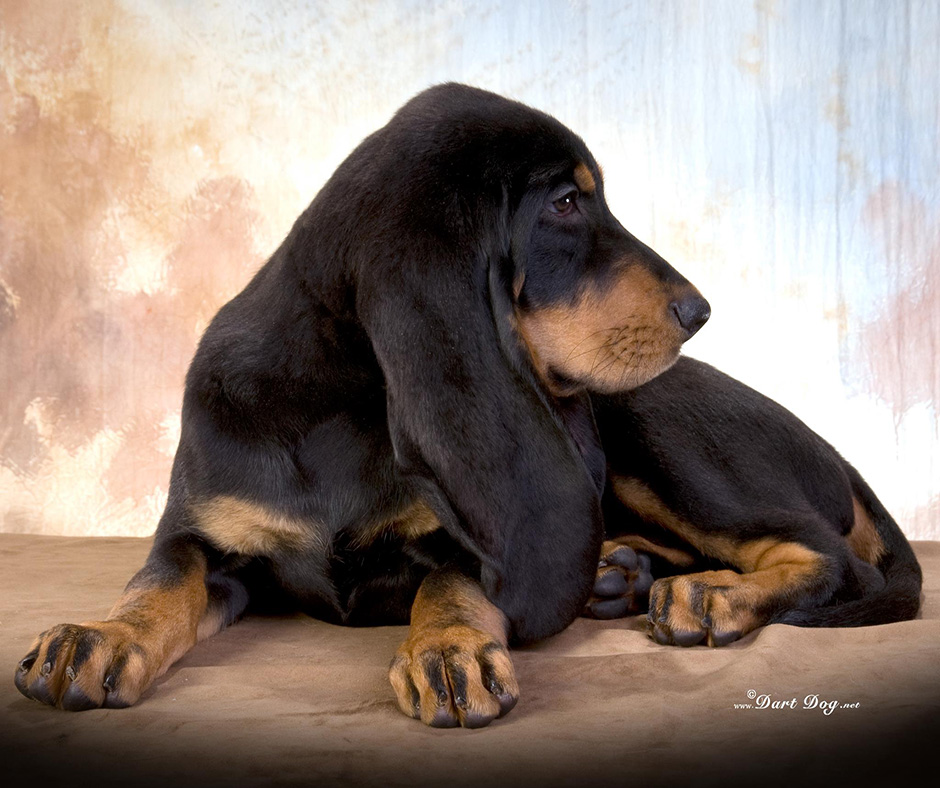 Black and Tan Coonhounds with Kathy Corbett
Pure Dog Talk's Love the Breed series, focused on hound breeds, continues today with 50 years of knowledge about Black and Tan Coonhounds as breeder Kathy Corbett joins host Laura Reeves for this insightful conversation.
Kathy and Jim Corbett acquired their first Black and Tan Coonhound sight unseen in 1971. They wanted a short coated dog of a size that was easy to reach for a pat on the head and was good with the family. The WyEast Black and Tan Coonhounds are legend, including Boomer, Am/Can/UKC Ch. WyEast Why Not.
Am/Can Ch. WyEast Why Not was the all time top winning Black and Tan Coonhound in the history of the breed with a show record which includes 12 All-Breed Best in Shows, 64 Hound Group wins, and 201 Hound Group Placements. A grandson of National Specialty and Hound Group winning Ch. WyEast Wanderlust, Boomer was number one Black and Tan Coonhound in total dogs defeated for five successive years – 1987, 1988, 1989, 1990, and 1991. He was also awarded Best of Breed at the National Specialty of the American Black and Tan Coonhound Club for the years 1990 and 1991.
"(Black and Tan Coonhounds) have a kind of a muddled history," Corbett said. "We certainly go back to foxhounds. George Washington had fox hounds and he had dogs that happened to be black and tan in color. It was quite a while before the utilitarian dogs that would hunt for anything with fur that could run were divided essentially by coat color and a little bit by their style of hunting.
"Five of the coonhound breeds generally were used to track and trail coons and other animals that would either go to ground or tree. The Plot hound is much more aggressive and was used primarily for bear because it takes a tough dog to take on a bear.
"But in general, these were dogs that would chase anything with fur that would run and they were the dogs that put meat on the table. Some of the breeds, like Treeing Walkers, were a little faster. Black and Tans were the ones that weren't necessarily as fast, but would stay on a trail forever and had great endurance. And they're also wonderful dogs to have around. They were very reliable with other dogs and children.
"We loved their temperament. We wanted a dog that would run all night if we wanted it to, or go hiking or camping or anything that the family wanted to do and then would come in the house and lie down and go to sleep. And that's exactly what we found.
"When we place a puppy, we do try to impress upon the people that this is an on-leash breed. They are bred to hunt independently. They are bred to take off on their own. And they will. And it's your job to find them, to follow them. Their end of the bargain is that when they get something up a tree that they will yell their heads off so you can find them. But if that doesn't happen, for instance if they're after a deer, they usually just go and go and go.
"So in general for hiking or anything else, they are on lead dogs and at home they need a fence. They'll range for 10 miles. If they remember where they came from, they'll come back. But they go, and it's not a matter of training. You're working against hundreds of years of instinct."