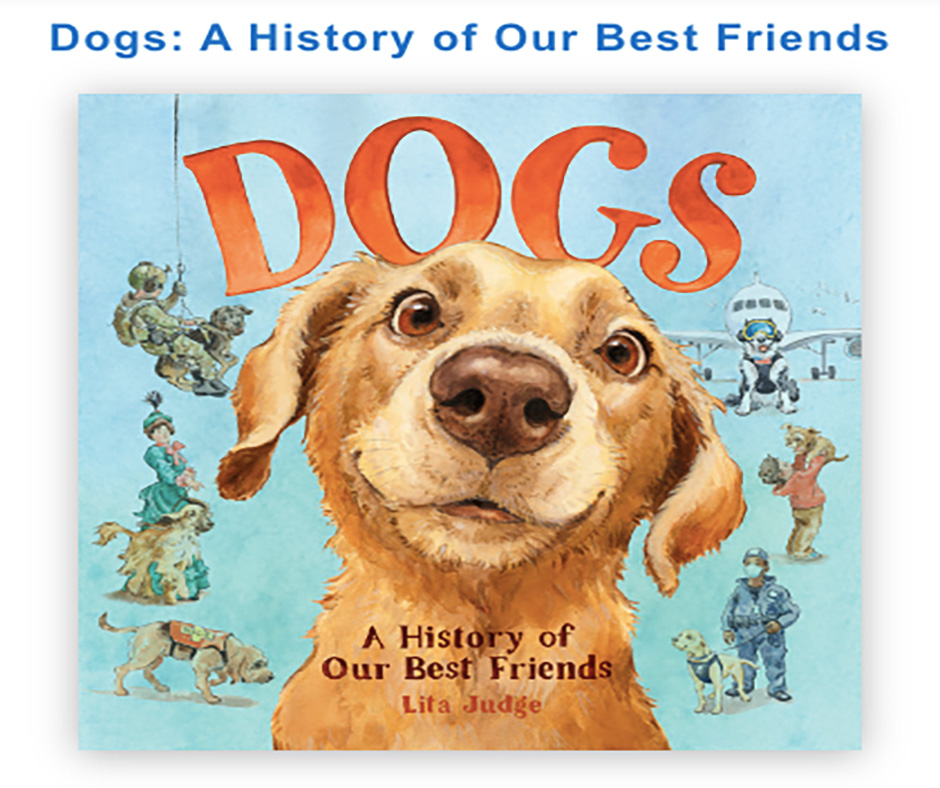 New Children's Book Devoted to the History of our Best Friends
Host Laura Reeves is joined by world famous children's book author and illustrator Lita Judge to discuss her newest release, "Dogs: A History of Our Best Friends." Spoiler alert, Laura and Lita share a friendship dating back almost 40 years!
The book is the result of the pandemic providing Judge the time and mental space to focus on a topic she'd wanted to write about for years, she said.
"I think the reason I hadn't written it sooner was because it was just a massive amount of research. It covers 40,000 years of the history of dogs," Judge said. "And there's so much information about: how did we domesticate them, did they self-domesticate, you know, stacks of books to read. And I felt like I had the quiet space to just really dive into this because I knew that this project was going to be a total labor of love.
"It's my second longest book that I've done. And I just wanted to do it. Well, when I was going to do it, you know, I got to research medieval times and prehistoric times and what was our relationship to dogs in 1st century China and how did dogs serve in war and what do therapy dogs do? And you know, all this vast amount of information, I knew this really needed a nice chunk of time to devote to it. So the time was right.
A life-long dog lover raised by two Chesapeake Bay Retrievers and an Alaskan Malamute, Judge said "the thing I was the most curious about was how did we get from wolf to dog. And that was just so mind blowing. Like, how does that transition happen? And it was so interesting because I had to talk to different scientists and you know, I used to be a geologist and I worked on dinosaur digs. So I knew everybody has an opinion on these questions. The consensus seems to be more and more they self-domesticated and that they have the social skills because they work as pack animals and they understand working together that they were able to make that leap in working with us.
"So I think that was the thing I was really fascinated by. The other thing I was blown away with is that dogs were prescribed as treatment as early as the Middle Ages. If you had a stomach-ache, hold a dog. We didn't understand why (then). Now we know it lowers your cortisone, lowers your blood pressure, releases oxytocin. I mean, we know why now, but we didn't understand that why then. And yet we knew it worked. You know, we knew that that relationship with our dogs was that incredible that it's actually healing, and luckily healing for the dog as well."
Listen in to the full episode or watch the interview on our YouTube channel for more insight and special takeaways that apply to the dog world from Lita's journey from shy, withdrawn teenager to world traveler, doing book tours and speaking engagements for thousands and even how she met her husband on a cross-country bicycle trip.