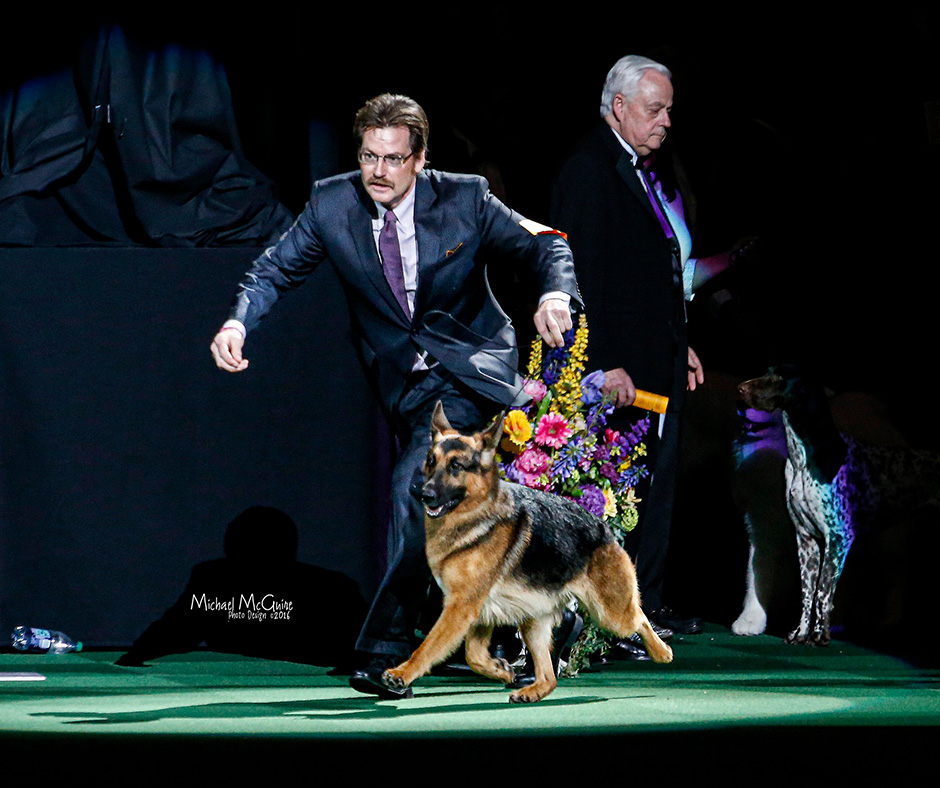 Kent Boyles and Liz Oster on Breeding Plans and Growing the Sport
Kent Boyles and Liz Oster of Kenlyn and Marquis German Shepherd Dogs join host Laura Reeves from the International Kennel Club of Chicago shows to share their thoughts on breeding decisions and how to grow the sport of purebred dogs.
Boyles and Oster, 2018 AKC Breeders of the Year, are the owners and handlers of Rumor, GCH Lockenhaus' Rumor Has It V Kenlyn, BIS at Westminster Kennel Club in 2017, #1 dog all breeds in 2016 and winner of 104 All Breed Best in Show awards.
Boyles piloted GCH CH Kaleef's Mercedes to win the AKC National Championship Herding group in 2022.
Boyles started working for German Shepherd breeders at 16, as soon as he could get his driver's license. Oster was born into the breed and raised with them as her parents participated in obedience and later developed their breeding program.
"I think (dog shows) need to be more of a family deal," Oster said.. Like my mom would drag all five of us kids to the dog show. My brothers weren't really into the dog show, but my sister and I were. And so we would show the dogs. They'd go and play and do whatever at the park or wherever we were. And I mean, everybody helped at home and stuff.
"And I think exhibitors need to be more open and friendly to spectators at the dog shows. I mean, even this weekend, exhibitors are kind of like, 'oh, I can't get through.' Well, if we didn't have these people coming here, they would not buy a purebred German shepherd…"
"I think that's key," Boyles added. "You see somebody with a little bit of interest, Jesus, I mean help them."
"Some of these German shepherd clubs, just the way things have evolved, they've kind of gotten away from the obedience end of things," Boyles observed. "And some of the working aspects of the breed. With our breed, German Shepherds, the reason almost all new people come and buy a German Shepherd, believe me, is not to go to a dog show and watch it go around in a circle at an AKC dog show.
"They wanna get it because of the reputation that the dog has for being a good, sound family guardian. They want it to look over their home, take care of things … it's got the lure of the police dog type stuff … as far as it being a working dog. So a lot of times people get carried away with … the only criteria that you would have to select and keep a dog is just because of its anatomical features and not what's going on inside that dog's head, and the paying attention to the health and the strength and the fundamentals of what's in that dog's mind, … it gets to be a little bit problematic.
"I think sometimes people use the word aloofness as a little bit of an excuse to have (the dogs) be a little edgy and not so accepting, so to speak. I mean, to me, like aloof means it doesn't need to just indiscriminately like everybody, you know? It's just like I can take you or leave, , but it's still supposed to be sound minded and comfortable and confident in the surroundings that it's in.
"…One of the things that we always try to keep in mind is we're not going to do this breeding today just to try to get a show winner. You've got a concept in mind as to what that animal is supposed to ultimately be like, how you're going to get there, but then what step you're going to take three generations down the road. Where are you gonna go with that? You have to continue on."