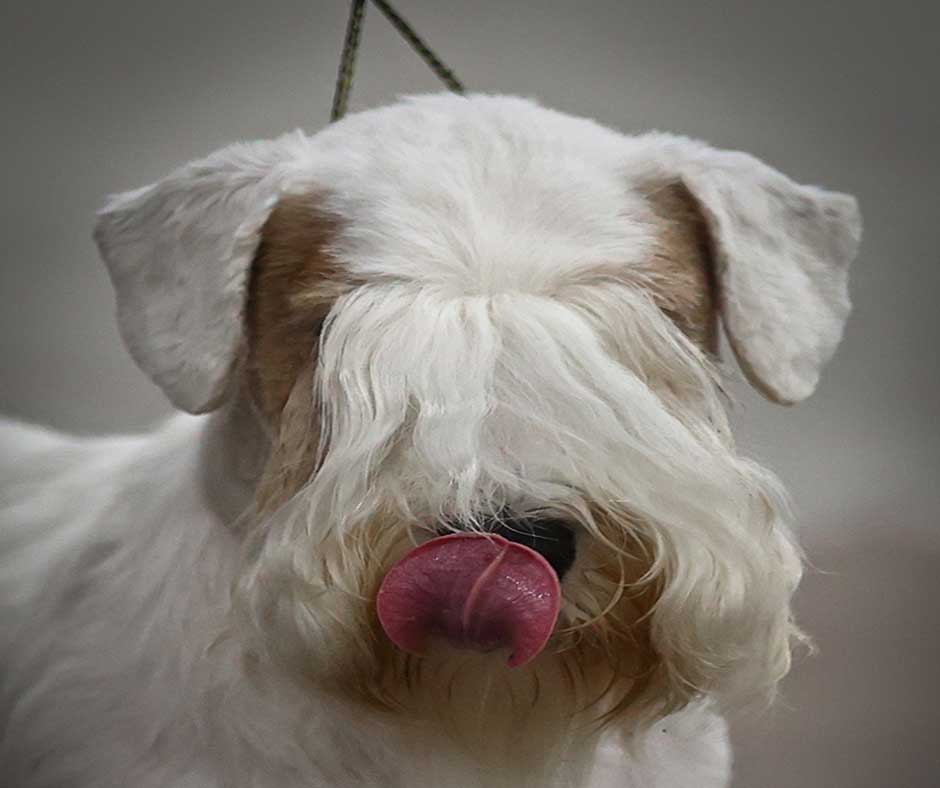 Margery Good on the Deep Character of Sealyham Terriers
Margery Good joins host Laura Reeves to share her deep love of her beloved Sealyham Terriers, breeding, grooming and the importance of learning.
Good started in obedience with a German Shepherd Dog.
"I entered in obedience, but then I spent my day at the dog show stalking the handlers that were sharing their conformation dogs and trying to learn as much as I possibly could, without getting in their way. Peter Green, Bob and Jane Forsyth. Bill Trainor. People that were at the very top of their careers in those days, and I would spend as many hours as I could watching and trying to learn.
"Well, I watched a lot of their grooming at their setups and how they handled each dog on the tables and putting them on and off the table. how they brushed them, what direction they use or what tools they picked up. Except for the Forsyths, the handlers were only showing like 6-7 dogs in the show and they'd do some trimming the shows.
"So I'd watch how they tweak the  trim before they take them in the ring. And then with like the Afghan hounds and Poodles I watched, how did they brush the hair? How did they pick up the hair they weren't brushing so that they could get from their skin to the tip of the hair. So I picked up a lot of learning from observing how they prepared the dogs. And then I'd go and watch them actually showing the dog. I actually spent more time behind the scenes than by the rings.
Speaking to the challenge of trimming Sealys, Good said "I do try very hard to breed dogs with coats that normal groomers and average dog owners, if they apply themselves, they can work and have their successful finish to them. I also spend a lot of time helping people at shows or at my place or wherever I am to help them tidy up their trims and show them a new technique that they haven't tried or encourage them to keep going until they get it right.
"Now that we have things like cell phones, I say take pictures, send me pictures, I will critique your trim. I work with people, they're 12-15 hours away. If they send me pictures, I will help. And it works.
Sealyham Terriers – Generous, Big Dogs in Small Package
"They're so generous. And all you need to do is ask and they will say what can I do for you. They're very strong, sturdy, compact little dogs. They are big dogs just in a small package. They have very strong personalities. Their characters are very deep, as opposed to some of the other terrier breeds, whose characters are rather shallow. Which some people like. But it's not for me. I like the depth of the character that I see in Sealyhams.
Classic Breeding Advice
"(Starting out) I was able to breed forward and not have a lot of faults that I had to breed away from. I had very good virtues to start with. In a breeding program, you need to concentrate virtues and minimize faults when you breed. So, you need to be able to see what a stud dog can give in virtues and what faults you might get and not double on what you have in your female. See what her strengths are and not double on the faults that they have. So, generation after generation, you do that. To the point of Stash, (GCHG CH Goodspice Efbe Money Stache, Terrier Group winner at the 2022 AKCNC) who's the culmination of 50 years of my breeding."
Listen to the entire conversation full of passion, insight and charm.