122 – Eddie Dziuk: OFA, CHIC and Why Breeders Should Health Test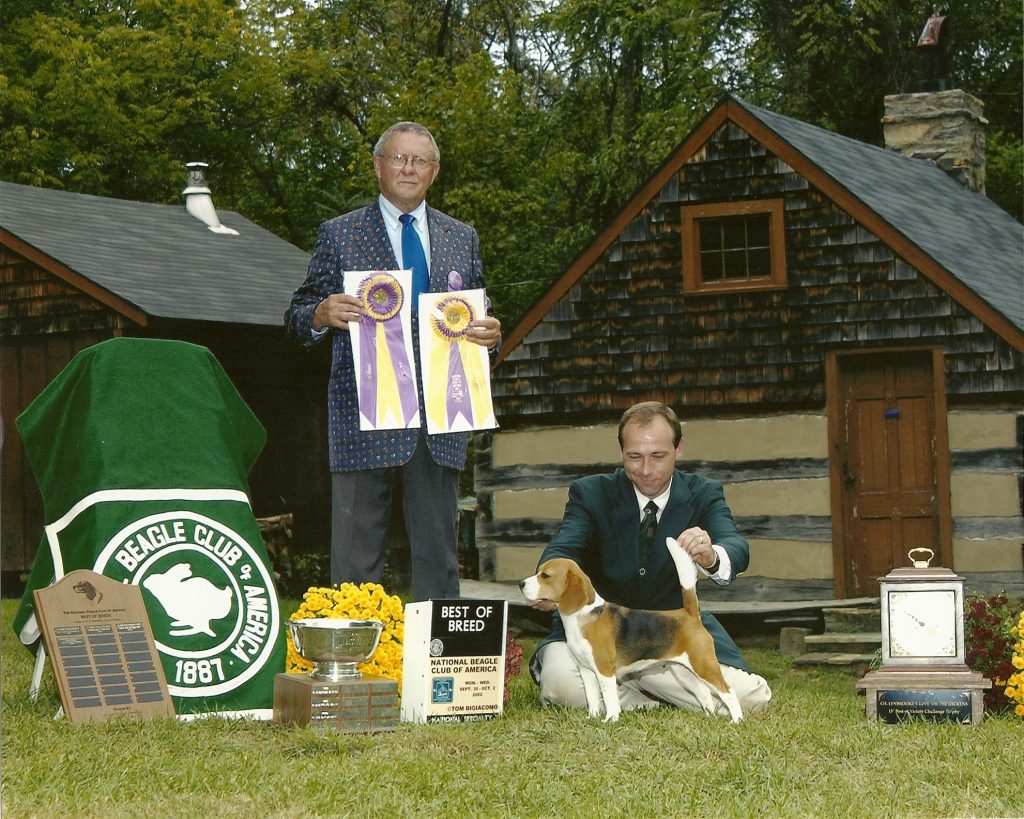 Eddie Dziuk on OFA, CHIC and the Role of Health Testing
Eddie Dziuk is a behind the scenes kind of guy. But arguably no single individual is more responsible for providing the tools to improve the health of our purebred dogs. OFA and CHIC are invaluable resources which enable breeders to apply "selective genetic pressure *against* breeding abnormal results."
Eddie Dziuk has led OFA for the last 16 years, including implementation and growth of the Canine Health Information Center (CHIC) originally envisioned by the delegate body. CHIC's "test and tell" protocol has enabled more than 100,000 dogs to earn a CHIC number.
This voluntary program is not an award program, Dziuk reminds people.
It is not a stamp of approval, it's not about 'normalcy.' The key piece is that owners must be willing to disclose information," he adds, both normal and abnormal results.
It is this sharing of results that allows breeders to make more informed breeding decisions. "If you breed dogs long enough, you will produce animals with an inherited disease," Dziuk notes. "It's about what are you doing up front and after the fact to address that reality."
Canine Health Foundation and CHIC
CHIC is co-sponsored by the Canine Health Foundation (CHF) and focuses on empowering national parent clubs for each breed to establish the health protocols and testing best suited for each breed.
Most of the dogs we breed go to pet homes," Dziuk observed. "The most important thing for these folks is not the dog's tail set or how much stop it has, they just want a happy, healthy, long-lived faithful companion."
With that idea in mind, OFA is continuously looking at new testing protocols, developing new efforts that address far more than the orthopedic issues for which the organization was originally created nearly 50 years ago.
Background on Eddie Dzuik
Eddie Dziuk began his journey in purebred dogs in the mid-'70s by joining the Hagerstown Kennel Club before he even had a dog. He finished his first Beagle, down from Michelle Billings' Kings Creek breeding, and was hooked. He credits numerous mentors within the Beagle breed, as well as his work for professional handlers from Bob and Jane Forsyth to Tom and Andrea Glassford, for his long-term success in the sport and his breed.
Co-owner of not one, but two, Westminster Kennel Club BIS winners, Dziuk has more than held his own in the breeding and conformation arenas. Both Uno and Miss P, the modern Beagle winners at the Garden, find Dziuk's breeding in their pedigrees. He talks about seeing both dogs at around six months and falling in love to the point that he'd "beg, borrow or steal" to be involved with their careers.
I believed in those dogs 100 percent," Dziuk said. While Uno was an odds on favorite, Miss P was a complete surprise, he added. So much so that he missed her winning Tuesday night while on the road for work. "I turned on the tv in the hotel room in Vegas just in time to watch her win," he observed with obvious dismay.
Encouragement for Owner Handlers
As a long time owner handler, Dziuk encourages owners to compete with their dogs. The top winning 13" Beagle of all time was a dog he showed himself on weekends only. He does note that times are different and the proliferation of dog shows means chasing records is much harder these days.
After 40 years of dogs, every dog show is still an opportunity to learn. It's a journey," Dziuk said, "Embrace it." He also encourages sharing knowledge — whether through judging, belonging to a club, whatever it is.
Final Words
"If nobody is willing to do the work, there will be no dog shows."

KNOWLEDGE IS POWER — FRANCIS BACON
Pure Dog Talk is grateful to all of the mentors in our sport who support us with their knowledge, their kindness and their generosity. JOIN us today in providing access to this invaluable "watering hole" for anyone who is thirsty for knowledge. Your pledge of as little as $5/month helps guide the next generation of dog fanciers. Click the "Be My Patron on Podbean" button to join our "listener supported" team at Pure Dog Talk.