542 — How To Develop a "Political IQ" with Patti Strand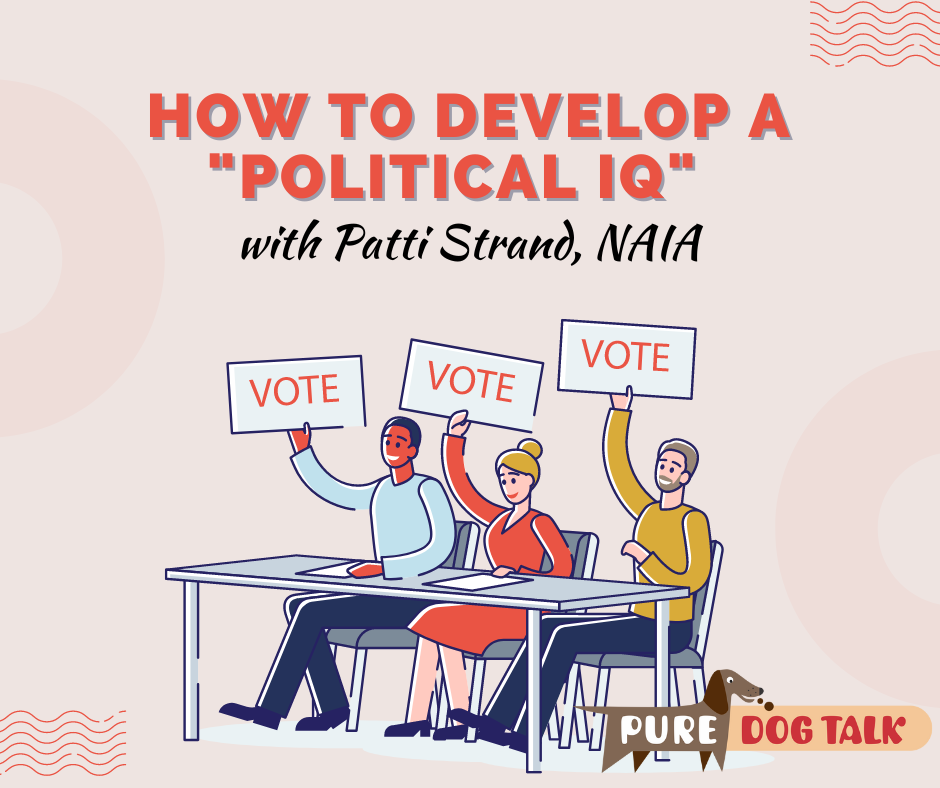 How to Develop a "Political IQ" with Patti Strand
Patti Strand, founder of National Animal Interest Alliance, has spent 30 years working within the political system to advocate for dog breeders and owners. She joins host Laura Reeves to discuss how to develop YOUR political IQ.
Get Involved
"At the very beginning you said that you think we need to be involved," Strand said. "And I just could not agree more. There's a bunch of old sayings, one is that we all wind up with the government we deserve.
"I do not have a negative idea about politics overall or I couldn't participate in this. I have to stay open-minded and I consider the possibility that some of the people who are there, and it's true, some of the people I've met are very sincere. They care very deeply. But they have not heard from us, is the big problem.
"In the 30 years that I've been involved, I would say that there is greater involvement now and by quite a bit than there was before. But that means like going from zero to something like 20 percent. I'm serious. Our community, they pretty much get engaged when there's a crisis, when the wolf is at the door…
"It is kind of an art form for people to get involved. The first step to getting involved is deciding that you're going to. Right now, because it's an election season, is the time to make that commitment.
Get Access
"The biggest thing, though, is to figure out how to get access. Because usually when we're facing legislation, most of the people in our group don't know anybody, and they don't know anybody because they haven't taken advantage of moments like now, which is an election season. There are all kinds of opportunities right now to become involved, get to know a few people. It's about voting. It's about actually being involved with process.
"But right now, while you have an election season, there are a number of different ways that people can get involved. If you see somebody's campaign that's interesting to you, you can go to their website, you can, you know, study them a little more. Study a lot of different politicians and not just at the state level or federal level. But also the local level, your city council, your county commissions. Look at all of those candidates and do some sleuthing. Educate yourself, develop a political IQ.
"I think volunteering is really important. Once you get involved, voting is the obvious biggie as far as being involved is concerned. But volunteering and donating also gets you access, and that's what we're after in politics, the ability to talk to people. When an issue comes up and have your name be recognized so that you're not just a total stranger to them. They have some idea of who you are and what you stand for, and volunteering is a really good way to do that.
"After you've done your due diligence and figured out who you think might be a good person to represent you, go to their website. They'll tell you what they need and everybody has a few minutes that they can spend a week on helping. Now you can do something as simple as promising to deliver 10 yard signs or to deliver bumper stickers to a group that you're involved with, some kind of way that you can get the word out that you support them and they can get the materials into a lot of people's hands.
Get Representation
"You really need to know who's representing you. If you don't know who's representing you, they're probably representing somebody else. And that's, of course the big issue that we had when I first got involved.
"The Big National Fundraising groups that promote so-called humane ideas, usually that have no subject matter expertise, they're just philosophers with a bank account, that was who had educated everybody I talked to. They were there, they were involved, they were in the ring, they were donating money, volunteering for campaigns and they were telling the politicians what they should think about animal issues.
"So, if you're not there not at the table, somebody else will take your place and it's just absolutely where we are today."
KNOWLEDGE IS POWER — FRANCIS BACON
Pure Dog Talk is grateful to all of the mentors in our sport who support us with their knowledge, their kindness and their generosity. JOIN us today in providing access to this invaluable "watering hole" for anyone who is thirsty for knowledge. Your pledge of as little as $5/month helps guide the next generation of dog fanciers. Click the "Be My Patron on Podbean" button to join our "listener supported" team at Pure Dog Talk.