364 – Healthy, Happy Travels to Westminster Kennel Club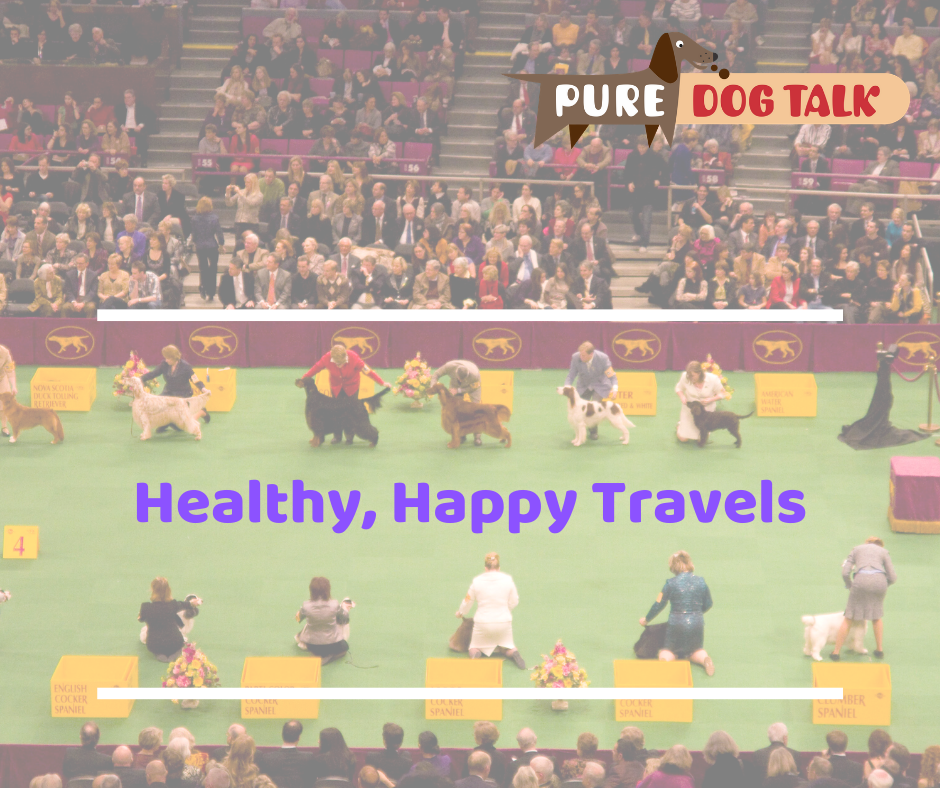 Healthy, Happy Travels to Westminster Kennel Club
Dr. Marty Greer provides thorough and thoughtful advice for keeping your dog healthy and happy on the way and at the big show.
Preparing the Dog
Enter the dog.
Assure the entry has been accepted.
Arrange travel.
Have an appropriate travel bag or crate, depending on if the dog will travel in the cabin under your seat or in cargo, with or without you on the airplane.
Do NOT try to pass the dog off as an "ESA" – Emotional Support Animal if this dog is not certified as such. There is current proposed legislation that will restrict the use of this term as it has been overused and misused by many travelers.
A Certificate of Veterinary Inspection (CVI) is required for all animals crossing state lines. This applies whether you are driving or flying the dog to the destination. Most of the time, you will not be asked for this document. However, if you are without it, your travel plans may be interrupted. This must be issued by a veterinarian who is "Accredited" by USDA. Not all Veterinarians are accredited so be sure you have a veterinarian who can sign this paperwork.
A current rabies certificate is also required for all dogs traveling.
A "Letter of Acclimation" if the dog is flying in cargo. This will reflect the temperatures the dog has been acclimated to prior to travel. This is issued by your veterinarian.
Microchip and identification collar with your current cell phone number.
Anti-anxiety medication if indicated. Acepromazine and Benadryl/diphenhydramine are NOT anti-anxiety medications. Alprazolam, trazodone, or gabapentin may be suitable if indicated and prescribed by your veterinarian.
Preparing the Equipment
Make a list of the least amount of equipment and supplies you can manage with. Consider shipping these ahead to the hotel.
Arrange to rent equipment
Travel bag, leash and collar. A quiet toy to keep your dog busy and avoid annoying fellow travelers.
Travel crate, absorbent material, leash, collar, ID, small bag of food enough for one meal, bowls (the kind that flatten are easiest) and a toy to keep your dog busy.
Preparing you!
Buy tickets for admission to Westminster.
Make flight arrangements. Be sure you include the dog(s) on the reservation.
Make hotel reservations. Be sure you include the dog(s) on the reservation.
KNOWLEDGE IS POWER — FRANCIS BACON
Pure Dog Talk is grateful to all of the mentors in our sport who support us with their knowledge, their kindness and their generosity. JOIN us today in providing access to this invaluable "watering hole" for anyone who is thirsty for knowledge. Your pledge of as little as $5/month helps guide the next generation of dog fanciers. Click the "Be My Patron on Podbean" button to join our "listener supported" team at Pure Dog Talk.