298 – Legends part 2: What NOT to do, Too Many Dog Shows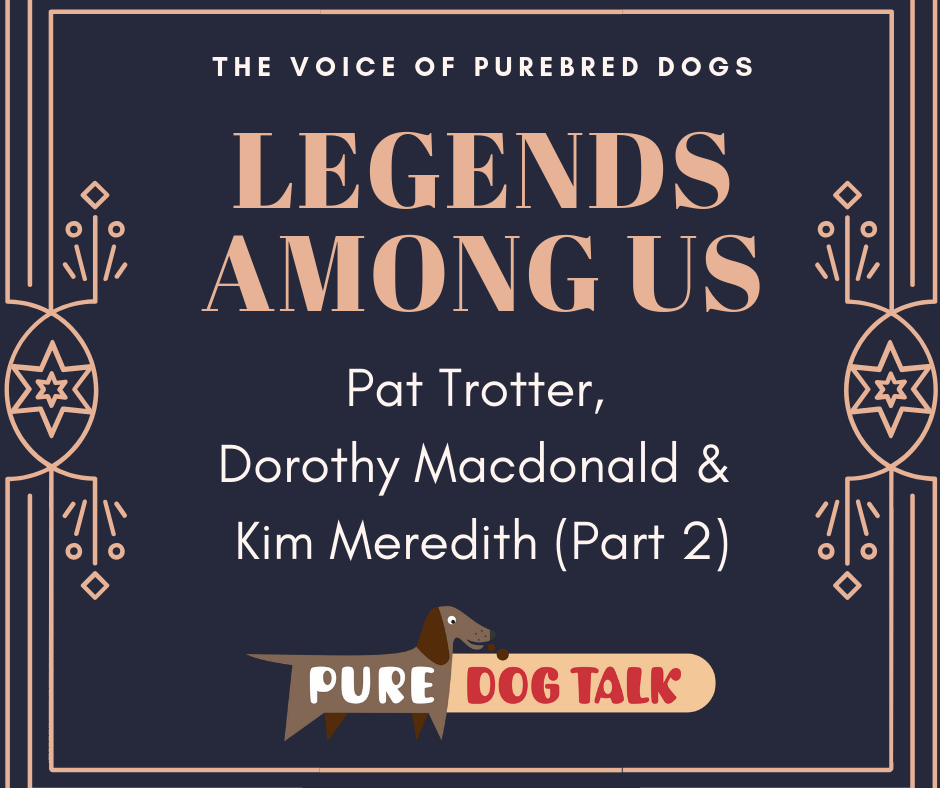 Legends part 2: What NOT to do, Too Many Dog Shows and More
Today's episode is a continuation of the conversation at the Pure Dog Talk Friday Night Forum at Del Monte Kennel Club in July 2017. Our panel includes Pat Trotter, Dorothy Macdonald and Kimberly Meredith. The conversation continues with questions from social media via live stream and the live audience.
Topics covered include:
Thoughts on realignment/expansion of groups – realignment to FCI
Kim – hope it never passes – 10 groups in a big cluster would be very difficult – time and costs would be prohibitive
Dorothy – no need to follow fci
Uncropped dogs in cropped breeds
Kim – doesn't affect me – don't pull ears up on uncropped Great Danes.
Dorothy – don't mind which way they go, just judge them as they are, would prefer no cropping, but have never faulted in judging
Pat – defer to breeder judge – Vince Mulligan
Decline in entry numbers, too many shows in one weekend… ideas to rein in # of shows &/or bring in more participants
Kim – horse is out of the barn. 200 miles is nothing. AKC approved Too many shows, too close together. It's a dilemma. Now what do you do? Damage has been done. Show in Chile… FCI subsidizes. AKC approved all the shows… should they supplement these clubs?
Dorothy – the barn door got left open, has evolved… akc will have to rescind licensing. Only solution. They made the mistake, they should bear the solution.
Pat – I think the most innovative person I've seen is Kim… what she's done w/ Woofstock …. Requires more than 2 shows to get the entry up.
Is the dog that wins BIS the best dog in the show
Kim – whoever's judging BIS thinks it is
Dorothy – put up the one they thought was best, others might not agree, there are as many opinions as people watching. There are no redos….
Pat – more than one bis when the dog I thought would beat me, didn't get there.
Faux pas for exhibitors/what not to do
Kim – very little that irritates me. Except being late. Be there, be prepared, certain breeds are notorious… even if I don't enjoy them, I enjoy their dogs
Dorothy – excessive roughness from the handler. Pay attention. Keep dog in the shade
Pat – abuse of bait vs use of bait … trying to look at dog's mouth, shoving bait in its mouth…. Throwing bait… start handling dogs when it stops handling itself… grandstanding… I want to see the dog, not the handler… tendency for handlers to overstretch the dogs… let the judge & steward know if you have multiple dogs & have to change.
KNOWLEDGE IS POWER — FRANCIS BACON
When you become a patron of Pure Dog Talk you'll tap into an exclusive community of experts to help you and your dog be blue-ribbon best at whatever you do with your purebred dog! Your support helps keep the MP3's rolling at Pure Dog Talk!
As a supporter, you'll immediately gain access to the weekly Pure Pep Talk SMS, Pure Pep Talk private Facebook group, and priority emails. Patrons can choose to level up to the After Dark Zoom and a Patrons Digital Badge for their website— even a private counseling session with Laura on any topic.