401 – How to Train 15 Tricks for a Virtual Trick Dog Title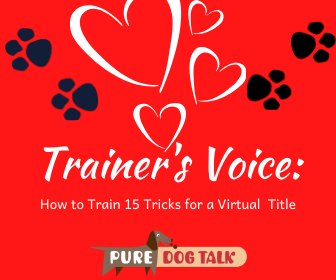 How to Train 15 Tricks for a Virtual Trick Dog Novice Title
Kristin Sandstede, of Big Moose Dog Training, is back to give us a tutorial on training tricks for our dogs. Since the explosion of interest in AKC's Virtual Trick Dog Novice title during the hiatus of dog events, people everywhere are training, or trying to train, Flopsy and Mopsy to do tricks.
This is a fun and interactive episode, with a YouTube video link here  to help everyone achieve success with tricks.
Kristin describes luring and shaping as different training tools. And shows us how to successfully train all the tricks needed to earn your dog's title. She even gives hints on the video submission!
"There is no age limit on the trick titles, so that is really awesome," Kristin said. "There's an age limit on the AKC star puppy certification, as far as you have to be under a year and regulations on your other sports.
"If you(r dog) has a CGC on file (with AKC), you only need 5 tricks. If you don't, it's perfectly OK, you need 10 tricks. you (know) probably 6 to 8 just from what we learned in basic obedience.
"I can teach the vast majority of my tricks using luring. Imagine two magnets and if you hold them really close together, they want to do jump out and touch. So, I think of my dog kibble or my dog treat as a dog magnet. Where the nose goes, the tail will follow. Novice trick titles allow luring/treats for the dog to perform the trick. All tricks on video or in person, must be performed twice."
Tricks
Sit/Down on Hand Signal
Puppy Pushups (Sit to Down to Sit)
Shake/High Five/Target
Spin in a Circle
Paws Up (two feet on an object)
Jump Up (four feet on an object)
In a Box (four feet IN an object)
Kennel Up
Walk the Plank
Go Tunnel
Find the Cookie
Home Base
Get Around
Crawl
On Your Pillow
KNOWLEDGE IS POWER — FRANCIS BACON
Pure Dog Talk is grateful to all of the mentors in our sport who support us with their knowledge, their kindness and their generosity. JOIN us today in providing access to this invaluable "watering hole" for anyone who is thirsty for knowledge. Your pledge of as little as $5/month helps guide the next generation of dog fanciers. Click the "Be My Patron on Podbean" button to join our "listener supported" team at Pure Dog Talk.