295 — Dogs Just Want to Have Fun: Increasing Focus in Performance | Pure Dog Talk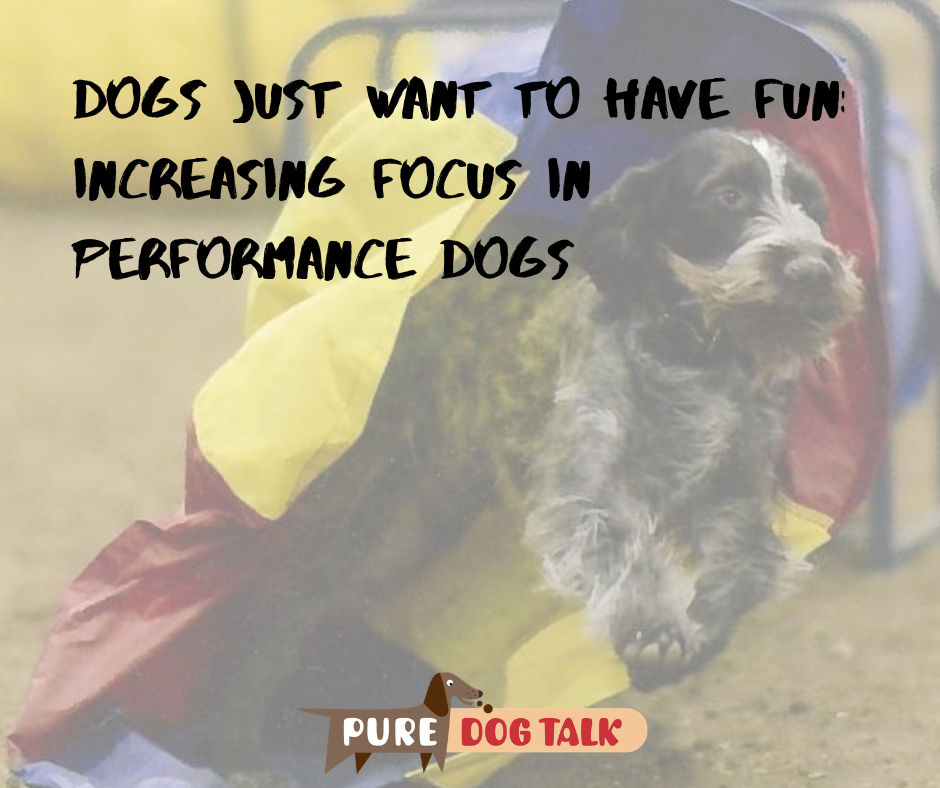 Dogs Just Want to Have Fun: Increasing Focus in Performance Dogs
Dr. Paige Pierce, veterinary behaviorist, speaks to the topic of increasing focus in overly social dogs during performance events. This presentation was sponsored by the Clumber Spaniel Health Foundation at the 2018 Clumber Spaniel Club of America National Specialty.
Owners and exhibitors of the social butterflies in the dog world, understand the frustration of competing in performance events with a dog who wants to visit with the course setter or bird planter instead of continuing their task.
Dr. Pierce provides outstanding insight in to understanding the dog's mindset in these situations.
"When the dog is overly excited, he literally can't hear the command," Pierce said.
Once she rules out a medical condition, she wants to identify a trigger and then use the environment to *benefit* the dog instead of distracting them.
Managing the dog's environment so it doesn't "use up" impulse control or so it is well conditioned to the chaos, depends on the dog. This requires the owner to find the "best level of arousal for that individual for that sport."
PAIGE PIERCE, MS, DVM
Dr. Pierce graduated with a BS in Zoology from Michigan State University, and moved to College Station, TX, to pursue graduate work in animal behavior and genetics. Upon completing her Master's degree, she moved to Oregon – not because she had a job lined up, but because she knew this was where she wanted to live. She worked for Oregon Fish and Wildlife for a few years, met her future husband there, and then made a slight shift in career path. She attended OSU's School of Veterinary Medicine, and has been providing medical care for dogs and cats in Portland since 1997.
In general practice, she's found that her ongoing fascination with animal cognition, communication and emotional health allows her to help clients with pets who have anxieties and/or concerning behaviors. Her particular areas of interest are reducing the stress and fear that so many dogs and cats experience with vet visits, and trouble-shooting issues that crop up for performance dogs. Dr. Pierce joined the Animal Behavior Clinic as a part-time clinician in 2017.
KNOWLEDGE IS POWER — FRANCIS BACON
Pure Dog Talk is grateful to all of the mentors in our sport who support us with their knowledge, their kindness and their generosity. JOIN us today in providing access to this invaluable "watering hole" for anyone who is thirsty for knowledge. Your pledge of as little as $5/month helps guide the next generation of dog fanciers. Click the "Be My Patron on Podbean" button to join our "listener supported" team at Pure Dog Talk.