344 – Inspiring True Story: From First Show to Best in Show | Pure Dog Talk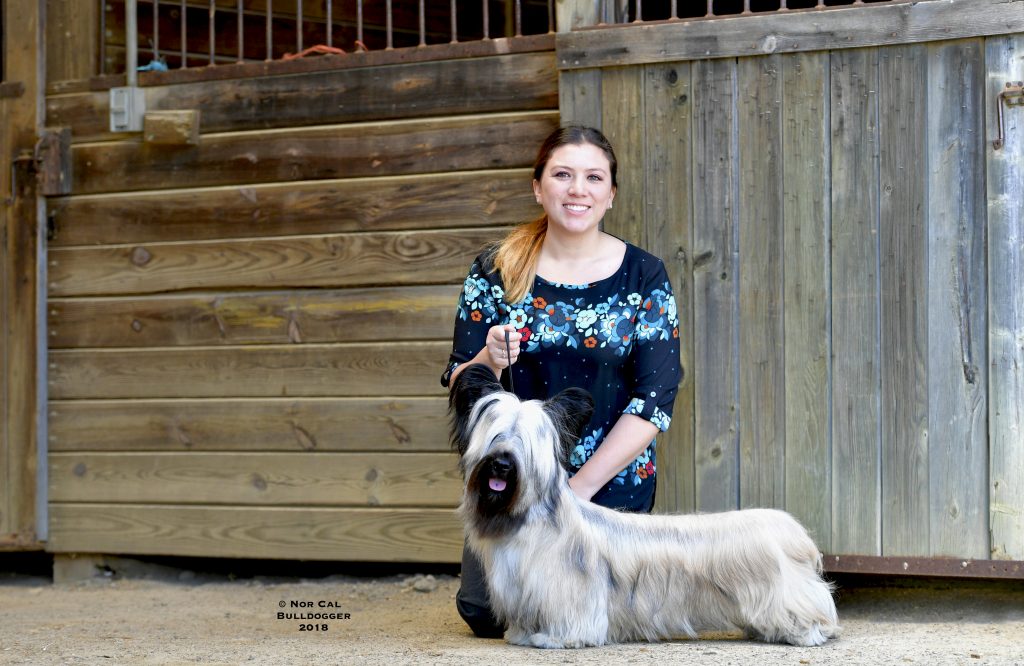 Inspiring True Story: From First Show to Best in Show
Antoinelle Vulpis chose a Skye Terrier as her first show dog. Two years after their first show, Vulpis and Archer won Best in Show at The Kennel Club of Philadelphia's National Dog Show.
Vulpis offers another inspiring "newbie" story as she shares her journey, the importance of her breeders/mentors and the support of the dog show community.
"I grew up like any kid watching Westminster on TV. We had Golden Retrievers as family dogs, but I always kind of wanted something a little different. I was a total dog geek," Vulpis said.
After college, Vulpis got a job at AKC that required her to attend dog shows.
"I decided I wanted to try this myself. Then I saw Larry Cornelius and Charlie the Skye Terrier. THAT was the dog for me," Vulpis said.
Parent Clubs and Handlers
Vulpis made contact with Michael Pesare through the Skye Terrier Club of America. She then waited a year for the right dog from the right litter.
Her puppy arrived exactly two years before her first best in show.
"My mentors drove three hours one way without a dog entered just to cheer me on at my first dog show," Vulpis said. Her breeders helped her learn how to groom the rare breed and supported her at every step, she added.
"My handler friends are so willing to help me and share. They're the people who inspire me. I try to learn from them," Vulpis said. "Asking someone more experienced than you will really pay off."
Vulpis counts professional handlers from Greg Strong to Ernesto Lara in her list of people who have helped her along the way.
Listen to the input
"I asked all kinds of people for advice," Vulpis said.
Vulpis' favorite grooming product is #1 All Systems Invisible Hold "It's the holy grail for keeping the part to stay in place."
"I don't brush him every day because it takes hair out. Only once or twice a week to keep mats under control. I keep him clean, and bathe him weekly," Vulpis noted.
"Now that I'm realizing I can make a difference in how he's presented and how he looks. I get to the dog show early and spend time bathing his under-carriage and blow dry him. The extra time and care really has paid off," Vulpis said.
For more stories from new people to the sport, listen here and here.
Pure Dog Talk is sponsored by:
KNOWLEDGE IS POWER — FRANCIS BACON
Pure Dog Talk is grateful to all of the mentors in our sport who support us with their knowledge, their kindness and their generosity. JOIN us today in providing access to this invaluable "watering hole" for anyone who is thirsty for knowledge. Your pledge of as little as $5/month helps guide the next generation of dog fanciers. Click the "Be My Patron on Podbean" button to join our "listener supported" team at Pure Dog Talk.