284 – Veterinary Ethics and Building a Relationship with Your Vet | Pure Dog Talk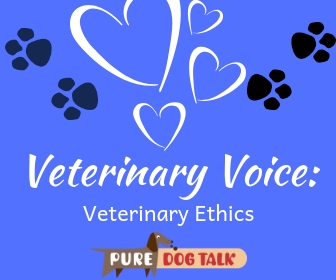 Veterinary Ethics and Building a Relationship with Your Vet
Dr. Marty Greer, DVM, JD, president of the Society for Veterinary Medical Ethics visits with Host Laura Reeves about how breeders and veterinarians can work together for a positive outcome.
"Vets are not held in as high esteem as they have been in the past," Greer said. "And that's concerning to me. As veterinarians, we touch so many people in a positive way. It's truly a calling. It's not just a job that you get in your car and drive there. It has to be a passion, people don't get rich doing this."
Too much Dr. Google
"Communication is a really important piece," Greer said. "Many vets and staff are introverts by nature. Honest open frank communication is the best way to handle any situation."
Greer recommends that if owners have a particular opinion on diet, vaccines, etc they need to interview vets to find someone they enjoy working with, even if it means driving further.
"Bring ideas but listen to what vet has to say," Greer said. "Start a conversation that is a give and take."
Greer noted that up to 30 percent of dogs going to an emergency clinic don't have good outcomes. She adds that while a client may not have the relationship with the doctor at an emergency or specialty clinic, but these hospitals can do amazing things with new medical procedures.
"Develop a relationship with your vet, even the staff at a local emergency clinic, before you have a crisis," Greer recommended.
Fear Free Medicine
Greer also suggested that clients check in to some of the methods to condition dogs to quietly accept treatment and handling for a better outcome in any situation, emergent or standard practice.
Telemedicine is a huge, up and coming service, Greer said. While it inherently has some draw backs, she noted that this is the next frontier of veterinary medicine.
"There are multiple services where vets can do real-time, long-distance consultation," Greer said. "Seismic changes will be happening in the next couple years, with the AVMA releasing new policies recently."
Other resources referenced in this podcast:
Debra Hamilton's mediation services: https://puredogtalk.com/finding-common-ground-to-grow-the-purebred-dog-fancy-pure-dog-talk/
Dr. Karen Overall:  https://puredogtalk.com/dr-karen-overall-temperament-vs-geneticspure-dog-talk/
KNOWLEDGE IS POWER — FRANCIS BACON
Pure Dog Talk is grateful to all of the mentors in our sport who support us with their knowledge, their kindness and their generosity. JOIN us today in providing access to this invaluable "watering hole" for anyone who is thirsty for knowledge. Your pledge of as little as $5/month helps guide the next generation of dog fanciers. Click the "Be My Patron on Podbean" button to join our "listener supported" team at Pure Dog Talk.