25 – Patricia Trotter: Legendary Breeder, Author, and AKC Judge – Vin-Melca's Norwegian Elkhounds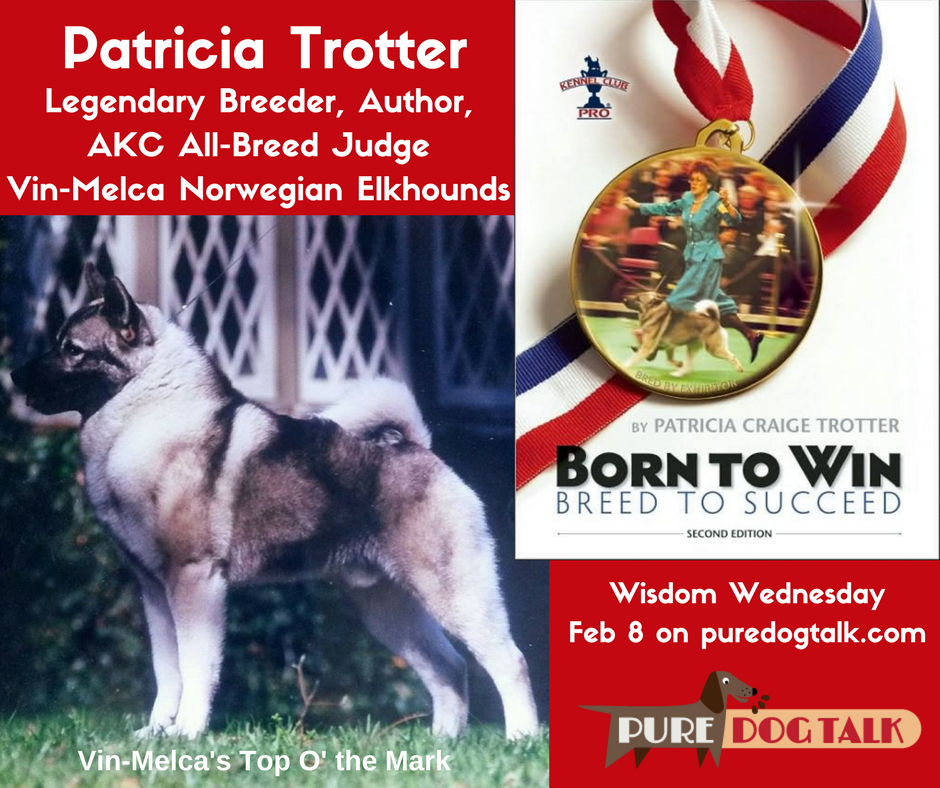 Any serious or aspiring breeder should study the accomplishments of  Pat Trotter and her internationally famous Vin-Melca Norwegian Elkhounds.
Top sire and dam in breed history
10 breeder-owner-handled group firsts at Westminster
CH Vin-Melca's Vagabond in the AKC Museum of the Dog Hall of Fame
Gaines Research Center's Girl Show Dog Fancier of the Year award
14 Kennel Review Breeder of the Year and Owner-Handler of the Year awards
Quaker Oats (now Nature's Recipe) Hall of Fame
Fido Awards-Dog Woman of the Year (1991) and Dog Writer of the Year (1998)
AKC Hound Group Breeder of the Year – 2004
Her book, "Born to Win" is a library must-have book to be studied.  Mrs. Trotter received the 1997 Maxwell Medallion from the Dog Writers Association of America for her AKC Gazette column.
Pat Trotter's life is dedicated to her dogs and is an example of life-long learning and passion for excellence.
KNOWLEDGE IS POWER — FRANCIS BACON
Pure Dog Talk is grateful to all of the mentors in our sport who support us with their knowledge, their kindness and their generosity. JOIN us today in providing access to this invaluable "watering hole" for anyone who is thirsty for knowledge. Your pledge of as little as $5/month helps guide the next generation of dog fanciers. Click the "Be My Patron on Podbean" button to join our "listener supported" team at Pure Dog Talk.