242 – Veterinary Voice: K9 Flu and Puppy Vaccination Protocols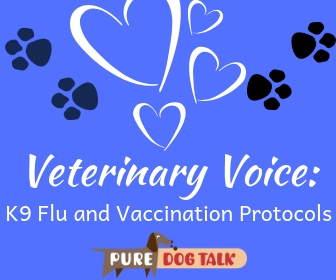 K9 Flu Is Serious Risk Because Dogs Have No Natural Immunity
Dr. Marty Greer takes us through the outbreaks of Canine Influenza (K9 Flu) in the United States. She also offers recommended vaccination protocols for adults and puppies.
Outbreaks of two different strains of Canine Influenza have left U.S. dog owners struggling with if and when to vaccinate against this virus. Greer advocates strongly for "yes" and "annually."
K9 Flu causes pneumonia
"No dogs have natural immunity to the disease," Greer said. "Unless vaccinated, dogs are at serious risk. I have my personal dogs on a three-year protocol, but even Dr. Ronald Schultz is advocating that owners vaccinate for influenza in ALL dogs."
Greer notes that the 2015 virus outbreak came with Korean meat dog "rescue" imports and spread rapidly. Dogs traveling for competition at the highest risk of contact.
Influenza in the dog causes pneumonia, Greer said. The symptoms look like kennel cough to start, but progress rapidly to pneumonia, including a hemorrhagic variant.
"Eight percent of infected dogs die," Greer said. "This really is a big deal."
An ounce of prevention is worth a pound of cure
Treatment with two weeks of antibiotics, iv fluids, possibly even oxygen, is common Greer said. Follow up xrays to confirm the pneumonia is controlled are required. Even dogs less severely affected are infectious for up to 3 weeks.
Two vaccine companies offer products which cover both strains of the disease and are readily available, Greer said. The vaccinations require two injections, two-four weeks apart, with an annual booster. Since the vaccines have only been available since 2016, there isn't sufficient data to determine if they are effective longer than that.
Impacts on puppy vaccination protocols
Adding the K9 Flu vaccine into a puppy vaccination protocol can be a challenge, but Greer said the vaccine can be given as young as seven weeks of age. She recommends inoculating on a staggered schedule. She also strongly recommends the nomograph system of establishing vaccination timing for puppies. Her recommendation is to pull blood on the dam at the same appointment in which ultrasound confirms pregnancy. This blood is shipped off to a laboratory that measures the bitch's immunity levels to disease and pinpoints exactly what date the puppies should be vaccinated.
Canine Nomograph – What is it?

A nomograph is an estimate of the amount of antibody passed to a litter of pups from the mother via her colostrum.  During the puppy's first hours of life, its intestinal tract is able to allow colostral antibody to be absorbed into the bloodstream.  This passive antibody helps to protect the newborn from all the diseases that the mother is protected from.  As the puppy grows up, maternal antibody breaks down in approximately 2 week "half lives" until it is no longer present in the pup.  While this antibody is at higher levels, it is able to neutralize viruses such as canine parvovirus and canine distemper virus.  Because of this neutralization, puppy vaccine can be blocked.  Maternal antibody interference is one of the most common causes of vaccine failure to immunize!  The reason that puppies are given multiple doses of vaccine is because most of the time we don't know what their maternal antibody titers are, and so don't know when the vaccine will be effective.   Nomograph testing helps us understand the best timing of vaccination to assure a litter will be effectively immunized. Because the nomograph is limited by the ability of the dam to make colostrum and for the pups to receive it, nomograph results should not be used as a definitive indication of protection from disease.  If you are a breeder who is experiencing a disease outbreak, please contact us prior to submitting a nomograph.

(Reference: Baker, Robson, Gillespie, Burgher, and Doughty. A nomograph that predicts the age to vaccinate puppies against distemper. Cornell Veterinarian, Aug 1958, page 158-167.)
Listen to Dr. Gayle Watkins in an early PureDogTalk interview on the topic of nomographs.
KNOWLEDGE IS POWER — FRANCIS BACON
When you become a patron of Pure Dog Talk you'll tap into an exclusive community of experts to help you and your dog be blue-ribbon best at whatever you do with your purebred dog! Your support helps keep the MP3's rolling at Pure Dog Talk!
As a supporter, you'll immediately gain access to the weekly Pure Pep Talk SMS, Pure Pep Talk private Facebook group, and priority emails. Patrons can choose to level up to the After Dark Zoom and a Patrons Digital Badge for their website— even a private counseling session with Laura on any topic.