381 – Rare Breeds: Preservation, Promotion and Purposeful Breeding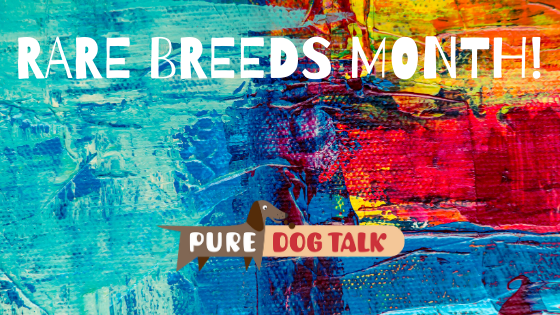 Rare Breeds: Preservation, Promotion and Purposeful Breeding
Let's kick off a month of Pure Dog Talk conversations, insights and ideas about rare breeds, preservation, promotion and purposeful breeding of these delightful dogs.
Today's conversation is with Jennie Chen, breeder of Lowchen and Greater Swiss Mountain Dogs, Anna Wallace, breeder of Entlebuchers and Ian Lynch, Dandie Dinmont Terrier owner.
How to acquire a rare breed dog
Just acquiring a dog in a rare breed is one of the most difficult challenges, our panelists agreed.
"I mean we're absolutely protective of the dogs," Wallace said. "So we have that aspect of 'well we can't keep them all we do have to place some of these puppies' but we want to make sure they go into the right homes … can they benefit the breed in the long run… pets are very important because (they) become the ambassador the public sees … but we also don't want to lose too much of our breeding pool in our gene pool to dogs that are going to ultimately end up neutered … so there's a balance there and I know that's one of the reasons it's hard to break into (a rare breed). I actually broke in with a male 'cause it's always easier to get a boy."
Public education
Reaching the general public with information about our lesser known breeds is critical, especially younger people.
"I think a lot of times of millennials are kind of going back to our roots in a lot of ways," Lynch said. "Like the farm to table eating, what's old is new, what used to be called hand me downs is now called vintage clothing. I think a lot of people are really interested in history and I really liked the idea of being able to help a breed that needed a hand. I mean they say this in a lot of ways, that you could go to a shelter and you can save one dog or you can buy a rare breed, an endangered species. and save a whole breed of dog, the whole history of this dog can be saved."
Social media
Social media, particularly Instagram, including Facebook and Twitter, are great resources for reaching potential new owners. Our panelists agreed that young folks buy from social media and we need to reach potential owners where they are.
"I actually started in social media a little bit by accident," Chen said. "'cause when I got my first greater Swiss mountain dog, I studied psychology and I'm all into early neurological stimulation early neurological training critical periods, I started *Keep Austin Dog Friendly… it is a list of restaurants in Austin TX where you could take your dog … I would go take my dogs out and I still do that today for socialization, for training and all that sort of stuff, and that website got really, really big … my dog became the face of *Keep Austin dog friendly… the website is still up … I even turned one of our website events into (my dog's) birthday party … I use Instagram now quite a bit. A lot of my homes… create an Instagram specifically for the dog. I don't have to get photos via email, they're available all the time on my phone."
Listen to the podcast for more insights, ideas and guidance from our outstanding panelists.
KNOWLEDGE IS POWER — FRANCIS BACON
When you become a patron of Pure Dog Talk you'll tap into an exclusive community of experts to help you and your dog be blue-ribbon best at whatever you do with your purebred dog! Your support helps keep the MP3's rolling at Pure Dog Talk!
As a supporter, you'll immediately gain access to the weekly Pure Pep Talk SMS, Pure Pep Talk private Facebook group, and priority emails. Patrons can choose to level up to the After Dark Zoom and a Patrons Digital Badge for their website— even a private counseling session with Laura on any topic.