382 – Skye Terriers: Hardy, Devoted Breed of the Scottish Isles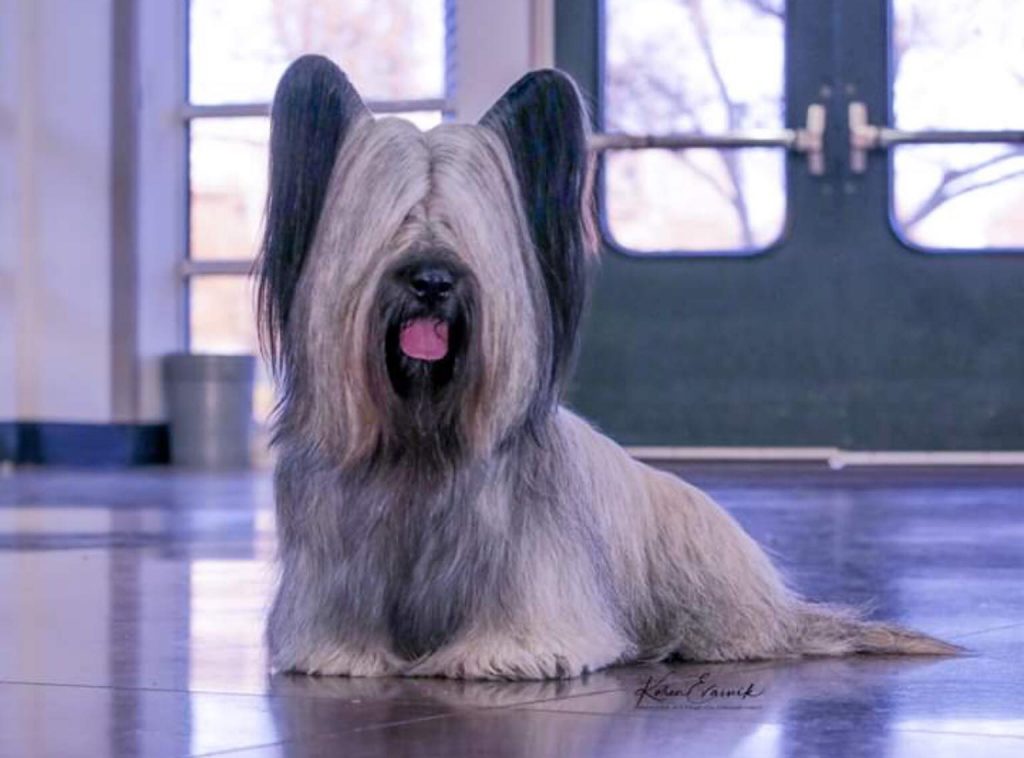 Skye Terriers: Hardy, Devoted Breed of the Scottish Isles
Our panel of Skye Terrier breeders represents nearly 150 years combined experience in the breed. Michael Pesare, Elaine Hersey and Karen Turnbull join host Laura Reeves to share their love of this hardy, devoted breed of the Scottish Isles.
Depicted in art through centuries and with history dating back to the 1500s, the Skye is an old breed.
"The Skye definitely shares his heritage with a number of other terrier breeds from the Western Isles," Pesare said, "the West coast of Scotland, where it can be quite rugged, damp, cold, rocky … breeds like the Cairn, the Scottie, the Westie… they were kept by the land owners to rid the farms of vermin. But not just small vermin, we're talking Otter, Badger, foxes all the vermin that would do damage to the crops… there are references to long legged terriers and short crooked legged terriers going back to the 1500s, and so our Skyes definitely have a very long history."
An achondroplastic breed, the long, low Skye is heavy bodied and heavy boned.
"This is actually a very, very healthy breed," Turnbull said. "I think because they've been rare that's worked in their favor and there are very hardy breed, a sturdy breed … one question that we get frequently because they are a long and low breed I think people instantly think back problems. Our breed is not prone to back problems. The first thing I do when people say that is I invite him to feel the back and feel the legs. They're always surprised because they have so much bone and there's such a sturdy dog … people are always surprised at how much dog is underneath that coat."
Made famous for their loyalty by the story of Grayfriars Bobby, the Skye is deeply devoted to its family.
"It's a breed that wants to be with its person," Hersey said. "They are very, very sensitive. They are very intuitive. They love their people. They're not a breed that you can put out in the backyard and forget about. They need to have, I think, early socialization. They need to have continued socialization as a puppy if you want to have the best Sky you can. So they need somebody that's committed to doing the work and then they're going to have a wonderful, wonderful dog."
For more information about the Skye Terrier, visit the Skye Terrier Club of America.
KNOWLEDGE IS POWER — FRANCIS BACON
When you become a patron of Pure Dog Talk you'll tap into an exclusive community of experts to help you and your dog be blue-ribbon best at whatever you do with your purebred dog! Your support helps keep the MP3's rolling at Pure Dog Talk!
As a supporter, you'll immediately gain access to the weekly Pure Pep Talk SMS, Pure Pep Talk private Facebook group, and priority emails. Patrons can choose to level up to the After Dark Zoom and a Patrons Digital Badge for their website— even a private counseling session with Laura on any topic.