393 – Gayle Watkins on Educating Breeders AND Buyers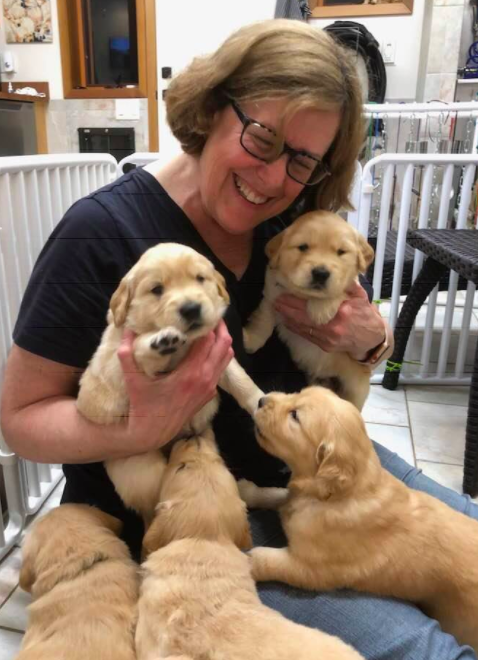 Gayle Watkins on Educating Breeders AND Buyers
Dr. Gayle Watkins of Avidog and host Laura Reeves talk about the importance of educating both breeders and puppy buyers.
"We have to take step back," Watkins said, "and realize how complicated our world is and how UNobvious it is, to even smart people that aren't engaged with us, and help people understand and honestly for us to distinguish what really is important and what isn't important…
"Let's say you would like a 50- to 60-pound active sporting breed. You don't care about color and what pops up (in an online search)? Both the German Wirehaired Pointer and the Golden Retriever, which is so wrong," Watkins said. "So, finding a way to guide people in a more sophisticated way, in a way that you understand and I understand, the buyer doesn't understand. They don't know because they think of (dogs) as cars. They just come in different colors … but those of us who breed know that those cars are very, very different. There's a whole big difference between a Maserati and a Volkswagen Beetle. (Even though they are the) same color and about the same size and they can only carry two passengers."
In order to facilitate outreach and education of both ends of the dog purchase, breeders and buyers, Watkins has joined forces with Good Dog, a young company focused on educating the public and supporting dog breeders.
"We need people breeding dogs," Watkins added. "So, if we have people who are interested in breeding dogs and doing it perhaps not to the level we would like to see, what's better? Run them out or raise them up?
"We have to find a way to engage people more in producing quality pet dogs. The hobby breeders are going to continue in their sport and they're going to continue to get championships and things like that, but we need more people who are trying to produce lovely pets…"
With an estimated 8-9 million replacement dogs needed just in the U.S. annually, as previous guests on Pure Dog Talk have noted, hobby breeders simply cannot meet the demand.
"How do we find those breeders, develop those breeders, lift those breeders up so we can keep playing the games that we love to play," Watkins asks? "Because we're not going to be able to, in my opinion, if we don't change something. The laws, the legislatures, the government… the animal rights activists, they're pretty successful now with adopt, don't shop. We have got to find a way to fight them.
"I strongly believe we cannot fight animal rights if we divide each other. And boy we're good at dividing. There's got to be a bigger voice and I think that voice needs to be young, technologically sophisticated and able to make enough money to fight for us. In the world that we live in, in purebred dogs, making money is anathema… and that has not gotten us to a very good place in defending our right to breed.
"I think what we did when we were attacked by the animal rights people is we said 'oh we don't make money doing this.' That became our defense. That became our value. In doing that, it sets us up for failure on so many levels. It costs a lot of money to raise good puppies. If we don't have the money to do our job well, now we're opening ourselves up to attack from that perspective. (I think) we didn't have the confidence or we didn't have the backing or we didn't have the organization to say 'hey, you know, Mercedes makes a really nice car.' It's not that you can't make money and do a great job. You can do both of those things. But if you make a puppy into a commodity, where one is the same as the other, right now you're going to run into a problem. So, I think that value is one we have to overcome and then we have got to figure out a way to open our eyes to what's changed in the world."
Amongst the very first episodes on Pure Dog Talk were interviews with Watkins on puppy whelping and raising. These remain some of our most popular episodes.
Early Pure Dog Talk interviews with Gayle Watkins:
https://puredogtalk.com/podcast/11-dr-gayle-watkins-nutrition-of-the-dam-canine-nomograph-and-puppy-immunity-2/
https://puredogtalk.com/11-dr-gayle-watkins-nutrition-dam-canine-nomographs/
https://puredogtalk.com/podcast/14-dr-gayle-watkins-2-breeders-guide-to-neonatal-puppies-2/
https://puredogtalk.com/14-friday-fun-dr-gayle-watkins-2-breeders-guide-neonatal-period-puppies/
https://puredogtalk.com/podcast/17-dr-gayle-watkins-transition-period-in-puppies-part-3-2/
https://puredogtalk.com/17-dr-gayle-watkins-transition-period-stimulation-puppies-part-3/
https://puredogtalk.com/podcast/20-bomb-proof-your-puppy-dr-gayle-watkins-4-2/
https://puredogtalk.com/20-gayle-watkins-bombproof-puppy-sensitive-period/
KNOWLEDGE IS POWER — FRANCIS BACON
Pure Dog Talk is grateful to all of the mentors in our sport who support us with their knowledge, their kindness and their generosity. JOIN us today in providing access to this invaluable "watering hole" for anyone who is thirsty for knowledge. Your pledge of as little as $5/month helps guide the next generation of dog fanciers. Click the "Be My Patron on Podbean" button to join our "listener supported" team at Pure Dog Talk.